Wairua Lodge – Rainforest River Retreat is a unique mountain retreat nestled in the Coromandel rainforest. Even the drive up to this eco-friendly getaway is an exciting wilderness journey. With stunning forest walks, refreshing swimming holes, an outdoor bath, and mesmerizing glow worms, this place is a paradise for nature lovers. Plan your trip today and get ready for the magic of Wairua Lodge.
Destination: The Coromandel | New Zealand
Type of Accommodation: Family-friendly | Rainforest Retreat
Price Range: Cabin/Hostel $ | Budget $$ | Mid-range $$$ | Luxury $$$$ | Super Luxe $$$$+
See Also: Bush and Eco Accommodation in Coromandel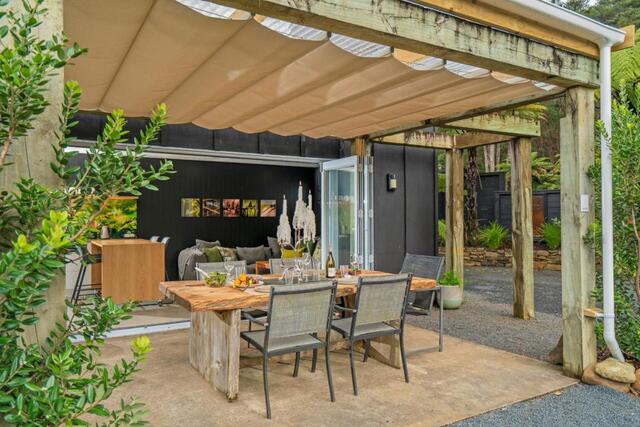 Best for: Treetop Bath, Fire Pit, Star Gazing, Breakfast, Waterfall Forest Trail, River Swims, Family Accommodation, Couples $$$
Location
Wairua Lodge is a 15-minute drive inland from Whitianga. This is the closest beach and takeaways, restaurants, and cafes. 30-minute drive to Hot Water Beach, a 35-minute drive to Cathedral Cove, and 2.5 hours from Auckland Airport.
Driving Creek Railway and Potteries is 16 km away. This is a must-do activity with the narrow-gauge bush train ride, pottery classes, and zipline experience.
This post may contain affiliate links. As an Amazon Associate, I earn from qualifying purchases. See Affiliate Disclaimer.
---
The Spaces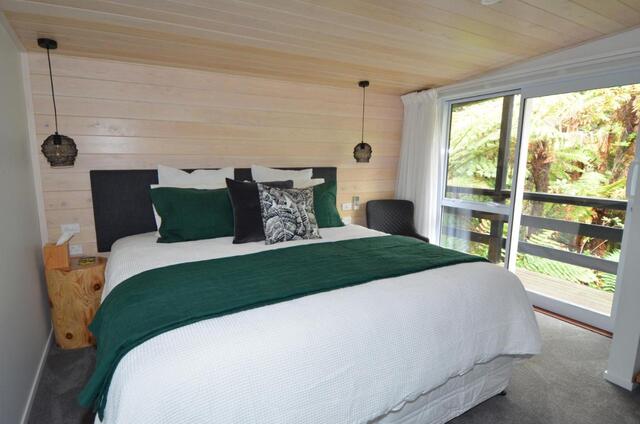 The two-bedroom apartments are ideal for families or friends and can fit up to 5. While the rooms are ideal for couples or couples and a small child.
The interiors are light and beautifully furnished, with plenty of space. After a day of exploring, you'll drift off to sleep on your comfortable bed with fresh soft linen.
The bathroom includes a deep bath and a walk-in rainfall shower. The kitchenette comes with tea/coffee-making facilities and a delicious daily continental breakfast.
Shared Kitchen
A fully-equipped kitchen is available for shared use by guests. This includes a barbecue, stove, oven, toaster, kitchenware, fridge, utensils, and crockery.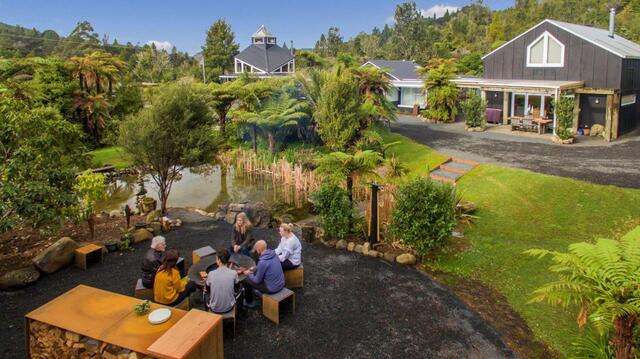 Fun Activities:
Hike along the marked rainforest trails through 15 acres of lush land to the river and a waterfall
Enjoy a brisk swim in one of the river swimming holes
Soak and relax in the tree-top bath
Star gaze in the night-sky spa pool (these are shared facilities so a whiteboard sign-in system is in use to book for your private use)
Dine outdoors with nature at one of the picnic tables and look out for native birds
If it's raining have fun with the DVDs, Games, and puzzles
Relax with a good book in one of the hammocks dotted around the forest
Spend an evening under the stars around the Fire pit toasting complimentary s'mores
Take a torch on the trail to see glow worms at night
---
Review: Our family really enjoyed our two nights at the lodge. The waterfall trail was a big hit!
---
Book your Idyllic Holiday at Wairua Lodge Whitianga
See the slideshow then pop your dates in to show prices. You'll stay on this page and see the best price after comparisons across the internet. Then you can press 'book' if you want to continue. FYI: Wairua Lodge usually has a 2-night minimum stay.
---
Good to Know:
The road into the Lodge is fine for hire cars
Free WIFI
Parking available
Electrical vehicle charging station
Wheelchair accessible room
Laundry
---
Top Reasons to Stay at this Rainforest Retreat
Review: It was a place unlike anywhere we have been before and a place that we will never forget. The peacefulness is wonderful
Immerse yourself in nature, and enjoy the fresh air and sounds of the rainforest.
Practice mindfulness and connect with your inner self in a peaceful and serene environment.
Enjoy a break from the hustle and bustle of city life and relax in a tranquil spot in one of the hammocks.
Explore the diverse flora and fauna of the rainforest and learn about this unique ecosystem.
Participate in eco-friendly activities such as hiking, bird watching, star gazing and glow worm spotting.
Experience a digital detox and disconnect from technology to focus on your mental and physical well-being.
Share this experience with your kids. They can develop an appreciation for the outdoors and the importance of a biodiverse rainforest.
Support this local sustainable tourism venture and help with the preservation of the rainforest for future generations to enjoy.
---
Wrapping Up – Wairua Lodge – Rainforest River Retreat
Nestled deep within the lush greenery of New Zealand's Coromandel Peninsula lies Wairua Lodge – Rainforest River Retreat. A hidden gem that promises a fun wilderness escape for the whole family. With all the comforts of home and the perfect balance of relaxation and adventure! From forest walks to river swims to glow worms there's something for everyone at this one-of-a-kind retreat.
---
Travel Resources:
---
SEE MORE