Byron Bay Hinterland is a beautiful, lush area full of rainforests, waterfalls, and quaint villages. It's the perfect place to get away from the hustle and bustle of city life and relax in nature.
There are plenty of activities to keep you busy, from hiking and biking to kayaking and surfing. And when it comes to accommodation, there's something to suit every taste and budget. In this article, I'll give you an overview of the most Breathtaking Bryon Bay Hinterland Accommodation. So you can choose the right location and the perfect place to stay!
Type of Accommodation: Boutique and Spa | Glamping and Yurts
Destination: Byron Bay Hinterland | New South Wales | Australia
Price Range: Cabin/Hostel $ | Budget $$ | Mid-range $$$ | Luxury $$$$ | Super Luxe $$$$$
When you buy through links on my site, I may earn a commission at no extra cost to you. As an Amazon Associate I earn from qualifying purchases. See Affiliate Disclosure
---
1. Victoria's at Ewingsdale – Castle
Best for: 5-Star Hotel, Spa, Pool, Romantic, Couples $$$$$
The last thing you expect to see in the Byron Bay Hinterland is a castle – but here we have Victoria's at Ewinsgdale! You're treated like royalty at this castle-styled accommodation only 7 minutes inland from Byron Bay.
Victoria's offers a sumptuous, contemporary experience inspired by the charm of a bygone era with upmarket antique furnishings and a resort pool.
Review: Everything was absolutely phenomenal! The atmosphere, the accommodating staff, the breakfast in the morning catered to my dietary requirements, I felt very looked after.
Review: Magical, charming, exceptional!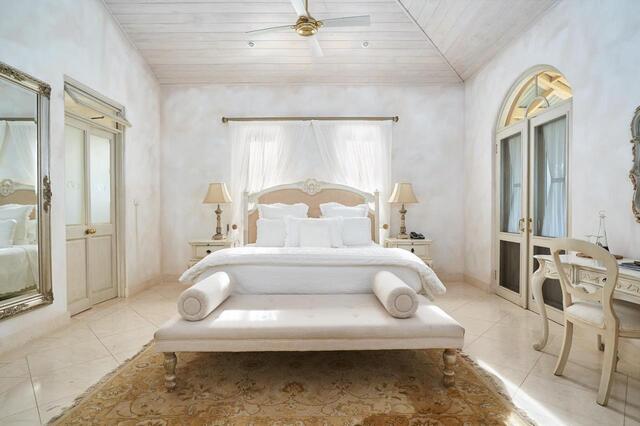 Good to Know:
---
2. Blackbird Luxury Accommodation – Mullumbimby
Best for: Pavillions, Adult-Only, Massage, Magnesium Pool, Infra-red Sauna, Couples $$$$
Individual Pavillions sit atop Mount Koonyum with incredible sunrise views over the Pacific Ocean. Each is uniquely designed with crisp white interiors, reclaimed woodwork, a king-size bed, Egyptian linen, a Moroccan tiled bathroom, and a rainwater shower.
Binoculars are supplied to help you spot the native Black cockatoos and other Hinterland wildlife. Spend time in the healing minerals of the magnesium pool and feel the purifying effects of the infra-red sauna. Massage therapists are also available for in-room massages, so you can drift off to sleep in this peaceful place.
Review: To the views all the way through to the layout of the villa. It is absolutely stunning and will take your breath away.
Good to Know:
Chef prepared dinner each evening (must be booked 7 days in advance)
Breakfast supplied
Shared kitchen, BBQ
Bespoke guided tours of the region are available (up to 6 guests)
You're 28kms from Byron Bay
---
3. Cape Vue Villas – Ewingsdale
Best for: Luxury Villas, Pool, Location, Romantic, Privacy, Couples $$$$
Only a 7-minute drive to Byron Bay, Cape Vue Luxury Villas, surrounded by tropical gardens, offers a stylish hilltop stay with views of Cape Byron. With the rainforest and the Pacific Ocean at its doorstep, this gorgeous accommodation offers guests a secluded escape in an idyllic location.
Each villa boasts a modern lounge, a separate decadent bedroom with luxury linen, a large marble bathroom, and a private terrace with views.
An inviting outdoor pool offers a relaxing swim and cool down after a day of exploring the area. (see things to do below)
See: Get Your Guide Tours in the Byron Bay Hinterland
Cape Vue Villas offers Queen or King Villas with either pool, garden, or lighthouse views. With Bryon Bay so close, you can enjoy a variety of cafes, restaurants, and shops.
Review: Very spacious and well designed, very romantic and they thought of everything down to the little cocktail bar.
Review: Absolutely stunning location and villa! They thought of all the little things like towels, hair dryers, insect repellent, q-tips, big-size shampoo, conditioner, and body wash. It's more thoughtful than what a 5-star hotel would have!
Good to Know:
Nespresso
Air conditioning and heating
Mini fridge
No kitchen but you're near The Farm with an onsite restaurant and bakery
---
4. Byron Bay Yurt Holiday in Paradise – Wilson's Creek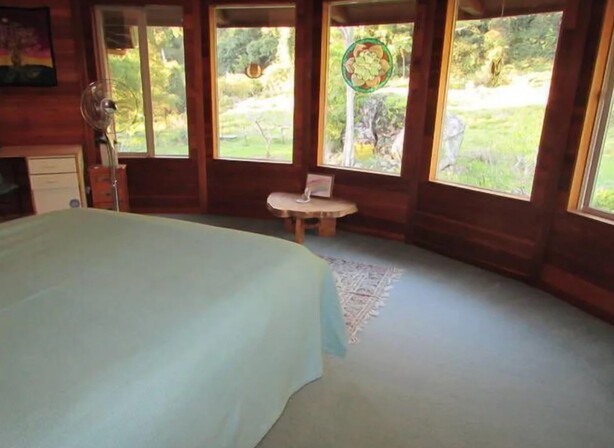 Best for: Yurt-Style Holiday Home, Rainforest, Organic Farm, Birdlife, Spacious, up to 10 Guests $$$
This Yurt-Style home is a place to chill and relax on an organic farm surrounded by lush rainforest. The house is spacious with ample room for 10 guests. Book at Stayz
The property has fruit trees, veggies, herbs, and friendly farm animals – goats, chickens, cows, and sheep. With the sounds of nature to keep you company, the location is one of peace and tranquility.
Review: We've had a fabulous stay in this lovely Yurt. Surrounded by rainforest, the sounds of frogs & birds was wonderful. There is so much room for a large family.
Good to Know:
The yurt has 4 bedrooms with 5 Queen Beds
2 bathrooms, including a bath for two
Lounge, Dining, Fireplace, TV, WIFI
Washing machine and Dryer
Kitchen with microwave, stove, oven, toaster
BBQ and outdoor dining
---
---
5. The Barn – French Provincial Style in Bangalow
U
Best for: Stylish Barn, Farm, Natural Spring, Up to 4 Guests $$$
For the rural-loving city-dweller, there are few things as magical as staying in a barn designed and created in the French Provincial style. The Bangalow Barn is one of those special places that feels so good because it's so chic.
'The Barn' is a traditional European-style barn located near Bangalow, on a working farm. Surrounded by rainforest, with a freshwater creek, natural spring, and fronting Wilson's River, you have plenty of nature to explore!
Review: A quality property that combines a country ambiance with style. Beautiful & quaint with many quality inclusions. a lot of thought has gone into the styling and the ambiance.
The Space:
A four-poster bed, timber floors, and a pitched timber ceiling adorn the charming upstairs bedroom. The downstairs bedroom offers a traditional wooden sleigh bed.
The living area is an open-plan, luxurious lounge and dining area with recycled, exposed timber beams and a brick floor that opens up to a terrace and outdoor living, dining, and a BBQ.
The self-catering kitchen, utility room, and bathroom are all situated on the lower level.
Good to Know:
8.5km to Bangalow, 14km to Byron Bay
The barn has two-bedrooms and is 80 square metres
Free WIFI
Fully equipped kitchen and washing machine
---
6. Bangalow Guesthouse – Historic in Bangalow
Best for: Elegant Guesthouse, Near Restaurants and Boutiques, Gardens, Couples, Friends, Solo $$
Bangalow is a small vintage town with a designer twist in the Northern Rivers region of New South Wales. You're only about a 15-minute drive inland from Byron Bay.
The town is a popular tourist destination, with quaint shops, boutiques, cafes, and fab restaurants. It's also home to the Bangalow Guesthouse, a popular stay with a Hampton vibe, in the heart of town.
See: Things to Do in Bangalow on Tripadvisor
This historic home blends old-fashioned charm with contemporary amenities, resulting in a luxurious ambiance. The main house includes wrap-around verandahs and stylish suites with en-suites and shared lounges. Nearby are three private cottages set amongst the one-acre of gardens, and hedgerows and bordered by Byron Bay Creek.
Review: The location was great and close to Main Street, so was within walking distance for a coffee!
Review: Great location, beautiful accommodation with classic styling
The Bangalow Guesthouse is the perfect place to stay to explore the beautiful town of Bangalow and the Hinterland parks and countryside. With the Bungalow's shared social spaces, it's also a friendly place and great for solo travellers.
Good to Know:
All guests can use the shared kitchen, dining and also enjoy the gardens
Fluffy bathrobes and towels, hairdryers
Wifi, TV, DVD, Airconditioning, heating in each room/cottage
---
7. Glenfernie Farm: Modern Country + Pool – Newrybar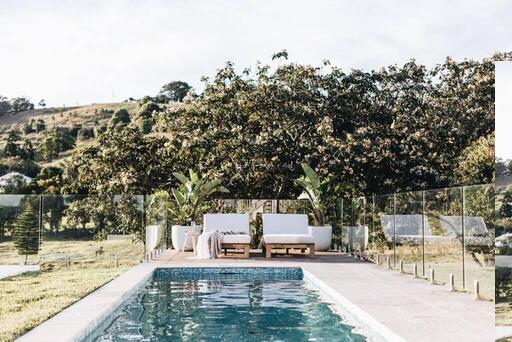 Best for: Luxe Holiday Home, One-Bedroom, Pool, Garden, Couples $$$$
The designer had fun with this striking holiday home for two – white on white with touches of rustic wood create a blissful atmosphere. Book Glenfernie Farm
You're 10 minutes drive to Bangalow and 18 minutes to Byron Bay. You can retreat to your farm hideaway or venture out to the local villages, beaches, and parks. Killen Waterfall is only 6kms away.
Good to Know:
The house is self-contained and is on the same property as the owners who respect your privacy
One-bedroom with king-size bed and luxury linen
Bathroom with toiletries and towels
Fully-equipped kitchen and dishwasher
Air conditioning and heating
Washing machine and dryer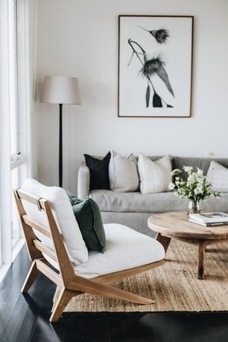 ---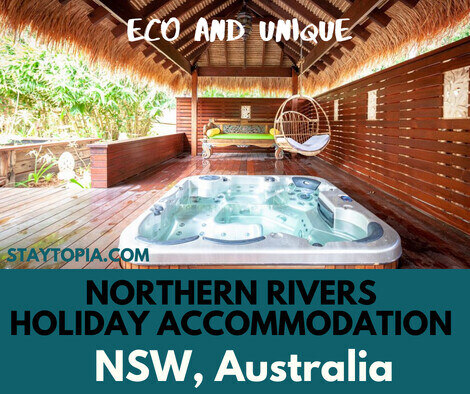 ---
Things to Do in the Byron Bay Hinterland
See Tripadvisor's list of the best tours of Byron Bay and the Hinterland: includes whale watching, glow worms, brewery tour, waterfalls, cruises, kayaking, wildlife safari, and lots more…plus…
Nature Reserves for Hiking, Picnics, Swimming:
Mount Chowan Trailhead
Wabba Road Diversion Trailhead
Mount Nullum Nature Reserve, Inner Pocket Nature Reserve, Cudgera Creek Nature Reserve, Hattons Bluff Nature Reserve, Couchy Creek Nature Reserve, Tyaharah Nature Reserve – the beach here is clothing optional
National Parks:
Wollumbin National Park
Arakwal National Park (leads to Tallow Beach)
Waterfalls:
Minyon Falls Rainforest Walk (tour)
Killen Falls
Whian Whian Falls
Goonengerry Falls
Dalwood Falls
Condong Falls
Hanging Rock Falls
Protestors Falls
Maron Creek Falls
Cultural and Tourism:
Bangalow Historical Museum and Tea Rooms
Mullumbimby Farmers Market – Friday mornings 7am-11am
Bangalow Farmers Market – Saturday mornings
Macadamia Castle
Captain Cook Lookout
Balloon flights
Tweed Regional Gallery and Margaret Olly Art Centre in Murwillumbah
Circuit Drive: Leave from any point – Mullum through Mount Jerusalem to Uki to Nimbin to Bangalow and then back to Mullum.
Get your Guide Popular Tours:
---
READ MORE