When I say Queensland Treehouse Retreat hopefully this will conjure up images of lush rainforest, tropical birds, idyllic waterfalls…heaven! With you sitting in the trees soaking up the tranquility.
The tropical climate and lush rainforest of Queensland in Australia create the perfect environment for a treetop retreat. So let's look at how you can escape to your own treehouse hideaway…
More Cool Places to Stay in Australia:
---
Secrets on the Lake, Montville – Oasis of Luxury, Sounds of Nature 4.5 Stars
Best for: Treehouse with all the Mod-Cons, Spa Pools, Tranquility
Location: Montville, Sunshine Coast Hinterland
Montville is a lovely little village 400 metres above sea level in the Sunshine Coast's tropical hinterland. The views from the village are incredible and everything seems to hang over the cliff edge! The Edge Café is appropriately named and perfect for an espresso or glass of wine as you gaze at the beautiful view. Wander around the art galleries, boutique shops, and buy some yummy fudge at Fudgyboombahs. Read on for more things to do.
Secrets on the Lake Queensland Treehouse:
Luxe and more Luxe. Your own Luxury tree house nestled in the peaceful rainforest hills above the Sunshine Coast. Drive from Noosa to Montville in around 1 hour so it's super close to beach resorts but deep in the forest.
Secrets on the Lake is a nature experience for people who want peace and privacy but don't want to give up their air con, comfy beds and modern comforts. Walk through the rainforest, swim in the lake and return to your well-appointed tree haven.
Why not enjoy lunch on your terrace with views over Lake Baroon. Each treehouse design is rustic, carved from local wood with forged iron and decorated with local art.
Your treehouse is private and self-contained so you have no need to leave your tree top oasis!

Guest comment
Treehouses for everyone!
Secrets One-bedroom Treehouse for two
Luxury Treehouse for two
Penthouse Treehouse for two
Wait-a-While two-bedroom Treehouse for four
The Nest 3-bedroom Treehouse for Six
Take a tour of Secrets on the Lake:
Good to know:
Relax in your private spa pool with magnificent views of the rainforest and lake
Enjoy an overflowing breakfast basket on arrival
BBQ, Free WIFI, Aircon, comfy beds, art
Secrets Cafe on Site
2 night minimum stay
Prices vary depending on season and days of week. Tip: if you stay on a Sun/Mon or Mon/Tue nights it's significantly cheaper.
Top Things to Do in Montville:
Kondalilla National Park and Kondalilla Falls, see big goanas.
Baroon Pocket Dam: fishing, swimming, BBQ, picnicking
Flame Hill Vinyard: 10 minute drive from Montville Main Street. Wine Tasting, Restaurant.
Check Availability and Prices here:
---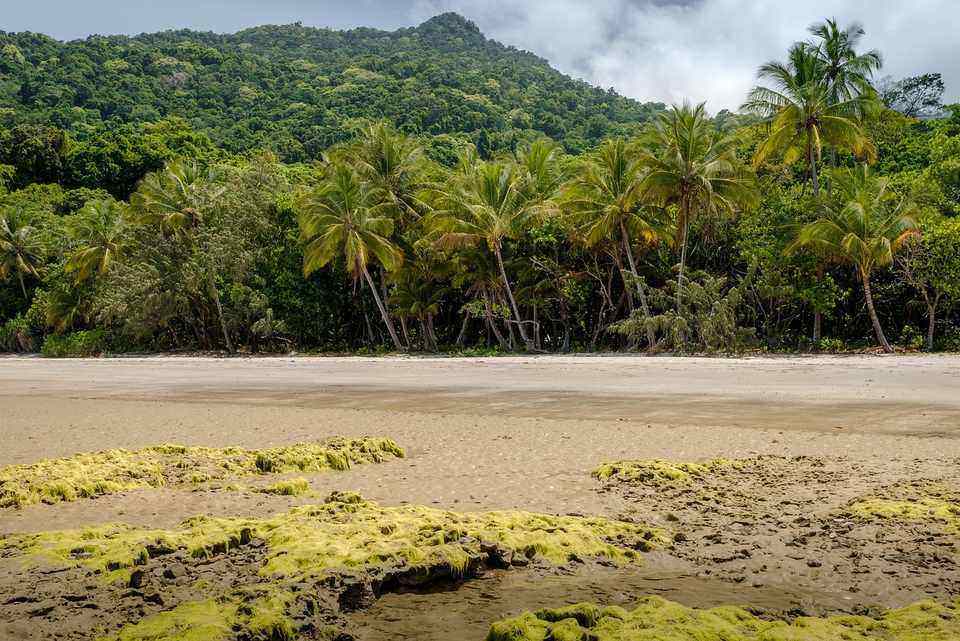 Jungle Tree House, Cape Tribulation – Off Grid, Deep in the Forest

Best for: Open Tree House in the Daintree Jungle, Affordable, Couples
Location: North of Cairns near Cape Tribulation Village
The Daintree:
The heritage-listed Daintree is truly one of the natural wonders of the world. For over 9000 years the Kuku Yalariji tribe have cared for this ancient rainforest. Reaching to the ocean the Daintree is one of the most bio-diverse ecosystems in the world and a naturalists dream destination.
You'll have 1,200 kms of tropical rainforest to explore with rare wildlife like the Musky Rat Kangaroo, Golden Orb Spider, Lesser Sooty Owl, Forest Dragons, Goanna Lizards, the metallic Ulysses Butterfly, the Giant Tree Frog and many more. Take care you don't bump into a crocodile or a python!
The owners of Jungle Tree House are committed to sustainable living and have created a true wilderness experience. Embrace nature up close and hike the surrounding walking tracks while you discover the interesting statues hidden in the jungle. Cool off in the nearby creek.
Top Reasons to Book this Queensland Treehouse:
An immersive, back to nature experience deep in the magic rainforest
Perfect for eco-adventurers
Relaxing and restful
See resident cassowaries ambling by
Birdlife and sounds of  the jungle
How many beds?
The tree house accommodates up to 3 people. 1 queen-size bed on the main floor and 1 single bed in the upstairs loft.
Escape the world!
Escape from civilization deep in the Daintree rainforest and chill in this simple octagon tree house built by the locals. The wide windows are open to the elements, you're off-grid with solar power and you'll love the cool outdoor shower. No WIFI, no TV, no microwave – it's just you and the rainforest.
See the Tree House and the Cassowary!
Tips for the Jungle Queensland Tree House:
Bring a flash light for the dark nights
You have a simple kitchen so bring in your own supplies and hide away from the rest of the world.
Mosquito nets are provided
Bring a friend – you're alone in the jungle.
But you're a walk away from Cape Tribulation village with shops and cafes if you need an espresso!
You can book the Jungle Tree House at their website here.
Happy travelling! If you need any more information or want to join the conversation please share in the comments section below.
See my posts on other unique places to stay in Australia, Murray River Houseboats, Coober Pedy Underground hotels, cool places in Byron Bay and for a post on a quirky Tree House in Thailand click here.
---
Amazing Cape Tribulation Things to Do: