Queensland's balmy temperatures and lush rainforests are the perfect location for a treehouse stay, with a birds-eye view of the forest and a tranquil escape. This gorgeous list of the Best Luxury Treehouse Accommodation in Queensland shows that you can sleep comfortably in the canopy in luxurious and stylish interiors. So, it's time to escape the humdrum for an enchanting stay high in the treetops.
Destination: Queensland | Australia
Type of Accommodation: Treehouses | Tree House
Price Range: Cabin/Hostel $ | Economy $$ | Mid-range $$$ | Luxury $$$$ | Super Luxe $$$$+
This post may contain affiliate links. As an Amazon Associate, I earn from qualifying purchases. See Affiliate Disclaimer.
---
Gold Coast Hinterland
1. Pethers Rainforest Retreat – Mount Tamborine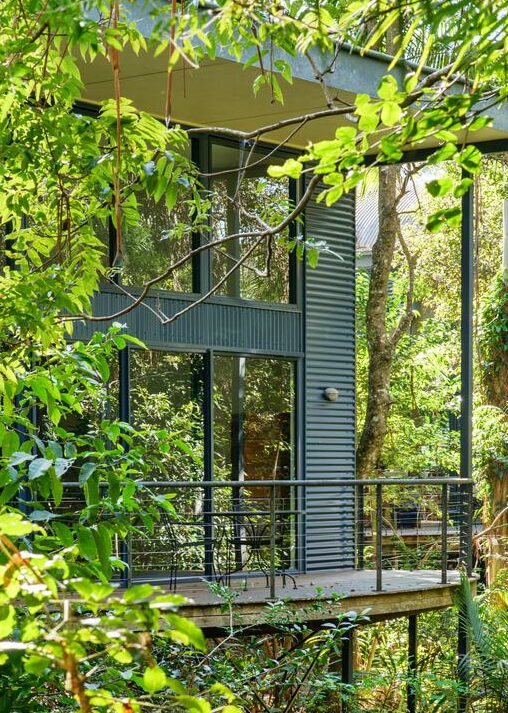 Best for: 5 Star Boutique Hotel, Adults-Only, Spa Pool, Romantic, Restaurant $$$$
Tamborine Mountain is only 47 minutes from bustling Gold Coast but you'll feel like it's a world away at Pethers Rainforest Retreat.
This luxury hotel offers romantic tree houses secluded in peaceful and ancient rainforest. To enhance your relaxing stay on-site therapists offer soothing spa treatments and massage.
The treehouses were right in amongst the rainforest. The wall opposite the bed was a big glass window giving you a wonderful view of the treetops.

Guest comment
Each spacious tree house is designed with luxurious and calming interiors. With floor-to-ceiling windows, the rainforest surrounds you with the quiet sounds of nature. Relax indoors or out on the deck and listen to the sounds of the birds.
The treehouses aren't far apart from each other but you'll feel totally private. Don't be alarmed if you see a spider though, this is the rainforest!
So, what's nearby? Tamborine Rainforest Skywalk is only 1.5 km away, Cedar Creek Falls is 7 km away, and Tamborine Mountain Glow Worm Caves is 2 km away.
Nearest Airport: Gold Coast Airport is 42kms and Brisbane Airport is 60 km away.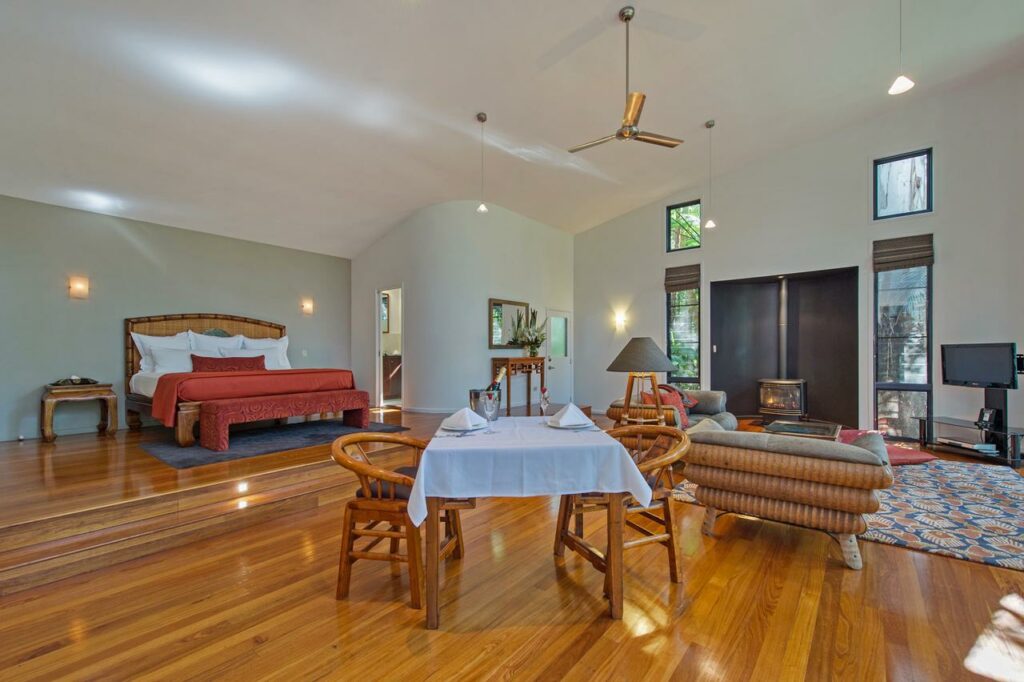 Dining
At Pether's Rainforest Retreat you'll be well looked after, the staff is excellent and super helpful. Also, don't miss eating out at the highly recommended restaurant with Australian and International a la carte food.
If you want to venture further for eats you're only a few minutes to the heart of Tamborine Mountain Village with cafes, restaurants, and boutique shops.
Good to Know:
Treehouse accommodation for two
1 bedroom with king-size bed, dining and lounge area, kitchenette, and bathroom
Continental breakfast included
Complementary champagne and chocolates
Flat-screen TV and Free WIFI
Airport Shuttle
Treehouse No. 7 is wheelchair accessible and has a full-access bathroom
Nearest Airport: Gold Coast Airport is 42kms and Brisbane Airport is 60 km away.
Stay at Pethers Rainforest Retreat and immerse yourself in the tranquil beauty of nature, while enjoying luxurious treehouse accommodation and personalized service for an unforgettable escape. View at Agoda
---
Sunshine Coast Hinterland
2. Kondalilla Eco Resort – Montville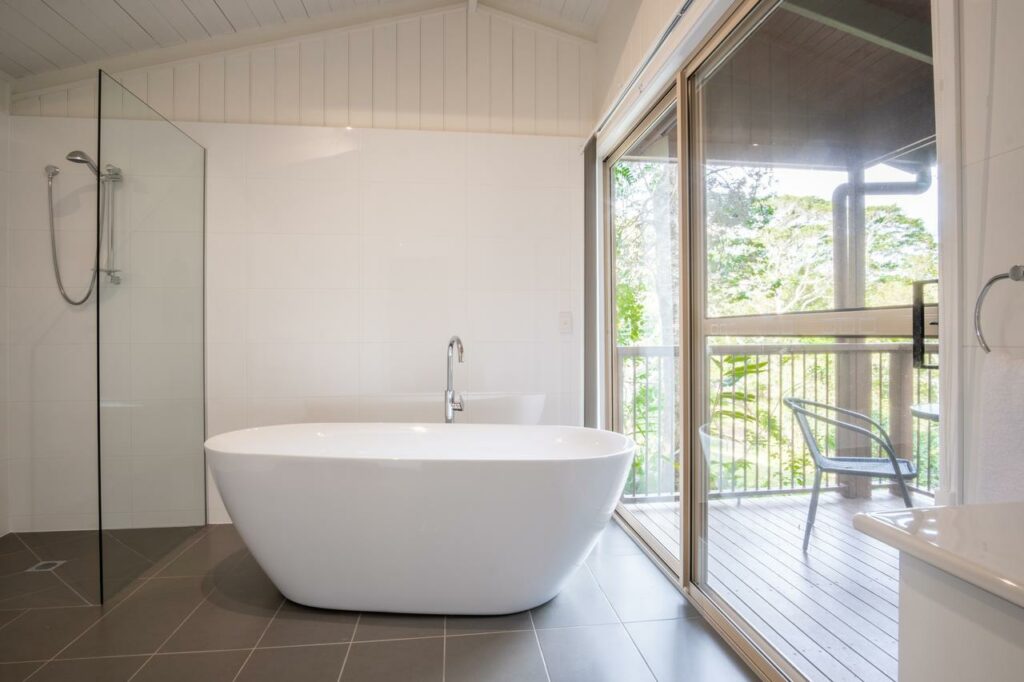 Best for: 3.5 Star Resort, Spa Bath, Swimming Pool, Spa Treatments, Honeymoon $$$
Hidden in lush rainforest in the Sunshine Coast Hinterland, Kondalilla Eco Resort offers romantic and private treehouses for two plus options for more guests.
High in the trees the accommodation is comfy and contemporary with a deck to savor the jungle by day and the stars at night.
You're also close enough to walk to Kondallia Falls.
Treehouse Accommodation
The treehouses offer comfort and serenity, warmed by a wood burner in winter and cooled in summer by air-conditioning.
Enjoy the kitchenette and cozy living area with plush sofas and modern entertainment. Unwind in your rejuvenating spa bath in the ensuite.
After a day of rainforest exploration refresh in the salt-water swimming pool. Then drift off to sleep in a sumptuous king-size bed adorned with luxurious linens.
The tree house was well equipped and the bed was very comfy. With the fire going it was very cosy and just perfect for a relaxing weekend getaway. We had cocktails on the deck at the restaurant and also dinner there – which was excellent.

Guest Review
Dining and Spa
The resort also offers spa treatments, an excellent restaurant and bar, and peaceful rainforest walks. It's easy to see that this eco-resort is popular with honeymooners and guests looking for an idyllic and natural escape.
The location at Kondalilla Eco Resort feels tropical and remote with the sounds of birds and the Kondalilla Falls in the background but you're only a 5-minute drive to popular Montville with shops and plenty of food options.
Closest Airport: Sunshine Coast Maroochydore Airport is 22 km away and Brisbane Airport is 83 km away.
Other accommodation options: You can also choose from studios and villas for two guests. For larger groups there are log cabins, chalets, family rooms, and the lodge.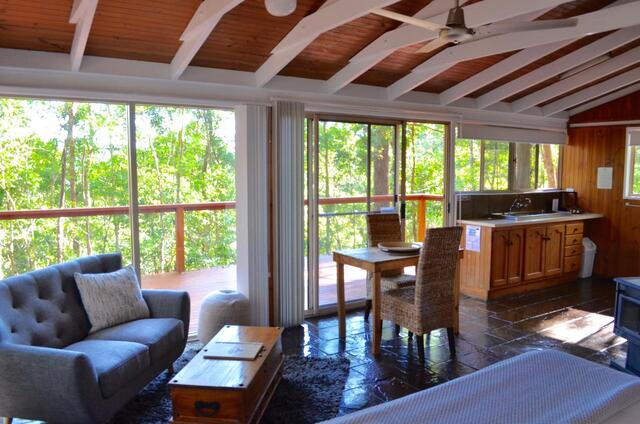 Good to Know:
Treehouse accommodation for one, two, or more guests
Breakfast hampers available to buy
Experience a magical retreat at Kondalilla Resort, designed to awaken and soothe your senses. View at Expedia or Unlock a Deal at Agoda
---
3. Secrets on the Lake – Montville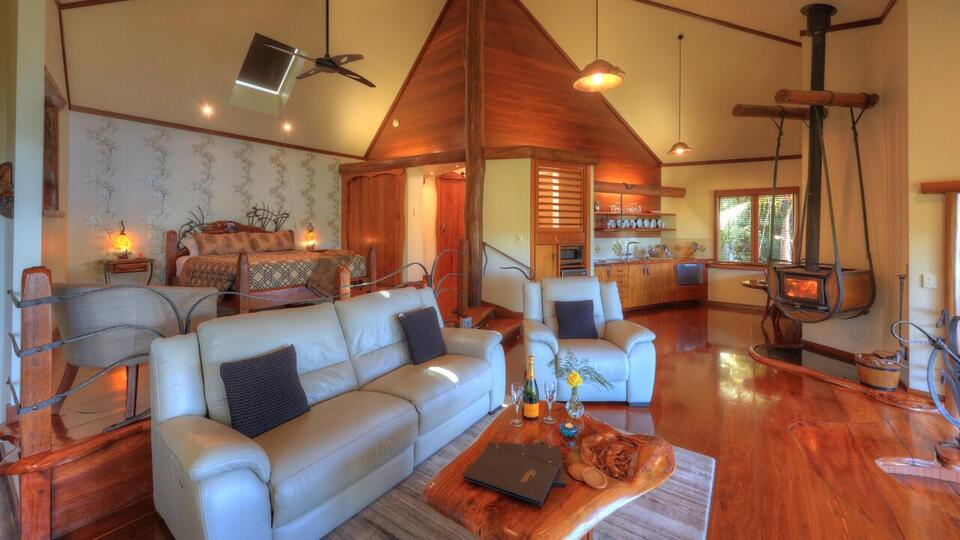 Best for: 4.5 Star Hotel, Lake Baroon Views, Welcome Hamper, Private Spa Pool, Up to Six Guests, $$$$
Secrets on the Lake is a unique treehouse stay, also in Montville. Each treehouse's interior includes handcrafted wooden artwork and designs with beautiful stained-glass windows and mesmerising views across Lake Baroon.
The on-site restaurant is a popular Montville eating spot.
Top Tip: the Penthouse Treehouse is stunning for a romantic escape.
The beauty everywhere – location, wood carving of local animals and plants everywhere, stained glass windows, the fun boardwalk high above the ground, the wonderful welcome hamper, the kindness of staff and owners.

Guest Review
View at Expedia or read more at Treehouses at Secrets on the Lake in Montville
---
4. Treetops Seaview – Montville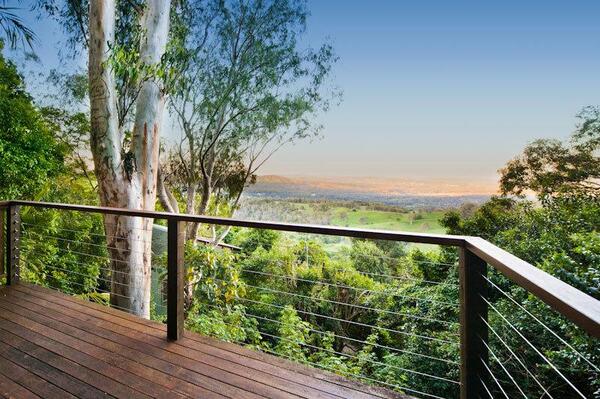 Best for: 3.5 Star Hotel, Boutique-Style, Sunsets, Spa with Views, Breakfast Hamper, Up to Two Guests, $$$
Only a short walk to the Montville Village you'll find this lovely boutique treehouse hotel nestled in the lush rainforest. With unbelievable views from the escarpment to the ocean beyond.
Each spacious treehouse at Treetops Seaview Montville includes wooden interiors and stylish furnishings. Why not take a relaxing soak in the large spa bath with never-ending views!
Treehouse
Experience the charm of your treehouse with a cosy lounge, an inviting dining area, and a well-equipped kitchen complete with modern appliances.
Unwind by the crackling fireplace. With no internet, you can switch off with a book, or relax in front of the TV.
Fire was double sided so romantically lit the living area and the bedroom spa area. Loved the breakfast hamper and goodies that were there.

Guest Review
Closest airport: Sunshine Coast Maroochydore Airport is 21 km away and Brisbane Airport is 80 km away
Good to Know:
Daily breakfast hamper
Massage available from a local therapist
Embrace the perfect blend of comfort and nature in this idyllic retreat.
Indulge in the enchanting Treetops Seaview Montville, where breathtaking views, natural treehouse living, and serenity create a rejuvenating getaway. View at Expedia or Unlock Special Prices at Agoda.
---
TRAVEL RESOURCES
---
Now we head north to the Atherton Tablelands and a visit with amazing wildlife and to the Daintree Rainforest, a World Heritage Site, for more Luxury Queensland Treehouse Accommodation…
Atherton Tablelands
5. Mt Quincan Crater Retreat – Yungaburra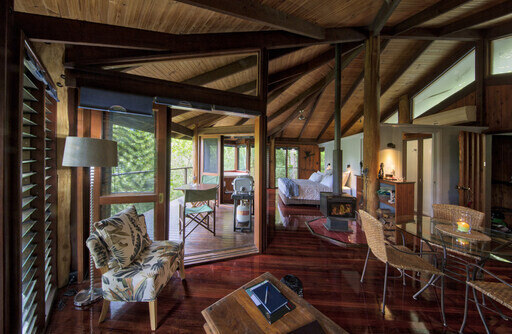 Best for: 4.5 Star Retreat, Adults-Only, Architectural Treehouses, Rare Wildlife, Hot Tub, Outdoor Shower, Country Breakfast, Up to Four Guests, $$$$
Hideaway in the lush Atherton Tablelands at Yungaburra in one of six architecturally designed pole cabins aka treehouses at Mt Quincan Crater Retreat.
An elevated walkway takes you to your chic and rustic tree house with open-plan living and a double hot tub front and centre with glass all around.
The tub is a perfect spot to unwind and enjoy the awe-inspiring views of the tablelands and the ancient volcanic crater.
Another relaxing spot is the deck with outdoor furniture and lights at night to illuminate the surrounding forest and countryside.
Also, watch out for local wildlife, including rare Lumholtz tree-climbing kangaroos. You might meet one on the deck!
Yungaburra is surrounded by wildlife activities, if you have time visit the nearby (2.3 km) Peterson's Creek Platypus Wildlife and Botanical Walking Track.
Closest Airport: Cairns Airport is 50 km away.
Treehouses
At the retreat three of the Canopy Treehouses also include a private deck with an outdoor shower surrounded by native bush. Where you can truly embrace nature.
In the cooler months curl up in front of the swivelling fireplace with a good book and a glass of wine.
In summer when temperatures soar on the lowlands you can turn up the air-con, but since Mt Quincan Retreat sits above 700 metres, you'll experience cooler temperatures and less humidity.
Each treehouse includes a TV, a double spa pool, a luxury king-size bed, a double shower with organic toiletries, a full kitchen, and a lounge.
FYI: the two-bedroom lodge is also available for groups of up to four. Teenagers are welcome with their families.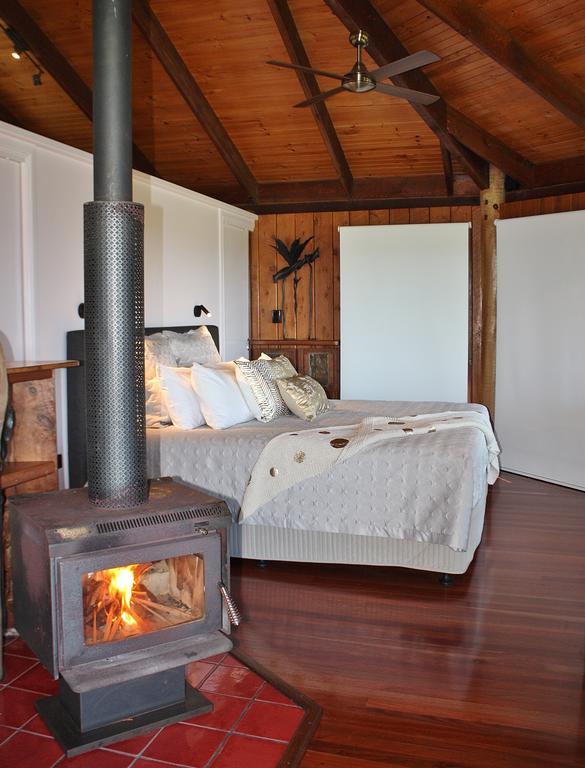 Good to Know:
Treehouse accommodation for two guests
Currently minimum 2-night stay
Parking is available near your treehouse – from here you walk along a path
Laundry facilities in each treehouse
If you get the chance to visit the stunning Atherton Tablelands stay a while in one of Mt Quincan's treehouses. Everything at this amazing retreat is designed for a romantic and relaxing sojourn, one that you'll always remember. Unlock the Latest Deals at Agoda.
---
6. The Canopy Rainforest Treehouses & Wildlife Sanctuary – Tarzali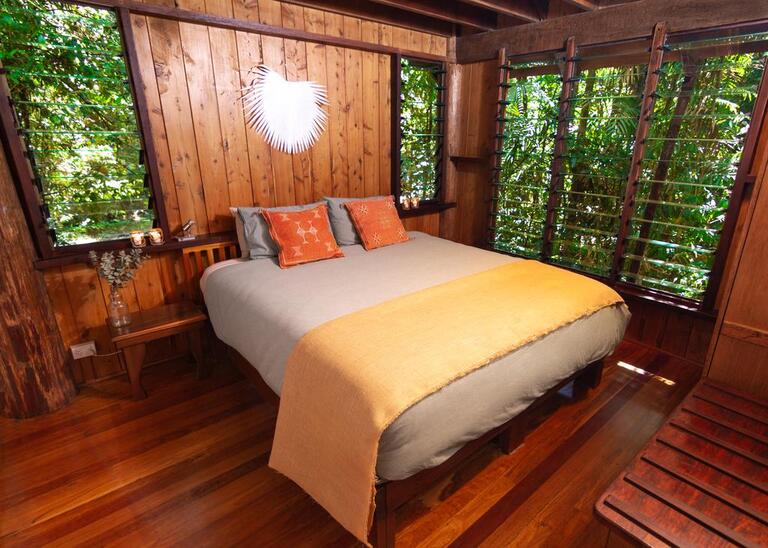 Best for: 4 Star Boutique Hotel, Resident Cassowary and other Wildlife, Jungle Experience, Hot Tub, Up to 8 Guests $$$
Immerse yourself in a private rainforest at this wilderness hideaway at Tarzali in the Atherton Tablelands.
At The Canopy Rainforest Treehouses and Wildlife Sanctuary, the trees create a wall of nature and you feel so far from civilization.
Around the property, you're sure to meet the resident wildlife: cassowaries, turtles, wallabies, tree kangaroos, platypi, butterflies, and beautiful tropical birds.
Your hosts provide you with food to hand-feed some of the animals but watch out for the turkeys!
Nearest Airport: Cairns Airport is 61 km away.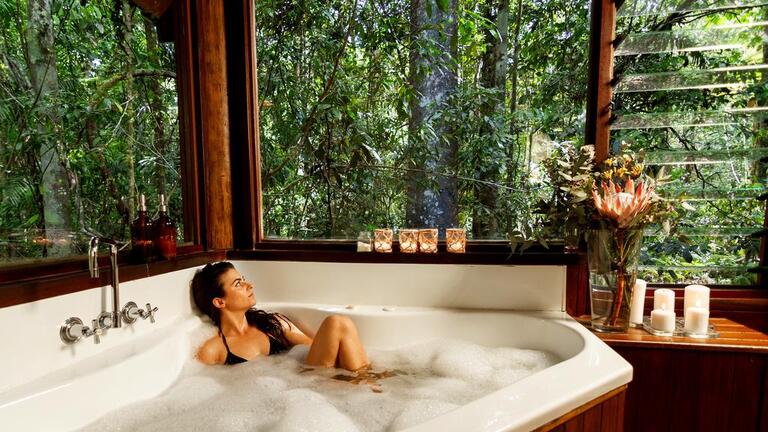 Loved the location in the beautiful rainforest with incredible bird life. Enjoyed watching the birds every morning, and possums at night. Even a resident cassowary. The treehouse was very comfortable and quiet with excellent facilities and a beautiful spa bath with rainforest views. "

Guest Comment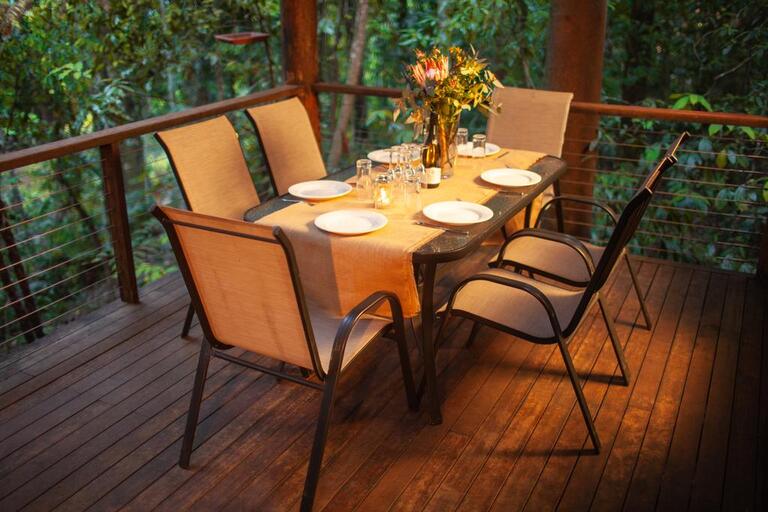 The Accommodation @ The Canopy Treehouses
Two-Bedroom Treehouses
Each treehouse is designed as a complete holiday home and nestled in the jungle on the banks of the Ithica River.
Includes full kitchen, stove, oven, fridge, and dishwasher. Indoor lounge and dining. Washing machine and dryer, air-conditioning, and heating.
Outdoors you have balconies, hammocks, BBQ, and outdoor dining.
Comfortable bedding for up to six guests. The bedrooms can have king-size beds or twin beds. Spa bath in the bathroom.
The Bowerhouse
This is a treehouse holiday home designed for large groups – up to 8 guests.
With two bathrooms, two bedrooms with king-size beds, and one bedroom with twin beds, or these can be changed to suit the guests, and the same amenities and facilities as the two-bedroom treehouses.
Good to Know:
Activities nearby: fishing, hiking, and horse riding
Therapists offer massage treatments in the comfort of your treehouse
Take a light jacket for winter evenings
Free parking on site
Bring your own food, coffee and tea are supplied.
Free WIFI is available in the public areas
For a nature-infused getaway, The Canopy Rainforest Treehouses & Wildlife Sanctuary offers an experience of serenity, wildlife encounters, and eco-friendly living, nestled within Queensland's enchanting rainforest. View at Expedia.
---
Lower Daintree Rainforest
7. Daintree Ecolodge – TOP PICK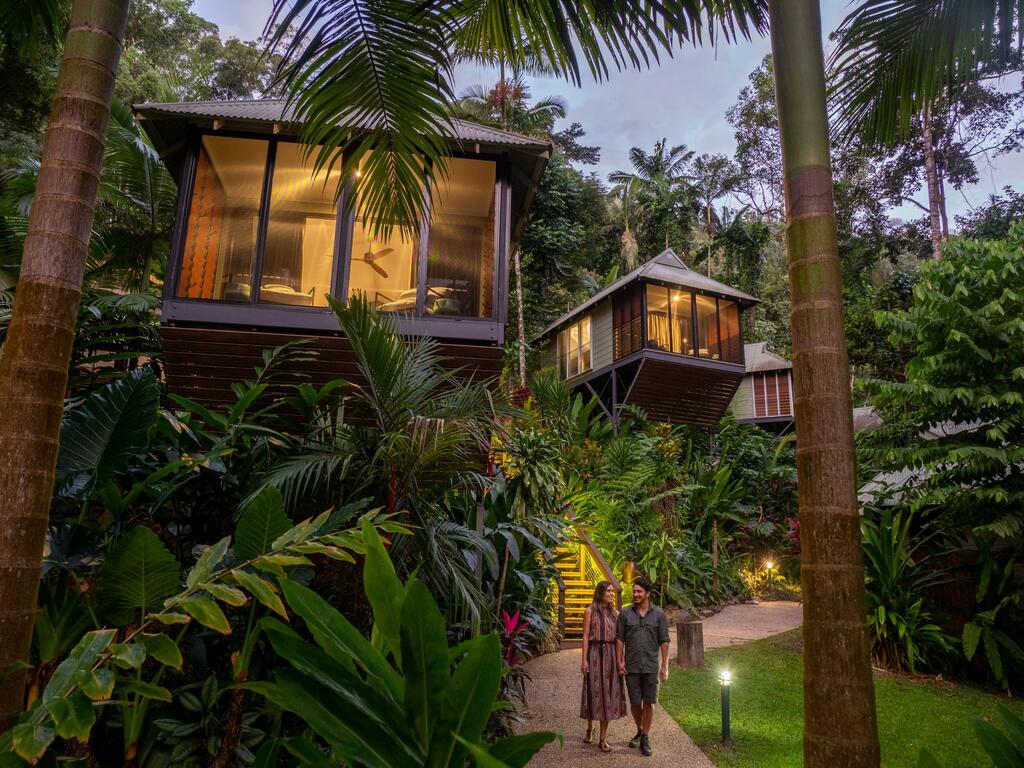 Best for: 4-Star Rainforest Resort, Pool, Massage, Breakfast, Restaurant, $$$$$
Luxury treehouses, the sounds of nature, serenity, and pampering all await you at the stunning Daintree Eco Lodge and Spa.
The beautifully manicured and landscaped rainforest gardens are a delight to walk through as you bathe in the fresh air of the jungle.
In your banyan tree house, special touches include bathrobes, slippers, and a comfy sitting area with a covered outdoor deck for relaxing.
Each stylish villa treehouse includes marble floors, king-size beds and luxury linen, a fridge, and tea and coffee-making facilities.
The Lagoon Villas are hotel rooms at 32m2, the Canopy Villas are entire villas at 32m2, and the Rainforest Villas are larger villas on the ground floor at 56m2 and include a spa bath on the outdoor deck.
Closest airport: Cairns Airport is 82 km away.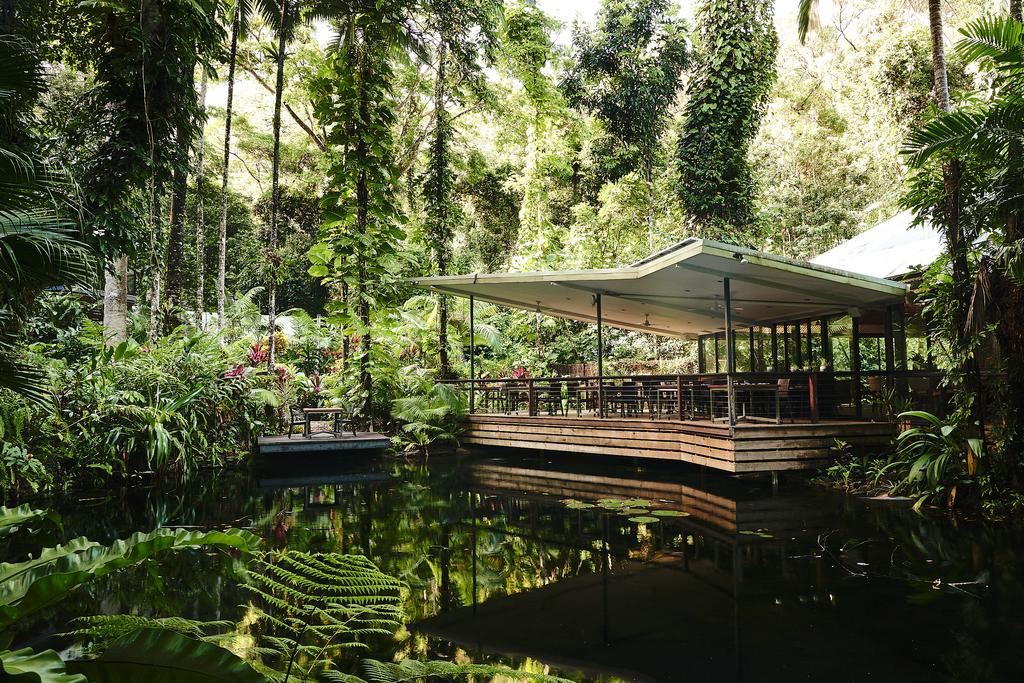 The Julaymba Restaurant looks out across the lagoon and offers exceptionally delicious al-fresco food! They can cater to special food requirements.
If you desire some pampering then the spa treatments on-site are divine and include body wraps, body scrubs, facials, aromatherapy, massages, and lots more.
The room was really beautiful and we spent lots of time out on the screened deck just reading books while we listened to the rainforest. We woke up in the morning to the sound of the rainforest. The bed was very comfortable as were the chairs out on the deck. The restaurant was brilliant for dinner and the complementary breakfast was delicious.

Guest Review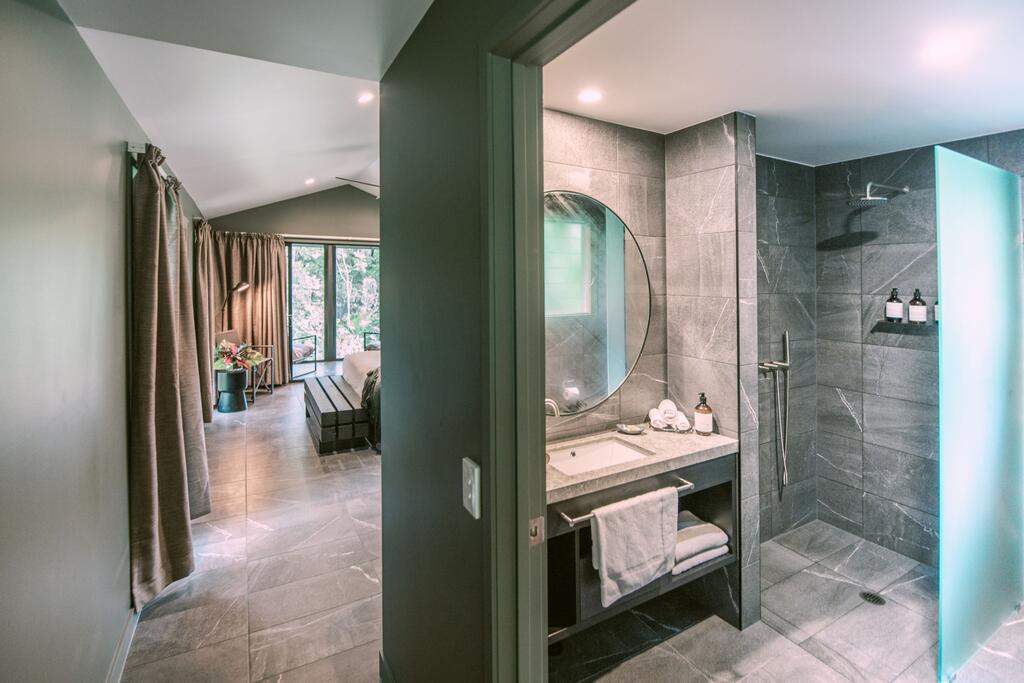 Good to Know:
Screened porches protect you from insects
Cooked-to-order breakfast included
Free WIFI
Free parking on-site
Air-conditioning
Eco tours and yoga classes can be booked
Airport shuttle available
Experience the harmony of nature and culture at Daintree Ecolodge, where you can unwind in sustainable luxury amidst the captivating beauty of Queensland's ancient rainforest. View at Hotels.com.
---
Popular Viator Tours
The Cultural Half Day Tour where you spend time with a local Aboriginal tour guide. You'll learn about the lives of the Kuku Yalanji, their history, how they utilise plant life for health and food, and their culturally significant areas in the rainforest.
---
I hope this list of the Best Luxury Treehouse Accommodation in Queensland has inspired you to choose a stylish stay high in the treetops.
These hotels and resorts truly treat you to a luxurious holiday with relaxation and pampering on offer as you enjoy a peaceful retreat hidden in some of Queensland's most beautiful rainforests. Happy travels!
---
SEE MORE