These Amazing Eco friendly Retreats in Nelson, Golden Bay and Abel Tasman Park embrace the ethos of healthy living, caring for their guests and nurturing the environment. With a blessed climate, Nelson and Golden Bay enjoy lots of sunny days (source). Oh…and gorgeous beaches, crystal clear sea, stunning bush walks in the Abel Tasman and Kahurangi Parks, arts and crafts, wineries…..in short a wonderful place to visit!
So, please read on for holiday inspiration where you'll find peaceful sanctuaries and tranquil escapes…
Note: If you've never heard of VRBO it's a member of the Expedia and Bookabach family with holiday lets – homes and studios. Links also take you through to Booking.com
Destination: New Zealand | South Island | Kaiteriteri | Golden Bay | Motueka | Takaka
Accommodation Type: Eco-friendly and Organic | Strawbale
---
Hairy Hobbit Cottage – Starry Nights near Motueka
Best for: Peaceful, Views, Outdoor Bath, Near Abel Tasman National Park. Solo, Couples, Families
Overview:
High on a hill this fairy tale cottage has colossal views across native bush and countryside to the Tasman Sea and snow capped Richmond Ranges beyond. Hairy Hobbit Eco Cottage is a cute and fun stay inland from Riwaka and Motueka.
You're near the Abel Tasman and Kahurangi Parks, Kaiteriteri Beaches and the Tasman vineyards.
The cottage is one bedroom with a small kitchen, dining, lounge and a deck. Electricity is provided by micro-hydro and solar generation with gas cooking indoors and outdoors on the BBQ.
Enjoy the views from the deck, in the outdoor bath or at night under a clear sparkling sky. Enjoy some me-time in the hammock under a beautiful fig tree.
Guest Comment:
Heaven on Earth! What a little slice of paradise! The most beautiful and peaceful spot I've ever stayed. Views for miles, woke up to the sound of birdsong and made friends with a family of Weka's.

Guest comment
Good to Know:
---
Unique Adobe Home set in stunning bush/coastal setting – in Cable Bay near Nelson
Best for: Birdlife, Spacious, Views, Peaceful. Couples, Families, Friends
Overview:
This serene adobe home is a bush and beach retreat hidden in a private wilderness in Cable Bay. You're surrounded by birdsong, native bush, coastal estuary and incredible sea views to Pepin Island. But this eco accommodation is only a 29 minute scenic drive to Nelson, the amazing Saturday market, art galleries and artisan shops, cafes and restaurants.
Adobe houses, made from earthen bricks, are well insulated and dry so you'll find this home a wonderful stay in any season. The house is open-plan with three bedrooms and room for five guests. The different textures and hues of the earthen walls combined with handcrafted doors, wooden beams, and comfy furniture create a lovely warm and unique interior.
Guest Comment:
We stayed in Rachel's property for a week with our 2 kids aged 10 and 14 and had a fabulous time. The setting is lovely and peaceful and also close to Nelson for markets etc. The local Cable Bay cafe is fantastic. There are beautiful walks nearby and great beaches for exploring. Also less than an hour to Pelorus and the Marlborough Sounds.

Guest comment
With great indoor/outdoor flow to the deck, the home connects nicely with the natural setting. Ideal for outdoor dining, snoozing and star gazing.
Good to Know:
---
The Resurgence Luxury Eco Lodge – near Motueka
Best for: Boutique, Swimming Pool, Secluded, Gourmet Food, Peaceful, Romantic. Couples
Overview:
Named one of the world's best eco-lodges by National Geographic The Resurgence Luxury Eco Lodge offers immaculate boutique Bush Chalets, the Bush Lodge and Superior Rooms. Each room has lovely attention to detail and stylish features with incredible views. You won't want to leave!
This chic luxury lodge is 52 minutes to Nelson and only 18 minutes north and inland from Motueka but you're hidden in a remote valley. You'll find everything you need for a dream escape in the bush with pool, jacuzzi, sauna and dreamy massage therapy. For adventurous types the Kahurangi and Abel Tasman National Parks are close by for bush walking, swimming, and kayaking.
Private chalets, great food, great vibe, the hosts were awesome. This place is awesome!! Way out in the boonies, but worth every mile driving. These people have thought of everything! The chalets are beautiful and comfortable. We loved it.

Guest comment
Good to Know:
---
Kimi Ora Eco Resort – near Kaiteriteri Beach
Best for: Pool, Spa and Sauna, Vegetarian Restaurant, Bush Chalets, Mountain Bikes. Couples, Friends, Families
Overview:
Kimi Ora's stylish bush chalets offer seclusion and peace on the hill above Kaiteriteri's golden sand beach. This popular 4-star eco resort is only a 10-minute walk to the beach, cafes and activities of Kaiteriteri.
The Spaces and Facilities:
Each room has a balcony with views, kitchenette or kitchen, with dining and lounge. The resort offers a great range of facilities: dive into the pool, laze in the hot tub, soothe your muscles in the steam room and sauna, play table tennis or billiards, and borrow a free mountain bike and explore the Kaiteriteri Mountain Bike Park.
The spa treatments (for men and women) are offered every day of the year except Xmas day: massage, facials, manicures and pedicures, waxing and body spa treatments.
Happy Guest:
I liked the location, enjoyed the sea view from my room, I liked the fitness track, glow worm walk, there were bikes available and nearby track, the pools and spa were so relaxing and loved the facial I had.

Guest comment
Good to Know:
See More Here:
---
Split Apple Retreat – Luxury – Kaiteriteri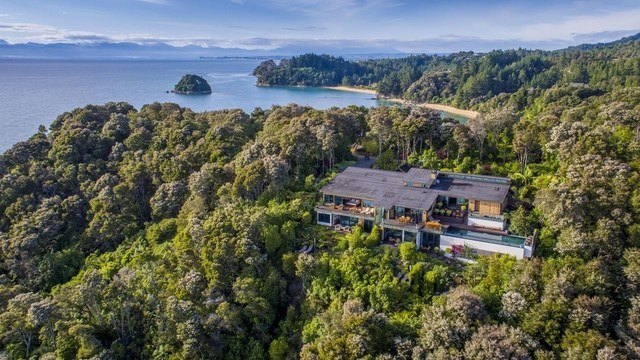 Best for: Luxe Design, Cliff-Top Views, Organic Gourmet Food
Split Apple Retreat is a stunning 5-star eco lodge perched on an emerald green hill where you're rewarded with sublime views across the forest and ocean. You'll discover a graceful retreat that delights with beautiful art, elegant rooms, healthy gourmet food, restful spa treatments all guided by sustainable principals. Check prices and availability at booking.com here or Read more at Staytopia here…
---
Best for: Pristine Beach and Bush Location, Spa Treatments, Organic Restaurant, Couple, Friends, Families
The only way to arrive at this stunning 4-star lodge hidden in the Abel Tasman National Park is on foot, by boat or helicopter! This is a true escape from cars, cities and hustle bustle.
You'll find peaceful native forest, wetlands, and pristine beach. FYI: In 2019 three rare pāteke – brown teal ducks were released in the wetlands at the lodge.
On the eco front Awaroa generates it's own power and serves healthy food grown in their own organic gardens. Dine indoors or outside in the courtyard at Harakeke Restaurant which also has comfy lounge seating, a fireplace for cool evenings and a library. For casual meals the Al Fresco Pizzeria is popular with guests and walkers on the track.
Happy Guest:
The location is amazing – minutes' walk from a long stretch of beach and walking trails. One of the most special locales on the planet.

Guest comment
Good to Know:
See more of Awaroa Lodge:
---
More Eco friendly retreats in Nelson, Golden Bay and Abel Tasman Park – in remote locations…
Alpacas Off Grid – Eco Cabin Takaka
Best for: Farm animals, Peaceful, Native Bush and Trails, Creeks for Swimming. Couple
Overview:
Welcome to Alpaca Heaven! This eco-friendly retreat is a cute quirky cabin surrounded by farm, native bush and gorgeous alpacas in Golden Bay. You'll feel remote but you're actually only a 20 minute drive to Takaka with delis, cafes, restaurants and the beach.
This cosy haven is comfy with cool design elements. Lounge in the hammock, swim in the creek, feed the alpacas, hike or bike Kill Devil Track only 100 metres away, or simply kick back in this little slice of paradise.
Guest Comment:
Beautiful location, rural setting and up in the native bush. Hosts were super friendly, amazing communication and cooked us a delicious breakfast. The alpacas were super cool to hang out with and feed. Cabin is very cute, rustic, snugly with lots of romantic features.

Guest comment
Good to Know:
---
Te Hapu Coastal Cottages
Best For: Remote Cottages, Beaches, Hiking, Countryside, Privacy, Couples, Families, Friends
For adventurers the ruggedly beautiful location of these rustic cottages and chalets is sublime! Set on 1000 acres of coastal sheep and cattle farmland you'll have seven private beaches to choose from, hiking, contemplating and absolute privacy. It's you and nature.
The nearest town is Collingwood at 42kms away, so this is a remote holiday destination where you're immersed in wild landscapes, pastureland, rock formations, blowholes, walking tracks and sea.
The chalets for 4 (max 2 adults and 2 children) and the cottages for 9 (max 7 adults and 2 children) are comfortable and warm with fully equipped kitchens. Come prepared to cook because the restaurants and cafes are a long way away. Bring a book, cards, games, swimming gear and enjoy a WIFI free existence!
Good to Know:
---
Golden Bay Hideaway – Remote and Serene in Wainui Bay
Sorry the hosts are currently not taking guests – I'll leave it on this list for now – and update you when the situation changes. Many thanks
Best for: Award-winning Eco Homes, Outdoor Baths, Beach, Remote. For couples, friends, families
Overview:
Beautiful Golden Bay is known as a laid-back haven for people choosing eco-conscious lifestyles, a place to relax and escape mainstream pressures. At Golden Bay Hideaway you'll also have plenty of opportunity to relax in one of their cool accommodation options and experience sustainable building principals in action. Your hosts are builders of "future proofed eco homes that are the most insulated, low energy and low maintenance".
Each eco home, and the house truck, is nestled in a private and remote bush setting near the beach for peace and quiet, except the occasional bird call. All include a plumbed outdoor bath for warm nights under the stars. Wainui Bay is also a wonderful place to swim and hike the trails in the area. Don't miss the walk to Wainui Falls – the largest falls in Golden Bay.
Accommodation Options:
---
Happy Travelling!
Hope you've enjoyed this list of wonderful Eco Friendly Retreats in Nelson, Golden Bay and Abel Tasman Park. Check out more cool places to stay here:
---
Bonus: Staytopia Top Activity Picks
Fun to Do in Cable Bay near Nelson:
The 7.9km Cable Bay Coastal Walkway is a popular hike taking in forest, farm, hills and coast. You can also hire kayaks at Cable Bay Kayaks and enjoy a meal and coffee at the Cable Bay Beach Cafe. Don't miss The Cable Bay Adventure Park with awesome activities like The Skywire – an exhilarating ride across the stunning landscape; also electric bikes, quad bikes, amphibious all terrain vehicles, archery, horse rides and paintball. You can book The Skywire with Viator and reserve and pay later here.