Welcome to the enchanting city of Dunedin – Ōtepoti, where eclectic accommodations await your arrival! As you explore New Zealand's stunning landscapes, treat yourself to one (or more!) of these Unique and Luxe Places to Stay in Dunedin.
Treasure a distinctive stay at the Lodge at Larnach Castle, where history and luxury intertwine. Or, have a fun stay in a tiny house on a hill overlooking the city, or indulge in the charm of a luxury boutique hotel near the Octagon…
---
Destination: Dunedin | Otago | South Island | New Zealand
Types of Accommodation: Heritage | Tiny House | Boutique
Price Range: Cabin/Hostel $ | Economy $$ | Mid-range $$$ | Luxury $$$$ | Super Luxe $$$$+
This post may contain affiliate links. As an Amazon Associate, I earn from qualifying purchases. See Affiliate Disclaimer.
Lanarch Castle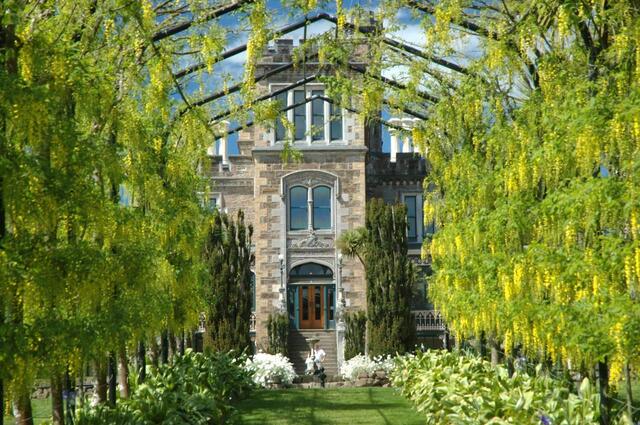 Larnach Castle is the only castle in New Zealand. Built in 1871 by businessman and politician William Larnach, the castle boasts a fascinating history entwined with tales of tragedy and scandal.
At Lanarch Castle, you can choose from three accommodation alternatives.
The Lodge, Stables, and Camp Estate.
Each is conveniently located on the grounds but not inside the castle itself. Entrance to the castle is included in the price of your stay.
You have the unique opportunity to dine within the castle, and enjoy a remarkable 'trust the chef' four-course feast while seated at an impressively long table with other guests.
Reminiscent of a regal banquet! Get to know your fellow travellers and don't forget your tiara for added fun (haha).
---
1. Camp Estate at Lanarch Castle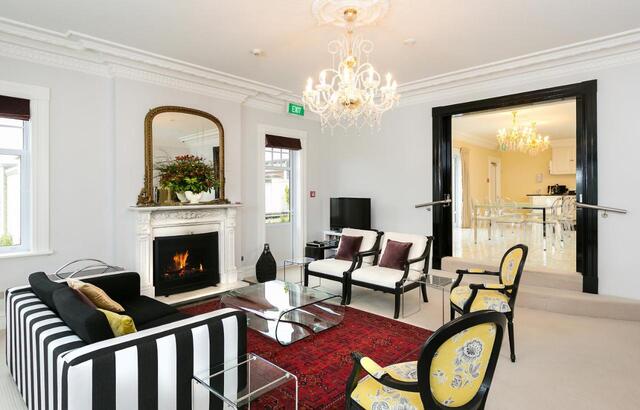 Best for: 5-Star Hotel, Adults-only, Elegant, Romance, Room Service, $$$$
At romantic Camp Estate, you'll immerse yourself in a world of luxury and history.
Five hundred metres down the road from the Castle, this impressive country house features exquisite Neo-Georgian architecture and spectacular views of the Otago Peninsula.
Suites
Choose from individually designed guest rooms, each adorned with opulent furnishings and modern amenities. In the morning enjoy a complimentary full breakfast.
Don't forget to book dinner at the Castle. You're served complimentary bubbles and canapes at the Estate before you set off for dinner.
History
As part of your stay, you have complimentary access to the castle. Explore the castle's past and marvel at its beautifully restored interiors. Afterward, wander through the award-winning gardens, recognized as a Garden of International Significance, where you can appreciate the breathtaking flora and fauna native to the region.
Good to Know
24-hour front desk
Concierge Service and Room Service
Take a Tour
This truly is an extraordinary destination. See the slideshow, pop your dates, and see the best prices for your luxury escape.
---
2. Lanarch Castle Lodge and Stables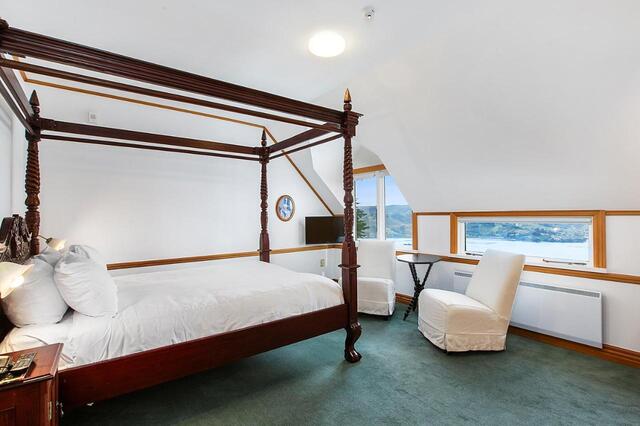 Best for: 4-Star Lodge, Free Breakfast, Free Entry to the Castle, WIFI, $$$
Larnach Lodge and Stables, are on the picturesque grounds of the castle.
They offer guest rooms, each inspired by the rich history of the castle and its occupants.
FYI: Some of the rooms have en-suites, and some use the shared bathrooms.
The Larnach Lodge and Stables were once an essential part of daily life at Larnach Castle. Restored and transformed into spacious suites, the Stables showcase a blend of historic charm and modern comforts.
Good to Know
Rooms for up to four guests
Free parking on site
Housekeeping
The castle's rich history and breathtaking surroundings make Larnach Lodge and Stables an exceptional destination for a remarkable getaway.
---
3. Fable Dunedin – Central City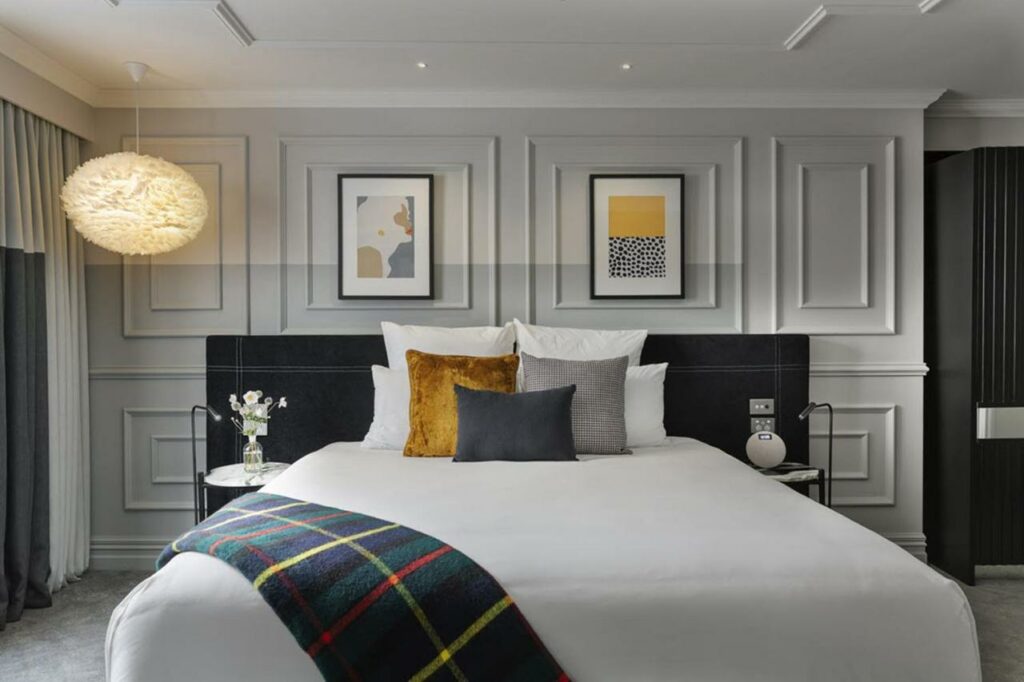 Best for: 5-Star Heritage Hotel, Continental Breakfast, Cocktails, The Press Club Restaurant, $$$
Step into a world of luxury and elegance at Fable Dunedin. Centrally located in the heart of the city, this exquisite boutique hotel boasts a rich history dating back to 1862, when it was originally built as a grand Victorian home.
Sophisticated Interiors
The interiors are meticulously resorted, with a nod to luxe and history, with marble, velvet, and tartan. This blend of classic charm and modern sophistication sets The Fable Hotel apart.
Right in the middle of all the action and only a short walk to The Octagon with some awesome bars and restaurants. The eggs benedict for breakfast was awesome. All the facilities are top notch.

Guest Review
The Press Club
Don't miss a meal at The Fable's renowned restaurant, The Press Club. The talented chefs craft delectable dishes using the finest local ingredients, giving you a taste of New Zealand's locally sourced ingredients.
Suites
When you're not exploring Dunedin (refer to the list of activities at the end of this post), relax in the upscale guestrooms, artfully crafted to exude a sense of serenity and luxe.
Suites and rooms are designed to host two guests, along with a child, offering the choice of queen, king, or twin beds.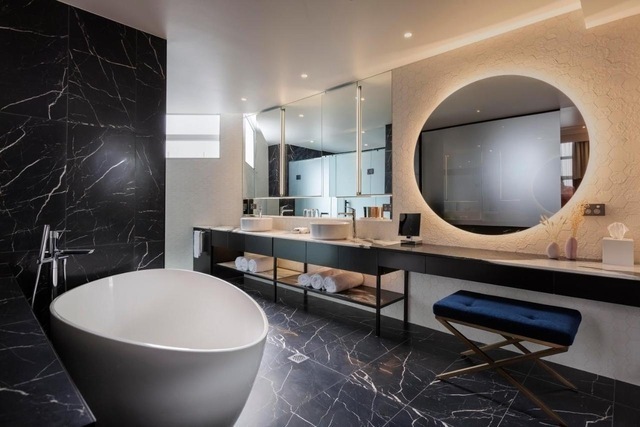 Good to Know
24-hour front desk
Room Service, with an overnight menu (good for late arrivals)
Valet parking (extra fee), book your parking early
Free unlimited WIFI
Desk in Room
The Fable Hotel invites you to immerse yourself in its rich history and experience a stay that is nothing short of extraordinary.
---
4. Tiny House in the Sky – Roslyn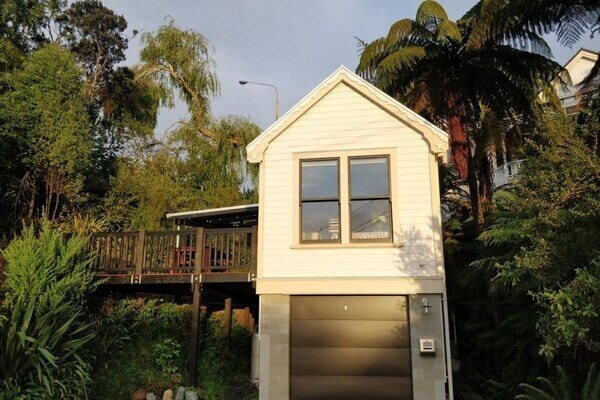 Best for: Tiny House, Kitchenette, Loft Bedroom, Deck, BBQ, Views, Couples, $$$
This quirky little number in the hill suburb of Roslyn is an 18-minute walk downhill to the Octagon. With two double beds, and everything you need for a Dunedin break, the tiny house is popular with couples. Kids are welcome too.
A Fun and Unique Experience for Travellers of All Ages
The Tiny House in the Sky features a cosy double bed on the ground floor and a comfortable double futon in the loft. The well-equipped kitchenette comes complete with a microwave, fridge, stove, utensils, and dishware.
At one of the more quirkier places to stay in Dunedin experience the convenience of a full-sized bathroom, furnished with a bathtub, shower, vanity, and toilet. The inviting main area offers plush seating and a welcoming dining arrangement.
Take in Those Views
The Tiny House is built above a garage, with steps up to the front door. There are also steps (not a ladder) to the loft.
Relax outdoors on the covered deck and enjoy the views, or have a BBQ and dine outdoors.
Great location only 5-10 mins walk up the hill to Roslyn Village, very cute little house complete with bathtub and nice view of the harbour, has all the basics you need.

Guest Review
Good to Know
Otago Museum is 1.4 km away
Free WIFI
Free private parking
Keypad check-in
See the Slideshow
Pop your dates in, you'll stay on this page. See the best price across the internet then press book for a charming tiny house stay!
---
5. Ebb Dunedin – Central City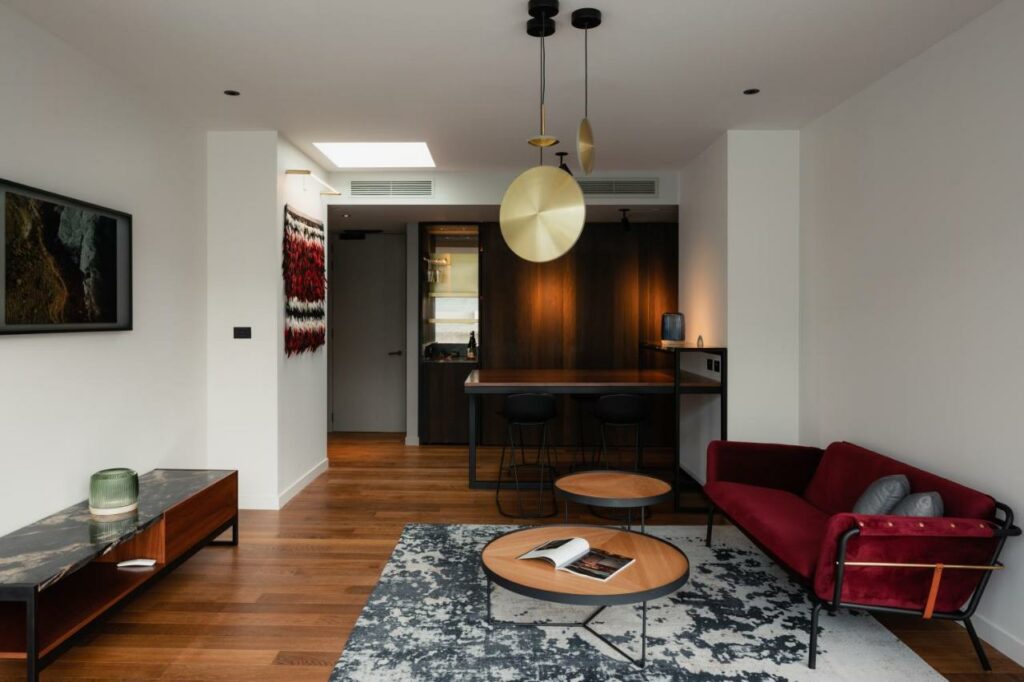 Best for: 5-Star Boutique Hotel, Adults-Only, Excellent Ebb-Cafe, Luxury Suites, $$$$
Step into the world of Ebb Dunedin, once a Post Office, now transformed into a modern sanctuary with sophisticated interiors.
As you explore the city, you'll appreciate the convenience of the hotel's prime location, in the heart of Dunedin. A 10-minute walk to the Octagon, shops, restaurants, and bars. The Ebb is one of the more luxe places to stay in Dunedin.
Ebb-Cafe
Don't miss a meal or two at the on-site Ebb-Cafe, boasting impressive Tripadvisor ratings and a commitment to accommodating diverse dietary needs.
Modern Boutique
Unwind in the luxurious comfort of your elegantly designed suite. Select from suite options, including a king, twin, disability access, and accommodation for four guests. The interiors boast a fusion of velvet, marble, art, and imaginative flair.
Loved everything about our stay. Gorgeous hotel, friendly staff and the bedrooms were well designed, comfortable with high-end finishes and a very luxurious bathroom.

Guest Review
Good to Know at this Unique Dunedin Hotel
Private parking
Free WIFI
Some suites have kitchenettes with a microwave, a stove, and a dishwasher
Mini-bar
See the Slideshow: As you embark on your Dunedin adventure, allow the Ebb Dunedin Hotel to serve as your haven of relaxation and sophistication. Pop your dates in and see the best prices.
---
6. Chapel Apartments – Central City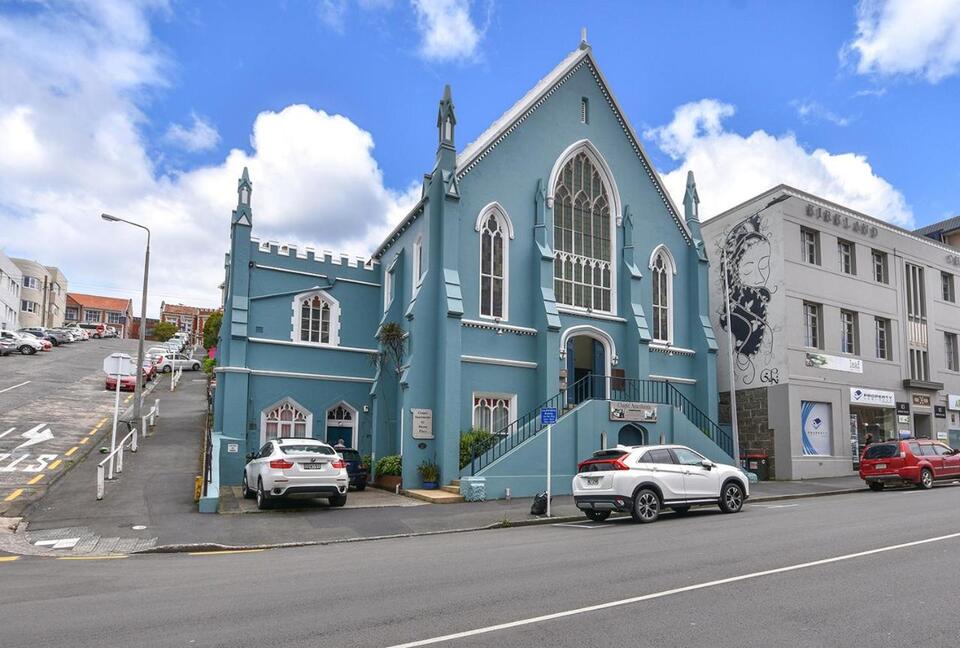 Best for: 4.5 Star Self-catering Apartments, Kitchen, Longer Stays, Up to 4 Guests, $$$
With Dunedin's rich Victorian and Edwardian history, why not stay in one of Dunedin's oldest churches? Dating from 1863 this church has been turned into contemporary apartments.
The Chapel Apartments are erfect for longer stays in the heart of the city near the Octagon.
A Haven of Comfort
Each accommodation has two bedrooms, two bathrooms, a lounge, and a kitchen.
The kitchen features a fridge, a stove, a microwave, a dishwasher, and all the essential kitchenware and utensils you need to feel at home.
The modern bathrooms have hydromassage showerheads, underfloor heating, and complimentary toiletries.
Lounging
Lounge in the cosy ambiance of your living space, with a TV with digital channels for your entertainment. Soundproofing and blackout curtains ensure a peaceful and restful stay.
Location, clean, comfortable, and very quiet. Would highly recommend to others, especially if you're travelling as friends the two bedrooms with bathrooms were much appreciated.

Guest Review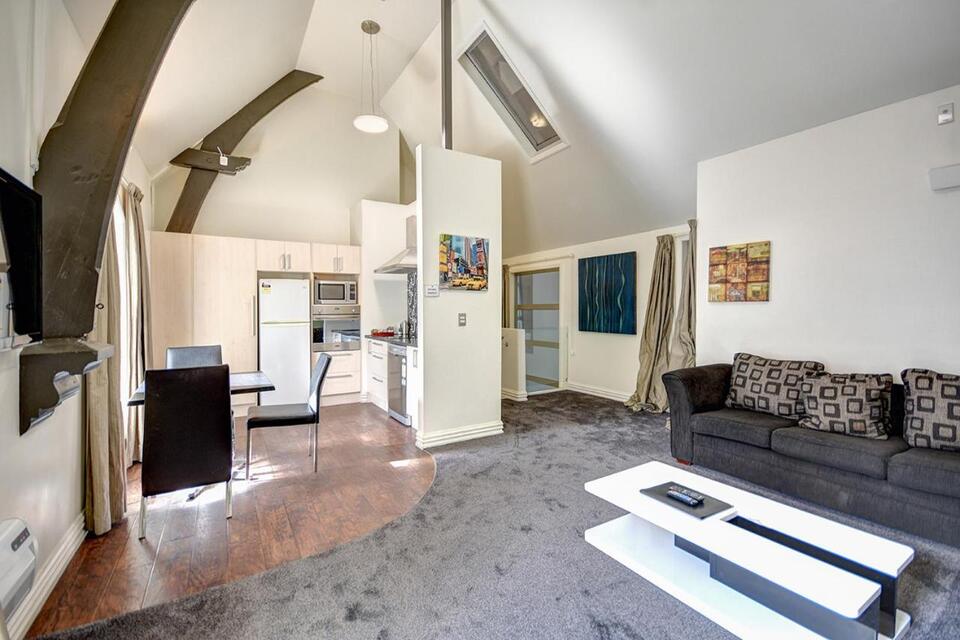 Good To Know at this Place to Stay in Dunedin
Street Parking or Off-site Parking (daily charge)
Washing machine and dryer
Heating and airconditioning
Linen and towels are included
Free WIFI
Embark on a memorable journey at The Chapel Apartments, where history and comfort blend seamlessly to create the perfect haven for your Dunedin escapade.
---
7. The Chamberson – Central City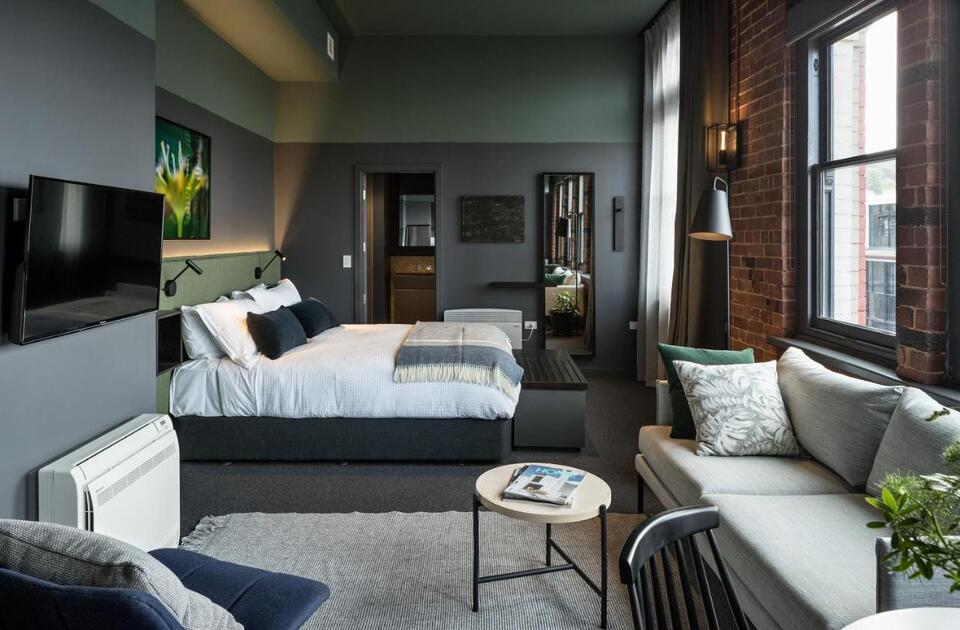 Best for: 5-Star Boutique Hotel, Central Location, Quiet, Parking, $$$
As you step into The Chamberson, a boutique hotel located in the heart of Dunedin Ōtepoti, you'll immediately notice the perfect blend of contemporary design and historic charm.
Halfway between the railway station and the Octagon. You're near boutique shopping, diverse dining options, smart cafes, and Toitu Otago Settlers Museum and the Tūhura Otago Museum.
Housed within a beautifully restored 1871 warehouse.
The Chamberson offers 20 stylish light-filled apartments and rooms, each offering a unique experience that combines modern amenities with classic, timeless elegance.
Whether you're staying in the intimate King Studio or the luxurious Two-Bedroom Apartment, you'll feel right at home in this chic and cozy establishment.
It's spotlessly clean, has lovely linen, and the decor is tasteful, practical and really well designed.

Guest Review
Good to Know
Studios, 1-bedroom, and 2-bedroom apartments
Limited secure car parks available
Free WIFI
Some studios and apartments have kitchens
---
8, The Albion Cottage in a Beautiful Colourful Garden – Mornington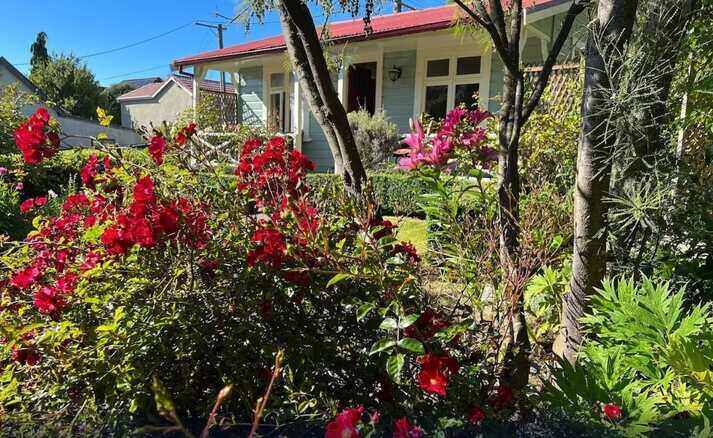 Best for: Heritage Cottage, Gardens, Sleepout, Homely, Up to 6 Guests
In Mornington, this gorgeous heritage cottage surrounded by flowers is a 20-minute walk to the city centre. Make yourself at home in the comfy interiors, with a kitchen, dining, lounge, bathroom, and three bedrooms.
You have two bedrooms in The Albion Cottage. Bedroom 1 has a queen-size bed and Bedroom 2 has two single beds. In the garden, you'll find a cute sleepout with a king-size bed. This can convert to two single beds.
Good to Know
DVD, TV
Air conditioning
The kitchen is fully equipped with a fridge, stovetop, microwave, kitchenware, and utensils
Linen and towels are included
---
Things to Do in Dunedin
Breweries and Distilleries for Tours and Tastings
Speights Brewery is fed by a natural spring. After a tour head next door to the Alehouse Restaurant.
Emerson's Brewery and amazing restaurant
Steamer Basin (traditionally-made beer with wood-fired pizza)
Sandymount Distillery for gin and vodka made from native botanicals
See more here at the official Dunedin website
Easy Things to Do
Saturday Morning Farmers Market at the Railway Station
Albatross Colony
Kerry's Bay Hotel for delicious pub food (vegan too), and views of the fishing boats and the harbour
Botanic Gardens – 28 acres of parkland, aviaries, and includes a cafe
Taieri Gorge Historic Rail Journey
Chinese Gardens
Get out and explore Dunedin with these fun and fascinating Tours
---
SEE MORE COOL STAYS IN THE SOUTH ISLAND OF NEW ZEALAND