Looking for a fun, unique place to stay in Ohakune? Here's four popular Ohakune Accommodation with spa pools that are close to all the skiing and snowboarding action at Tūroa. Plus you're near ski equipment hire, shuttles, apres-ski restaurants and bars in Ohakune. For 6-8 guests check out these dream retreats where you can relax after a big day on the Mount Ruapehu slopes or the trails. Also read on for bonus: Activities and Tours in the Tongariro National Park
Location: Ohakune | Tongariro National Park | Mount Ruapehu | North Island | New Zealand
Accommodation Type: Country and Bush | Snow
Overview:
Ohakune sits at the heart of one of New Zealand's top adventure hotspots in the Tongariro National Park. With the Turoa and Whakapapa skifields nearby for skiing and snowboarding, the Old Coach Road for mountainbiking, the Tongariro Crossing for a majestic volcanic trek – Ohakune is a wonderful base to sleep, eat, relax and enjoy the apres-ski bars.
Ohakune, also home of the Giant Carrot, is 23 min (18.6 km) on the fully paved Ohakune Mountain Rd to Mount Ruahepu and the Turoa Ski field. You don't need to drive up the mountain though – you can catch a shuttle from Ohakune Village. The Whakapapa skifield is 47 minutes north on State Highway 4.
Note: If you've never heard of vrbo.com – it's a sister to bookabach and part of the the holiday home division of Expedia.com with a wide range of amazing places to stay all around the world.
Ohakune – Location:
---
1. Winter Wonderland Holiday Home for 6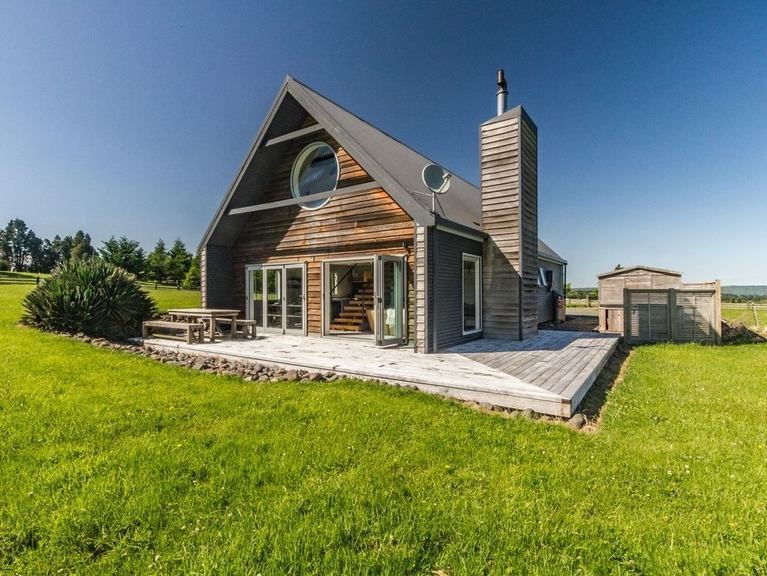 Best for: Rural, Luxury, Chef's Kitchen, Outdoor Space
A picturesque driveway leads you to this modern stylish home on the outskirts of Ohakune. Set in a secluded rural area where the stars shine brightly at night. You'll love the designer decor, the space and the cook's kitchen.
This two-story luxury house has three bedrooms, a sun-drenched deck and and outdoor spa pool for relaxation in this peaceful setting.
Good to Know:
Minimum stay 2-7 nights
Bedroom with king-size bed
Bedroom with queen-size bed
Bedroom with queen-size bed and four single beds
Lounge with TV
Cook's kitchen with everything you need
Quality Linen and towels provided
Fireplace
Washer and Dryer in laundry and dryer room
Plenty of parking
Cleaning provided
Excellent management and a divine bach. Beautifully furnished and very comfortable. Lots of space and we loved the privacy.

Guest comment
This Winter Wonderland Holiday Home is a contemporary and charming retreat for any season. Luxuriate in the designer interiors and cook your heart out in the chef's kitchen. Need more relaxation? Dine at one of the Ohakune restaurants and complete the night with a leisurely soak in the spa under the stars. Perfection!
---
2. Gorgeous Log Cabin – Holiday Home for 6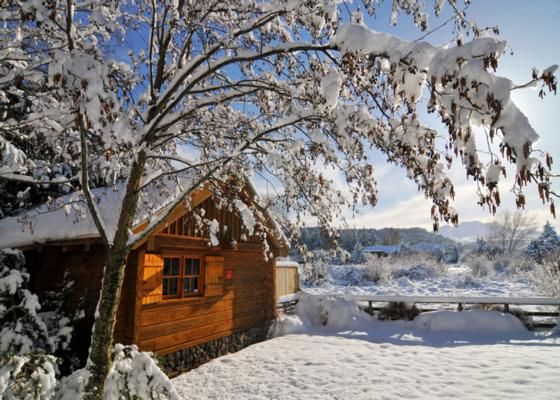 Best for: Pet Friendly, Outdoor Bath, Peaceful Rural Locale, Loft Bedroom, Fireplace, $$$
With uninterrupted views of Mount Ruahepu this gorgeous log cabin sits in a beautiful rural spot. You're only 600 metres to the centre of Ohakune with restaurants and shops. A cosy fireplace in the lounge keeps you nice and warm with an outdoor deck for dining and relaxing. The view of snow-capped Ruapehu never gets tired! Technically not a spa pool the outdoor claw-foot bath is a wonderful substitute. With hot and cold water on tap you're all set for a bubble bath under the stars.
Idyllic cabin for our winter stay. Warm, cosy and quiet.

Guest comment
Good to Know:
2 bedrooms – 1 queen bed, 2 double beds, 2 single beds. One of the bedrooms is in the upstairs loft.
Free WIFI
Well-equipped kitchen with dishwasher, microwave, stove, fridge/freezer
Bed linen is provided, including towels
Washer and Dryer
Satellite TV, DVD, Stereo
Carport
Fireplace can heat 24/7 with dryer area behind
Hot satin-jet shower
This unique and gorgeous log cabin is a peaceful stay after a day in the great outdoors. Enjoy the adventures of the Tongariro National Park then come home to a warm fireplace and a soothing soak in the outdoor bath.
---
3. Carex Gem – Holiday Home for 8
Best for: Hot Tub, Washing Machine and Dryer, Park Environment $$$
Light, airy and modern this single-level home sits in lovely park surrounds, and only a 2 minute walk into town. With contemporary furnishings, great kitchen and a hot tub you're all set for a fantastic stay at this highly rated retreat.
Review:
Relaxing location. Great place – everything you need. Especially loved the spa and the park like greenery to look out over.

Guest comment
Good to Know at this Ohakune Accommodation with Spa:
Bedroom 1 with large double bed, Bedroom 2 with two bunk beds, Bedroom 3 with large double bed
Free WIFI
BBQ
All linens provided – bedding and towels
Kitchen with dishwasher, fridge, oven
Lounge, TV, comfy seating and dining area
Hot Tub on the deck with awesome views
Carex Gem is close to restaurants if you feel like eating out in the evening, but set in a peaceful farm-setting. This stunner is perfect for summer or winter.
---
4. Ti Kouka Chalet – Holiday Home for 8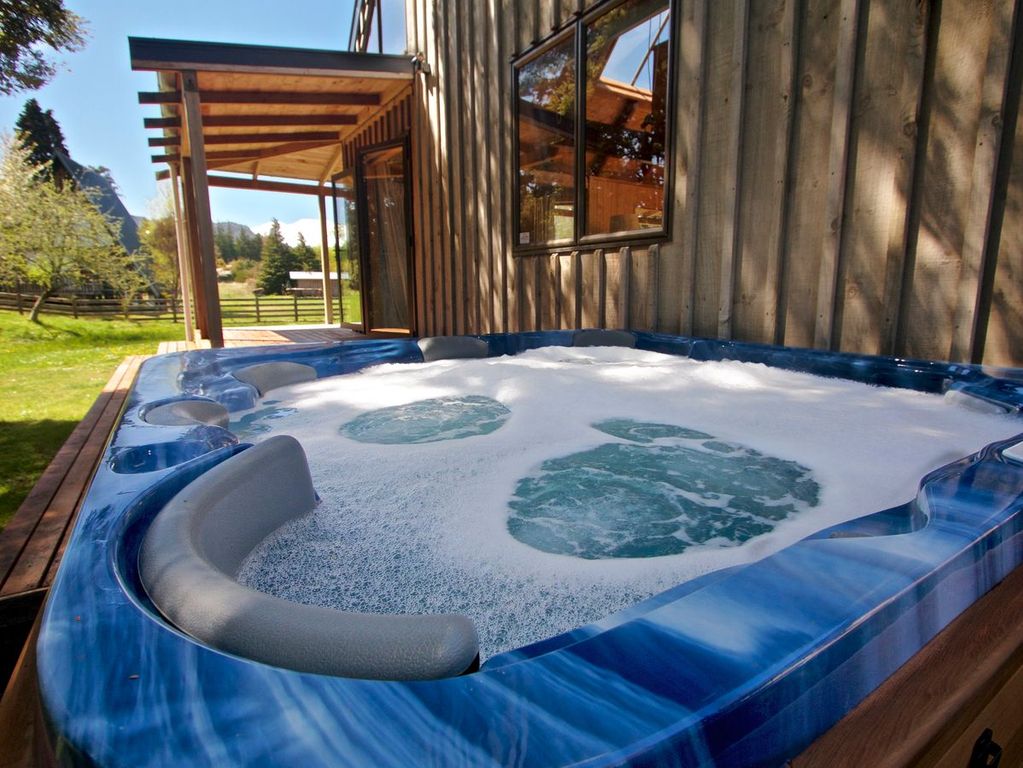 Best for: Spacious, Hot Tub, Fireplace, Cleaning Provided, Mangawhero River Walkway, $$$
This super large Ohakune accommodation with spa is perfect for a big crowd, and you're in the hub of Ohakune. The 2-story wooden chalet has all the mod cons and comfort you need for a winter snow trip or summer escape. The open plan living room downstairs has a cosy fireplace and leads out onto a deck. You have a second living area upstairs with amazing views of Mount Ruaphehu, so there's room for everyone to find their own space.
Review:
Warm and cosy, quiet street. If you are in the downstairs bedroom however you can hear everything upstairs (including conversations) so travel with people you love!

Guest comment
The house is set in a tranquil setting and is near the Mangawhero River Walkway. This is an easy 30 minute walk along the river with open areas, mountain views and beech trees. See other hikes and summer activities below.
The chalet is also within walking distance to all the apres-ski restaurants, bars and shops in Ohakune. When you're not admiring the views or enjoying an adventure you can soak away all your cares in the chalet's hot tub.
Good to Know:
Three bedrooms:
Upstairs bedrooms – 1 with King-size bed, 1 with 4 bunk beds. Each has mountain views.
Downstairs bedroom with queen-size bed
Fully equipped kitchen
A bathroom on each floor
The Laundry is also a drying room with heating, racks and lines for ski and board gear
Minimum Stay – 2-7 nights
Bachcare cleaning is included in the price of your stay
Ti Kouka Chalet is a big holiday home with warm wood interiors and open-plan living space for the whole crew! Enjoy the tranquil location, walk to the local eateries and relax in the spa. Everything you'll need.
---
Check this one out too! Cosy Warm Log Cabin in Ohakune with a Spa Pool:
---
For Summer Activities in and near Ohakune:
Tongariro Alpine Crossing Trail
Local Short Hikes: Jubilee Walkway Hike starts at The Giant Carrot; The Lakes Reserve; Rimu Walk; Mangawhero Forest Walk; Mangawhero Falls Walk; Hapuawhenua Viaduct Walk, via the Ohakune Old Coach Road; Lake Rotokura Track – this lake is sacred to the Local Māori iwi. For the full list see: https://www.visitohakune.co.nz/hiking-walking-ohakune-ruapehu
Ohakune Old Coach Road – originally a track for 1900 horse drawn carriages to take train passengers between the missing part of the northern railway line! This is now a popular hike and mountain bike trail. Takes around 4 hours to walk the track. You can hire bikes in Ohakune.
Round the Mountain Track – an advanced 4-6 day trail through volcanic landscapes. Here's what the Department of Conservation says: "Explore diverse landscapes ranging from mountain beech forest, tussock country and alpine herb fields; to glacial river gorges and gushing waterfalls; and the Rangipo Desert with its wind sculptured sands and volcanic rock."
The Wanganui River Canoe and Kayak Adventures. In Ohakune you'll find this tour company: https://www.canoesafaris.co.nz/
---
Everything you need to know about the Crossing:
Mountain Bike Trails:
The Old Coach Road – you can hire bikes in Ohakune. Don't miss this 15km historic walk and mountain bike trail.
Fishers Track. A downhill track that starts at the National Park Village and winds through the Tongariro National Park.
The Timber Trail Cycleway – is 82kms long in the Pureora Forest to the north of Ohakune https://www.thetimbertrail.nz/
Mountain to Sea Trails https://www.mountainstosea.nz/ "From Tongariro National Park's volcanic grandeur to the magical wilderness of the Whanganui River and the untamed Tasman Sea coast – our bike rides will show you the sights, places and people that make our regions so special."
Watch a Ride of The Old Coach Road:
Keen to Bike the Old Coach Road?
Tongariro National Park Tours:
---
Unique Places to Stay: