With a unique Bohemian vibe, Byron Bay offers long white beaches, cool cafes, surfing, rejuvenating spas, year-round sun, and relaxation. You'll find quirky places to stay in Byron Bay: in the lush rainforest surrounding the bay and cool lodgings at the beach too….
Location: Byron Bay | Byron Bay Hinterland | Mullumbimby | New South Wales | Australia
Accommodation Type: Tree House | Conversions | Lighthouse | Boutique and Spa
Links are to Booking.com, VRBO, Stayz, and accommodation websites. Prices vary according to the season.
Quirky Places to Stay in Byron Bay and the Rainforest.
1.
Garden Burees of Byron Bay – Luxury
Central Byron Bay | Up to 6 Guests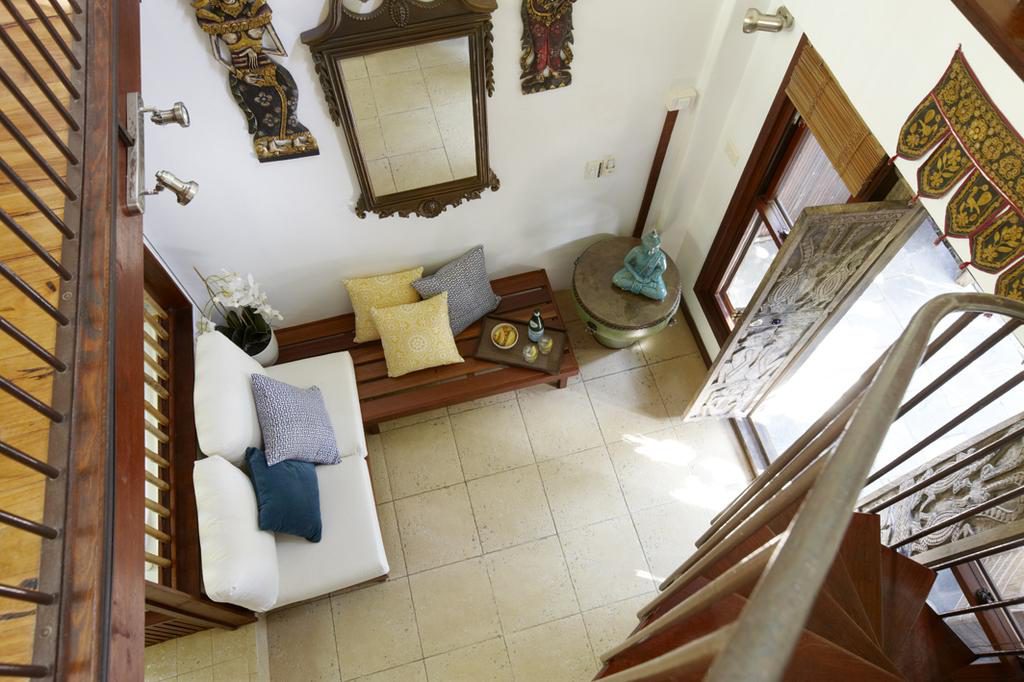 Best for: Central Byron Bay, Style, Groups, Families, Couples
Quirky, beautiful, and funky these exotic Burees sit in tropical gardens in the heart of Byron Bay. Right next door to The Buddha Gardens Day Spa and Byron Bay Brewery.
Each Buree is unique so you can relax and rejuvenate in style, with the Luxury Grand Buree 3-bedroom villa for groups and families, Balinese-Style Burees for romantics, and the Chic-Style Burees.
Good to Know
---
2.
Wategos Treehouse Studio – Your Own Treehouse in Byron Bay
In Rainforest below the Lighthouse | 2 Guests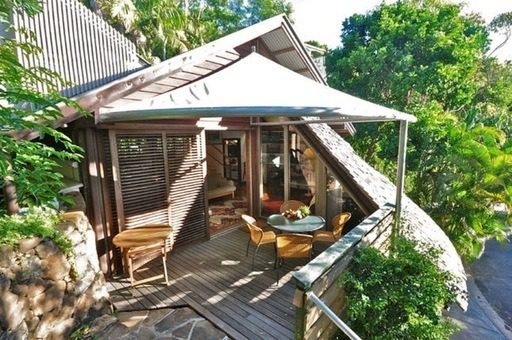 Best for: Treehouse, Rainforest, Right in Byron Bay, Sunset, Beach, Couples
A beautiful romantic treehouse set in the rainforest just below Byron Bay's lighthouse and a short walk above the beach.
In the heart of Byron Bay, you're close to everything Byron Bay has to offer. You can walk through the rainforest to the Lighthouse and beyond, enjoy a flat white at one of the local cafes, eat healthy vegan in town, swim at the beach, rejuvenate at a spa, enjoy the sunset on your treehouse deck.
Good to Know
---
3.
Byron Butter Factory Apartments – Central Byron Bay, Contemporary
Central Byron Bay | Up to 6 Guests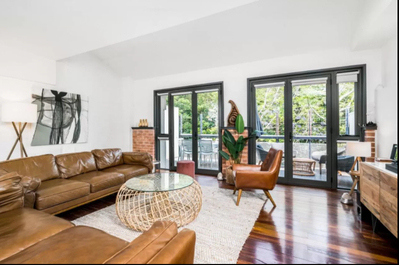 Best for: Central Location, Modern, Plenty of Space, Groups, Families
You may not think of factories when you dream of your Byron Bay break but this 1895 butter factory, in the centre of town, is converted into warehouse-style holiday apartments.
Although not much of the old character left, except some exposed brick and high ceilings, each apartment is very modern, stylish, and spacious. In the heart of Bryon Bay!
The location is superb so you are only a few minutes from the supermarket, shops, restaurants, Byron Bay Markets, and around 15 minutes' walk to the beach. (Might be too hot in summer to walk that distance though!)
Good to Know
---
4.
Partridge Cottage and Geoffs Shed | NSW National Parks
Byron Bay Main Beach | Up to 5 Guests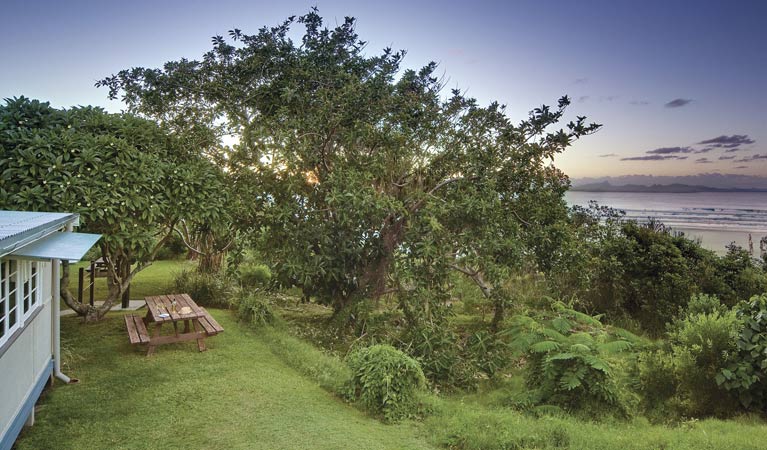 Best for: Nostalgia, Retro, Byron Bay Main Beach, Cottage for Groups, 'Shed' for Couples
Partridge Cottage is an original beauty smack bang on Byron Bay's main beach. Done up in retro 50's style but with your mod cons for comfort and located right in the heart of the Cape Byron State Conservation Area. Why not experience an original Aussie beach holiday?
Good to Know:
Take a Tour:
Geoffs Shed, next to Partridge Cottage, offers nostalgia at the beach for 2 lucky guests!
---
5.
Assistant Lighthouse Keeper's Cottages | NSW National Parks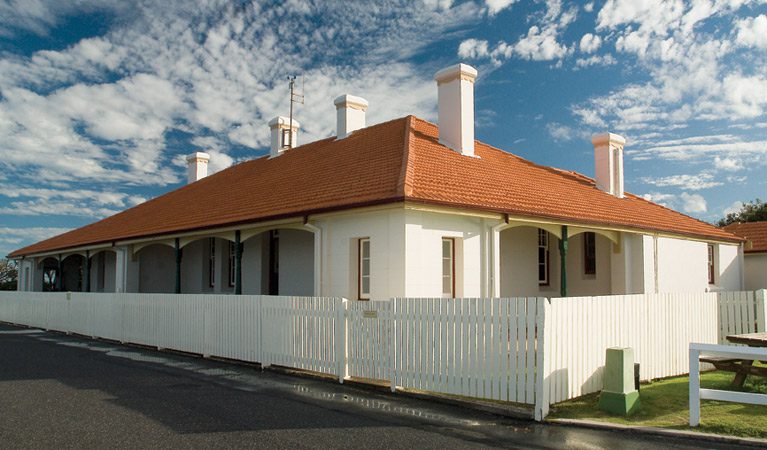 Best for: Acting like a Lighthouse Keeper! Incredible Views, History
Those incredible views from the Byron Bay Lighthouse are all yours when you play lighthouse keeper in one of the two heritage-listed Assistant Lighthouse Keepers' cottages!
Set on the site right next to the lighthouse – you're surrounded by visitors during the day but at 4.30 the place is all yours.
Good to Know
Take a Tour:
---
Travel Resources:
---
6. The Surf House – Hit the Waves
Central Byron Bay | Up to 2 Guests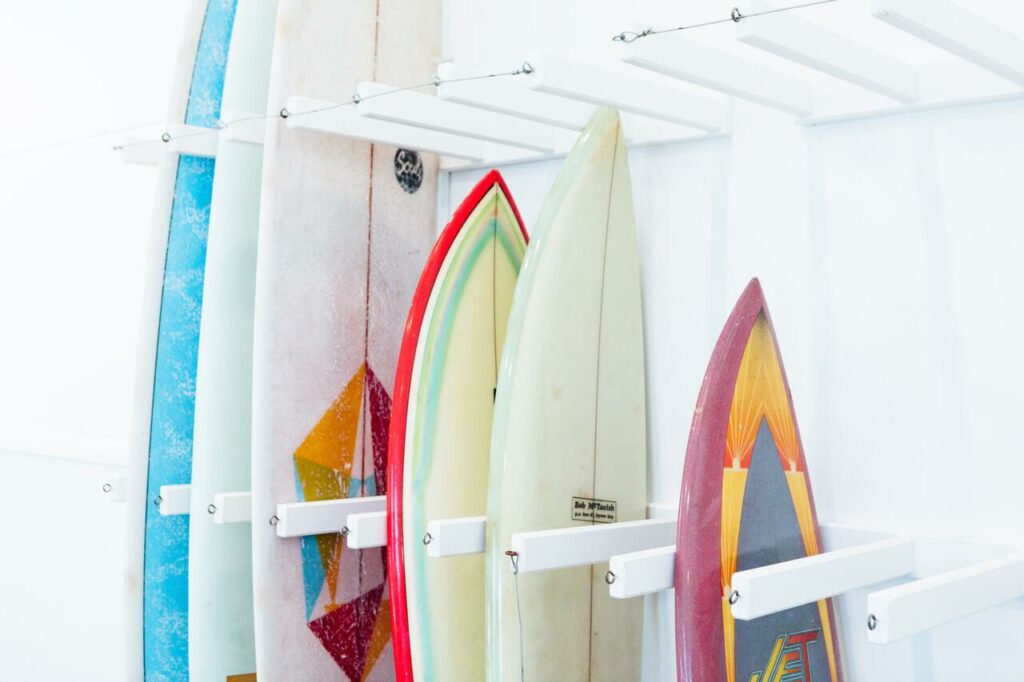 Best for: Near Restaurants and Main Beach, Beach Vibe, Couples
The Surf House is a hostel with dorm rooms but they also have fantastic private hotel rooms for two with beach-chic interior designs and private balconies. Each bright room includes en-suite, daily housekeeping, linens, towels, toiletries, and views. The beds can be double or twin. So, you're paying backpacker prices but getting way more!
But an even bigger plus is the amazing location – you're in the heart of Byron Bay town centre near boutique shops, bars, and restaurants, and only a couple of minutes walk to Main Beach.
The Surf House also has a cool rooftop bar. You'll receive a free drink voucher on your arrival at this chic beach pad in the heart of Byron Bay.
Good to Know
---
7.
Azabu Retreat and Spa – Japanese Nature Hotel
5 kms from Byron Bay | Up to 2 Guests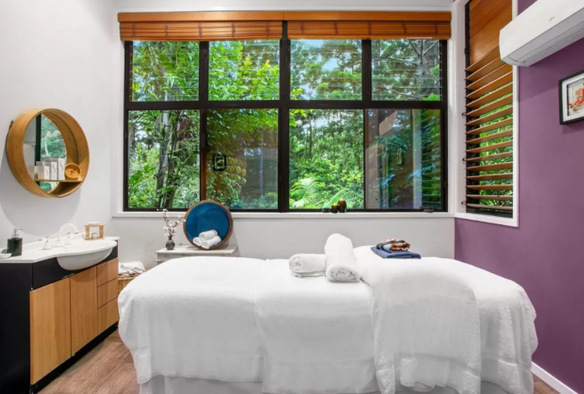 Best for: Japanese-Style Boutique Lodging, Set in the heart of a forest, Massage, Day Spa
This Japanese-style nature hotel is set in a forest 5 km southwest of Byron Bay in a beautiful forest. Peaceful and relaxing, the rooms are small, but the attentive hosts, unique location, and spa experience make up for it!
Review: Loved the hot tub and beautiful deck looking over the rainforest. Also loved the Japanese/Zen theme.
Good to Know:
---
8. Treetops Everglades Villa – by Tallow Beach
Tallow Beach | Up to 6 Guests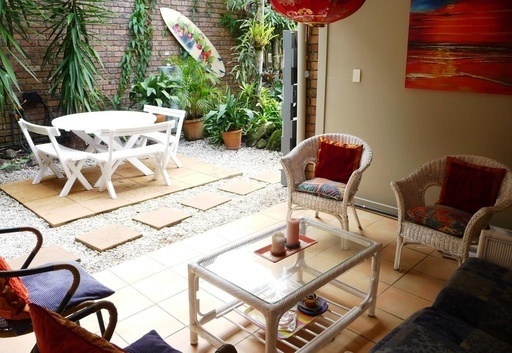 Plantation shutters and tropical gardens give these stylish villas a beachy peaceful vibe. Located close to Tallow Beach, Byron Bay's best beach, you won't have far to walk for a refreshing swim.
Back at your Treetops Everglades Villa jump under the outdoor shower to wash off the sand and then lounge on the outdoor daybed as the day cools.
Choose from one-bedroom villas that can accommodate up to three guests and two-bedroom villas that have room for up to six guests so there's plenty of room for families or friends. The Byron Bay shops are a 15 minute walk away and the Byron Bay Market is 2kms away.
Each villa has a fantastic indoor/outdoor flow with an outdoor terrace with a dining table and chairs. Indoors the kitchen is well-equipped, and the lounge is modern and comfy with TV, DVD, and Netflix. All in all, a wonderfully affordable stay by the beach!
Good to Know:
---
9. The Beach Shack Byron Bay – 5 Star Villa, Belongil Beach
See Also Absolutely Belongil Summerhouse at the Beach:
---
10. Shambhala @ Byron – Balinese Hideaway
Belongil Beach | Up to 5 guests
Best for: Holiday Studios and Cottages on the Beach, Sauna, Steam Room, Massage
If relaxing on a Balinese day bed in a tropical garden sounds like you then Shambhala is the place to stay! The accommodation is a group of gorgeous cottages and studios with spas on the deck surrounded by lush gardens and only a few steps to Belongil Beach.
Take a 15-minute stroll along the beach and you come to the centre of Byron Bay with restaurants, boutiques and art galleries. There are also cafes only a 5-minute walk away.
Good to Know:
---
Quirky Places to Stay in Byron Bay and the Rainforest – up to 30 Minutes Inland in the Rainforest
11.
Byron's Secret- Romantic Hideaway for Two with Awesome Views
Coorabell | Up to 2 Guests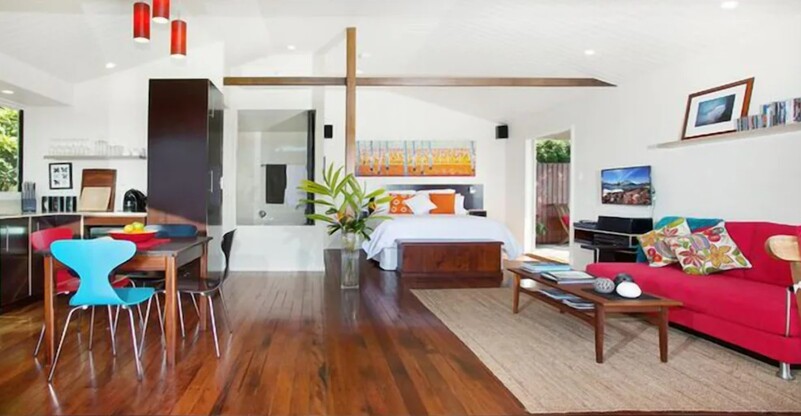 Best for: Romantic Rainforest Retreat, Amazing views, Pool
This romantic and luxurious studio for two is set on stilts in the sub-tropical hinterland overlooking the rainforest, Cape Byron, and the ocean. Byron's Secret is located in Coorabell which is a 27-minute scenic drive to Byron Bay. You can see the Byron Bay lighthouse from this forest perch. The charming villages of Bangalow and Mullumbimby are only 8 minutes away.
When you want a romantic nest in Byron Bay in a peaceful location away from the crowds.
Good to Know:
Hot Tip: Coorabell is on the Coolamon Scenic Drive which starts just north of Bangalow in St Helena and weaves through beautiful countryside to Mullumbimby
---
Bonus Guide
Treehouse on Belongil – Gigs and Pizza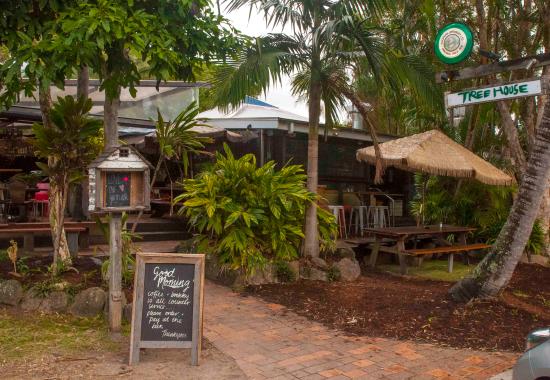 With live music, woodfired pizzas, cocktails, and daily specials this spot for global free spirits might just become your local! Check out their gig guide and menu here.
---
Elixiba – Vegan Cafe: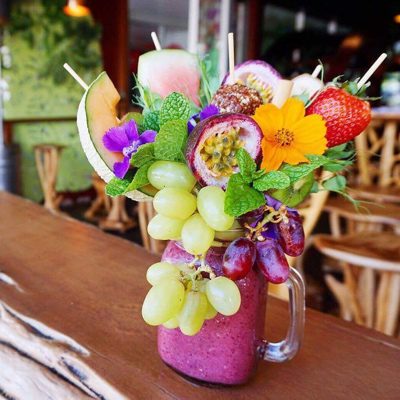 Elixiba believe in the power of active botanicals. Their food, sourced locally and cooked fresh every day, is vegan, low allergy, and full of goodness. Herbal Elixirs, super salads, and home of the Hemp Burger! Find them on Facebook.
---
Tee Tree Lake – like a Free Spa!
Have you tried Tea Tree Oil for your aches and pains? Just 15kms south of Byron Bay at Lennox Heads sits Lake Ainsworth surrounded by Tea Trees. The oil from these trees infuses the lake with the healing power of tea tree. The water is stained a dark brown colour but that's just the tannin. Swim, relax and rejuvenate. For a quiet soak visit in the evening.
---
Best Byron Bay Beach
Sheltered Cosy Corner, near Tallow Beach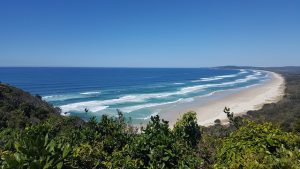 ---
NOW IT'S YOUR TURN!
I hope you enjoyed this article: Quirky Places to Stay in Byron Bay and the Rainforest. Have you ever visited Byron Bay? What was your experience like? Do you have quirky hotels to recommend? Leave your comments below!
---
Grab a Tour!
Let someone else do all the organising. GetYourGuide offer exciting activities to make your trip magical:
---
More Unique Places to Stay in Australia: