Totally random! Hop on board your Ohakune Train Carriage Accommodation in the Tongariro National Park. This cool red train is an ex-New Zealand Government railway carriage that's now converted into a comfy and warm chalet for up to six guests.
Type of Accommodation:  Conversions
Destination: Ohakune | North Island | New Zealand
Price Range: Cabin/Hostel $ | Economy $$ | Mid-range $$$ | Luxury $$$$ | Super Luxe $$$$+
This post may contain affiliate links. As an Amazon Associate, I earn from qualifying purchases. See Affiliate Disclaimer.
---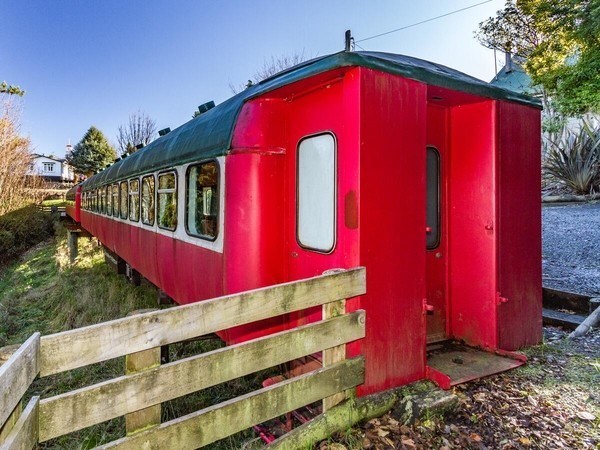 Best for: Converted Train Carriage, Retro, Central Location, Fun, 6 Guests, $$
For 40 years this train regularly ran between Auckland and Wellington! Now Carriage A is a quirky and cool place to stay for adventurers hitting the slopes in winter or a summer stop for hikers and mountain bikers on the many trails.
Central Location
You're in the heart of Ohakune Junction near the restuarants, clubs and bars but in a quiet area where noise is at a minimum. You're only a few minutes walk from the railway station! Your closest ski field is Tūroa at 14.7kms away or Whakapapa ski area, around an hour's drive away.
---
Hop on Board!
The interior of the carriage is lined in a warm wood and divided into 3 sections – two bedrooms; lounge, kitchenette, dining; and a bathroom. A heatpump keeps you warm and cosy.
Bedroom 1 has a double bed
Bedroom 2 has two bunk beds
The lounge has 2 pull-out sofa beds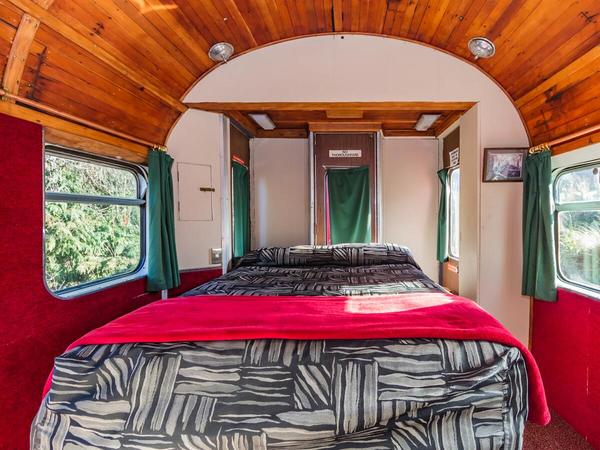 ---
Good to Know
Free parking, Heatpump, TV
The kitchenette includes a toaster, microwave, fridge, and tea/coffee-making facilities
The bathroom has a toilet, basin, and shower
No internet but there is mobile phone coverage
Note: There's also a Carriage B which is next to Carriage A and has a similar interior. If Carriage A is booked up here's the Booking.com link to book Carriage B.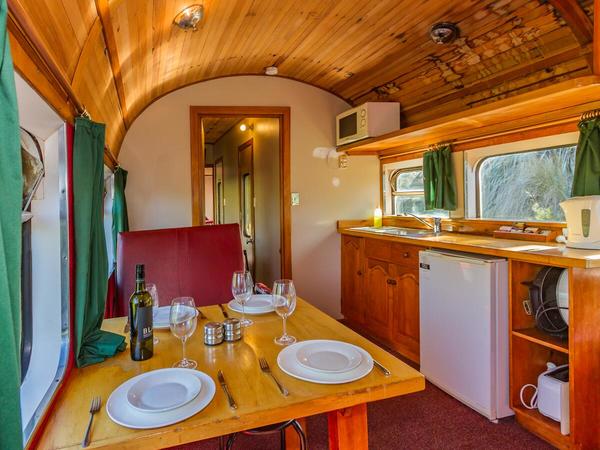 ---
Wrapping Up
This retro Ohakune Train Carriage Accommodation is a fun stay for friends and families who are looking for somewhere quirky with a touch of nostalgia. You'll talk about Carriage A for years to come!
---
Things to Do
The Old Coach Road is nearby – this is a good walk or you can hire mountain bikes for a half-day ride.
Eat at the Powderkeg Restaurant and Bar – this is a popular Ohakune institution not to be missed.
---
SEE MORE UNIQUE PLACES TO STAY