New Zealand is known as a laid-back country with extraordinary environments to explore. This list of Unique Accommodation in New Zealand gives you oodles of ideas for your next weekend break or holiday in every corner of the country.
Click on the destinations below and you'll be taken to cool accommodation options: luxury glamping, bijou tiny houses, remote baches, sub-tropical tree houses, hobbit hotels, eco-friendly retreats, trains, planes and more! Let your imagination run wild…
---
The sub-tropical far north is the perfect summer destination with sweeping beaches and lush forest escapes. Auckland, New Zealand's largest city offers city life, beaches, volcanoes, and islands.
Popular Rotorua offers a luxury range of boutique hotels and lodges with unique experiences. Don't miss a fascinating introduction to Māori art and culture at the Living Maori Village – Whakarewarewa. Relax at the Polynesian Thermal Pools and enjoy mineral spa treatments and a mud bath at Hell's Gate. In Waitomo try abseiling and blackwater rafting in the extensive cave systems and then book into the Hobbit House! Read on…
You'll find Magic Cottages at Takou River in the stunning Bay of Islands. This eco-luxury retreat is set within idyllic native bush on the banks of the Takou River. Choose from unique cottages, a lodge, and glamping. Kayak down the river to the sea or glow worms! Magical. Read more…
Cool and Unique Places to Stay in Auckland Under $200 Night: Check out retro caravans, boatsheds, boathouses, a converted convent, a railway cabin, bush chalets, an art hotel, and more…Read more
The Cave at Crab Cove – A Luxury Cave Retreat in Northland. With access to secret beaches and bays this cave retreat hidden in the hillside is as private as it gets! Designed as a luxury stay for two guests you have a kitchen, lounge, deck, bean bags, and kayaks. Read more…
Bach 78 and Bach 114 Islington Bay: Catch a water taxi (or kayak) from the Auckland Viaduct directly to the steps of your retro bach on volcanic Rangitoto Island – how cool is that! Read more…
Spiritual Retreats in New Zealand: Each blissful retreat offers healing for the body and soul, yoga, meditation, mud therapy, massage, healthy food, and lovely self-indulgent relaxation in natural settings. Read more…
Woodlyn Park: A truly unique accommodation in New Zealand! Calling all Lord of the Rings and Hobbit Fans! Sleep in a hobbit house, or how about a Boat, Train, or Plane – fun for kids young and older! Read more…
Popular Ohakune Accommodation with Spa Pools: Check out this list of unique places to stay in Ohakune near Mount Ruapehu, the Turoa ski fields and the Old Coach Road Mountain Bike Trails. From a cool a-frame near the apres-ski bars and restaurants, a log cabin in a peaceful secluded setting, an amazing luxury holiday home with a chef's kitchen. Read more…
Relaxing Raglan Holiday Homes by the Beach: Wind down at the beach in one of these relaxing Holiday Homes. With a modern coastal vibe, Raglan offers world-class surfing, along with artisan shops, coffee spots, stylish restaurants, and outdoor adventures. Learn to surf, head out kayaking and paddle boarding, take up rock climbing and hike to the stunning Bridal Veil Falls. … Read more
Heavenly Spa Views Yurt – Mount Ruapehu Accommodation: Relax under the stars in the outdoor spa and enjoy the tranquility at this luxury yurt holiday home. Room for everyone with spacious and stylish open plan living and three bedrooms for six guests. Perfect! Read more…
Unique and Boutique Rotorua Accommodation: A gorgeous list of stunning places to stay in Rotorua. Historic Princes Gate Boutique Hotel in the centre to upmarket Treetops Lodge and Estate to beautiful Black Swan Lakeside Boutique Hotel and more. Read more…
Unique Places to Stay in New Zealand: Tree Houses, School Houses, Churches, Pods, Glamping and more. Read more…
Cool Glamping Near Wellington: Two glamorous Glamping options in Greytown. Read more…
Unique New Zealand Accommodation for Couples – Lower North Island: Idyllic weekend breaks near Wellington. Strawbale, Container House, Historical B&B, Stables Read more…
9 Unique Places to Stay in Wellington: Wellington is a superbly quirky city! Arty, Historical, Boutique. Read more…
---
Unique Accommodation in New Zealand – South Island: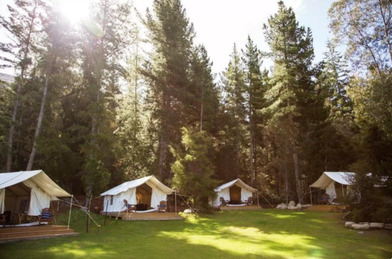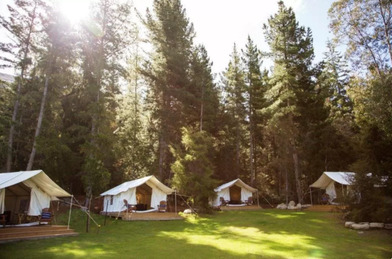 This unique accommodation in the South Island of New Zealand really showcases the incredibly diverse environments on one island. Stay in a retro bach by the sea, a luxury historic villa in Queenstown, lakeside glamping, hilltop treehouses, yurts, beach huts, silos, luxury eco retreats and so much more…
New Zealand South Island Holiday – 4 Baches you'll love! Forest and Country Baches (cabins). Some in remote locations. Read more…
SiloStay in Banks Peninsula – Unique Stay! Designers turned 8 grain silos into amazing eco-accommodation. Crazy but true! Read more…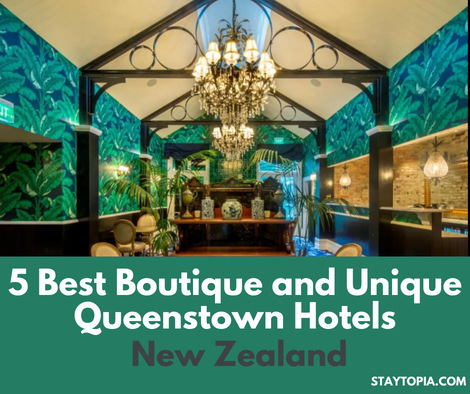 5 Best Boutique and Unique Queenstown Hotels: Gorgeous hotels with glamour, style and luxury in the heart of queenstown. Read more…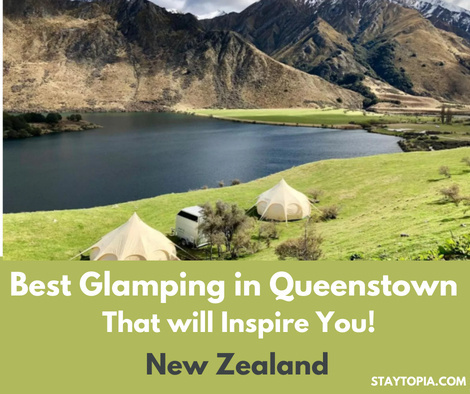 Amazing glamping on the shores of Moko Lake and stylish lotus belle tents by Kawarau Falls. Lots of nature with oodles of luxury. Read more…
Split Apple Lodge is a luxury eco lodge on a clifftop with stunning views over the Abel Tasman National Park and crystal-clear ocean. This is a beautiful retreat in a stunning location where relaxation and luxury are the name of the game. Read more…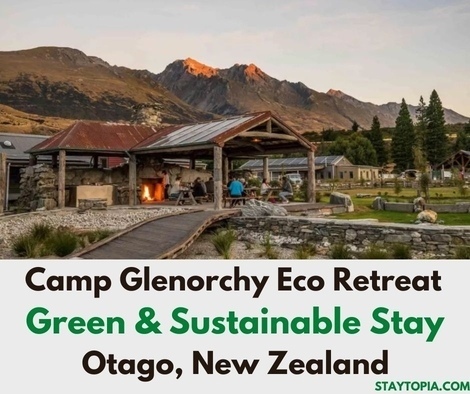 Camp Glenorchy Eco Retreat: A popular eco stay with accommodation for all budgets, near the Routeburn Track. Read more…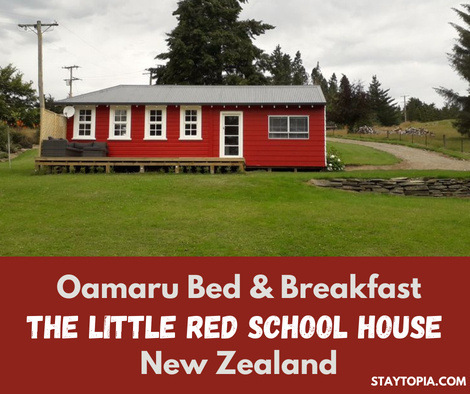 The Little Red School House is a fun bed and breakfast only 20 minutes from historic Oamaru. You're also near the Alps to Ocean Cycle Trail. Read more…
Motueka Eco Accommodation: this sun-blessed region is perfect for a beach holiday: strawbale, beach huts, yurt, treehouse. Read more…
---
Happy Travelling!
I hoped you've enjoyed this list of awesome and Unique Accommodation in New Zealand.
---
SEE THE LATEST ON STAYTOPIA