If you're looking for glamorous glamping near Wellington, where you can truly relax, then Te Pamu Escape in Masterton is the place for you. You'll find yourself unwinding blissfully at this glorious safari-style retreat set in a forest sanctuary.
Type: Luxury Tent for Two
Price: $$
Best For: Elegance, Delicious Breakfast, Outdoor Bath
Guest Rating: Excellent
Location: 317 Te Ore Ore Bideford Road, Masterton
See more unique places to stay in New Zealand
The Space
Relax in your luxury tented camp set on a small farm surrounded by native bush, Blue Gum forest, babbling brook, and views across the Wairarapa's Te Ore Ore plains.
Location: 90 Minutes drive from Wellington and 5 minutes drive from Masterton.
The king-size bed with quality linen is super comfortable. You'll fall asleep to the calls of the morepork and wake up to songs of the Tui.
The large chic tent with rustic decor is set on a levelled space with landscaped outdoor bath and seating with views across to limestone hills.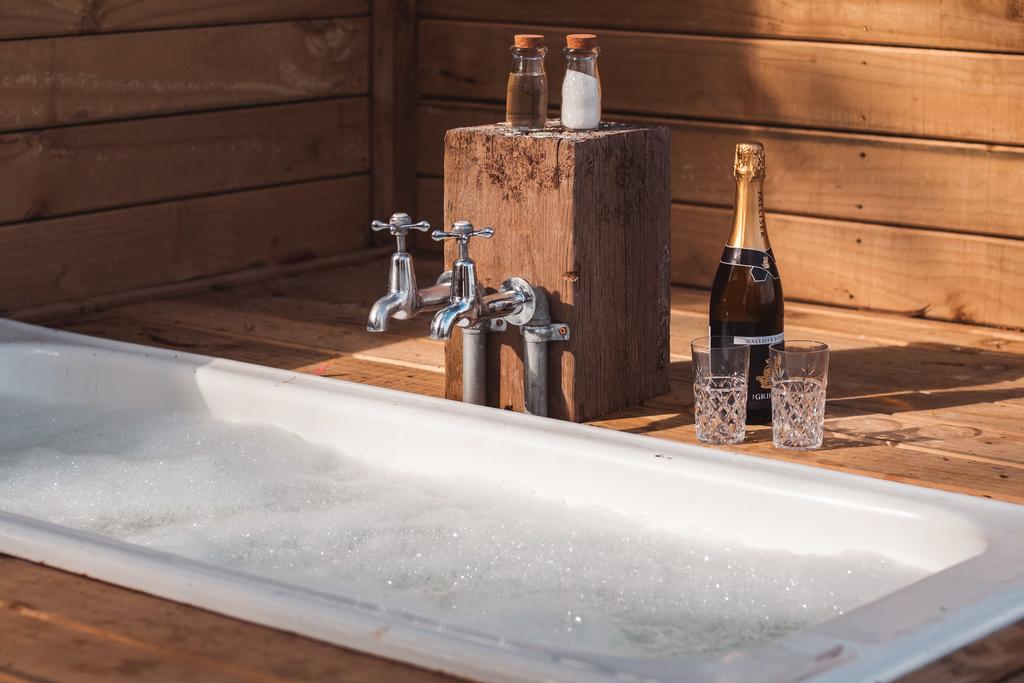 Every attention to detail is included with a delicious breakfast of freshly baked bread, coffee, jams, muesli and yoghurt.
Recline in the Cape Cod chairs on the deck with a book and glass of wine.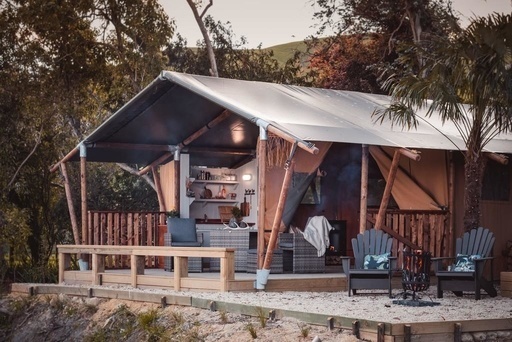 At night keep warm next to the outdoor brazier or the indoor fireplace. Don't miss soaking in the outdoor bathtub with bath salts included for optimum relaxation.
The outdoor kitchen includes stove, toaster, hot water jug, and fridge, crockery and cutlery. Bring all your food so you don't need to leave paradise!
Or you can order pre-prepared meals made from local ingredients with local Wairarapa wines. For example, cheese platters and antipasti plates.
The Facilities:
Kingsize bed with luxury linen
Dining table and chairs
BBQ under cover for cooking in any weather
Outdoor Kitchen
WIFI and bluetooth speaker available
Power Outlet
No long drops at this glamorous escape – the toilet flushes.
Whare farm accommodation is also available nearby for two extra guests.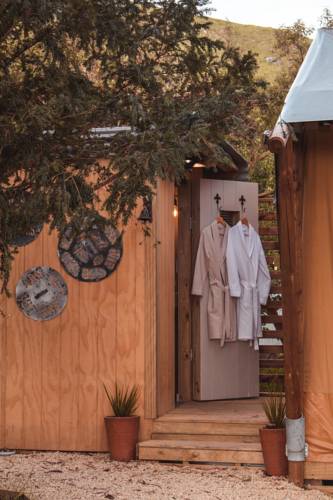 Tips for Glamping near Wellington:
Take walking shoes so you can explore the hills and countryside
Take a headlamp or flashlight for evening strolls
The tent is all-weather – cosy in winter and summer.
Go to bed early because the sounds of the farm animals might work as an alarm clock in the morning!
Here's the Wairarapa website for Things to Do: https://wairarapanz.com/home
The Upshot:
Te Pamu Escape is a truly peaceful and luxurious chance to experience glamping near Wellington. De-stress and unwind at this glorious kiwi safari camp. Wonderful in any season.