Aotearoa New Zealand is known as an exciting destination for explorers, adventurers, and pilgrims seeking natural beauty and wildlife in these friendly isles. So, if you want your escape to include imaginative and unique places to stay in New Zealand then this list is worlds away from boring!
Each diverse choice adds to your enchanting experience deep in the South Pacific. From the sub-tropical north to the wild south take your pick from tree houses, tiny homes, eco-retreats, glamping, gypsy caravans, converted churches, yurts and so many more. You'll be amazed by the dizzying collection!
Types of Accommodation: Quirky
Destination: North Island | South Island | New Zealand
Price Range: Cabin/Hostel $ | Budget $$ | Mid-range $$$ | Luxury $$$$ | Super Luxe $$$$+
Unique Places to Stay in New Zealand – North Island
1. Magic Cottages at Takou River – Bay of Islands
Set in the beautiful Bay of Islands Magic Cottages at Takou River is an enchanted retreat. Choose from a divine range of earth-friendly accommodation hidden within an organic farm and sub-tropical gardens. Cute cottages, glamping, and an upmarket lodge offer a peaceful and serene escape.
---
2. The Yurt Wai Rua – Luxury Glamping – Whangarei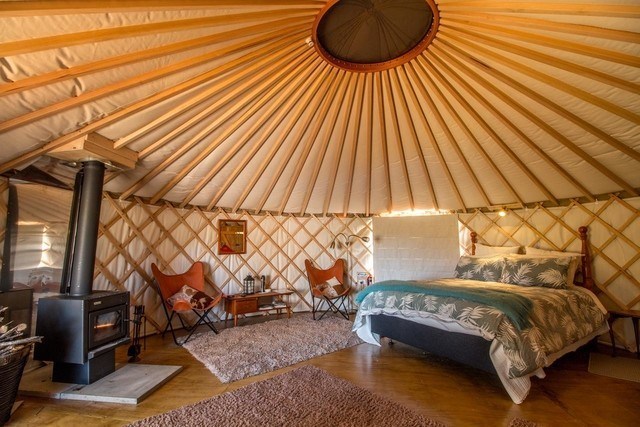 Gorgeous Yurt Wai Rua is set on a beautiful and unique farm property overlooking a small lake. The luxury yurt offers stylish bedding and furnishings. The property also includes a swimming pool and a wood-fired hot tub. Meet the friendly pigs and hens and enjoy biking and walking along the farm trails and through native bush.
Review: This is the perfect getaway destination. We loved the hot tub and being away in the countryside of Whangarei (yet not far from town). The yurt is super comfortable and offers everything you need for a wonderful stay.
For a one-of-a-kind holiday check availability and prices at booking.com
---
3. The Convent, Grey Lynn, Auckland
The Convent is a Spanish mission-style building dating back to 1922 when it was St Joseph's Convent aka a nunnery until 1993.
Now a gorgeous (and affordable) boutique hotel with 22 modern, rustic rooms with wooden floors, tiled bathrooms, natural woven linen, and industrial/antique furniture – all-in-all elegantly designed in a natural and earthy way with a nod to the past and the present.
Read more at 14 Cool and Unique Places to Stay in Auckland under $200.
---
4. Hush Boutique Accommodation – Wooden Cabins – Coromandel Town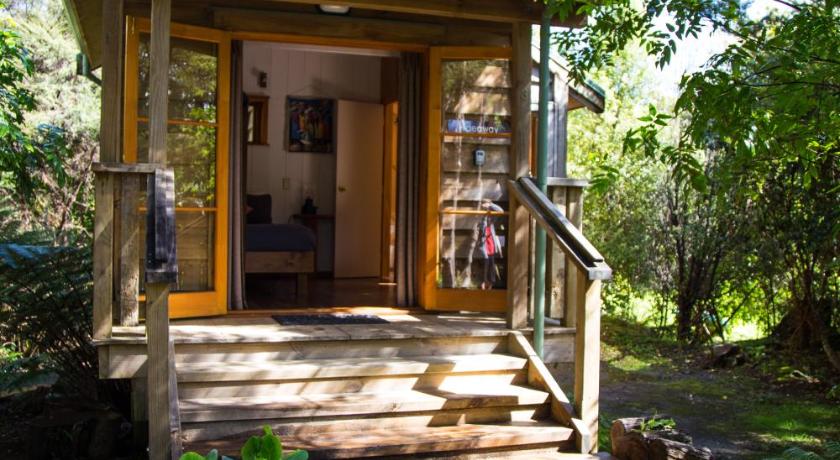 Hush Boutique is a peaceful retreat in the Coromandel township across the road from the Driving Creek Railway. Lovely little handcrafted wooden cabins nestled in native bush with en-suites and little decks. Check availability and prices at Agoda.com
---
5. Woodlyn Park – Hobbit Hotel Plus – Waitomo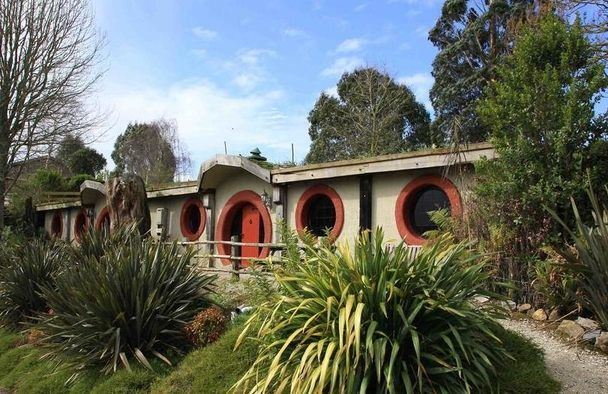 Calling all Lord of the Rings and The Hobbit fans! Woodlyn Park's motto is 'sleep in the shire' and this quirky motel offers Hobbit Houses plus a converted plane, train, and ship. Fun stays near the incredible Waitomo Glow Worm Caves. See more: Sleep in a Hobbit Hotel in New Zealand! Woodlyn Park Waitomo…
---
6. Cozy Tiny House Hideaway – Mount Maunganui
Close to the beach, eateries, and bars this modernist tiny house is a sweet spot for your next Mount Maunganui holiday. With 2 bedrooms, a kitchen, a bathroom, a deck, outdoor furniture, and BBQ this tiny house fits up to 4 guests and has everything you need for a sunny holiday at The Mount. Read about this and other tiny home stays here: Tiny House Bay of Plenty Stays – Mount Maunganui, Tauranga, Ohope Beach
---
7. Tui Glen lakefront Bach – Lake Tarawera, Rotorua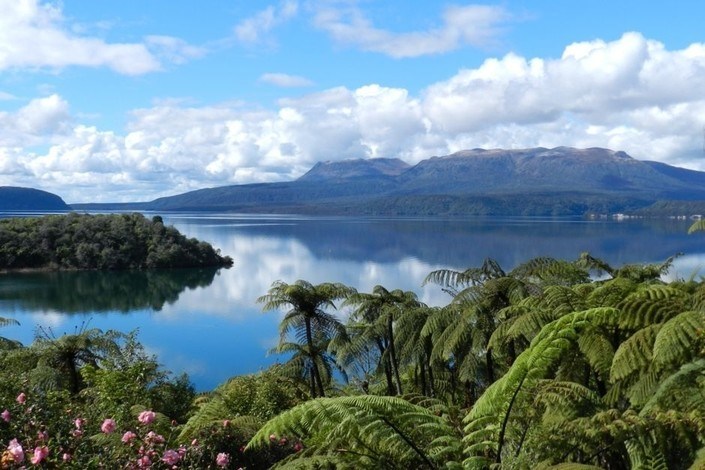 At this waterfront bach, you can enjoy breakfast on the jetty gazing out across Lake Tarawera or jump into one of the kayaks for boating fun. Tui Glen bach is a real gem! Comfy, spacious, and affordable, with accommodation for up to 4 guests.
Review: Very clean and comfortable. Had everything we needed and loved having the private jetty for our boat and the kayaks to use.
Surrounded by nature with oodles of amazing views across the lake. Walk the Tarawera Trail and take a soothing thermal soak at Te Rata Bay's hot water beach. Enjoy bush walks around the property and at night search for glow worms. Don't miss this fun bach stay! Check availability and prices at Tui Glen Bach.
---
Travel Essentials
---
8. Matawhero Wines – Gisborne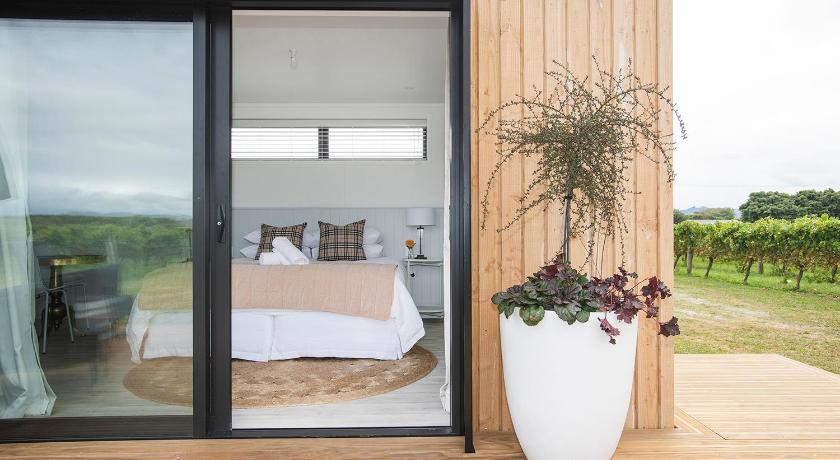 Matawhero offers a range of luxury cabins to suit all tastes at the Riverpoint Road vineyard. The first vineyards in the world to greet the new day. Each villa comes with a range of facilities to make your stay as comfortable as possible.
Enjoy the convenience of free high-speed WiFi, Sky TV, a kitchenette, and a contemporary tiled ensuite bathroom. Enjoy the view from your deck with a glass of wine or head to the Cellar Door next door for platters and wine tasting. Sounds great! Book at Agoda
Review: Beautiful backdrop, modern facilities, quiet and out of the way, perfect for a relaxing weekend, and immediately next to the winery if you are that way inclined, loved our stay.
---
9. MountViews Glamping and Retro Caravan – Taupo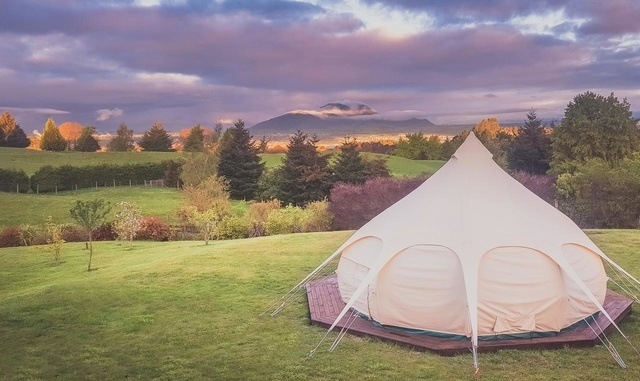 Inland from Lake Taupo's Acacia Bay MountViews Glamping offers glamping in a yurt and an awesome teal blue retro caravan. Enjoy the swimming pool and laze away in the hot tub.
The yurt has a double bed for two guests. Highly recommended that you watch the sunrise from your bed in the yurt! Book the Yurt and check availability at booking.com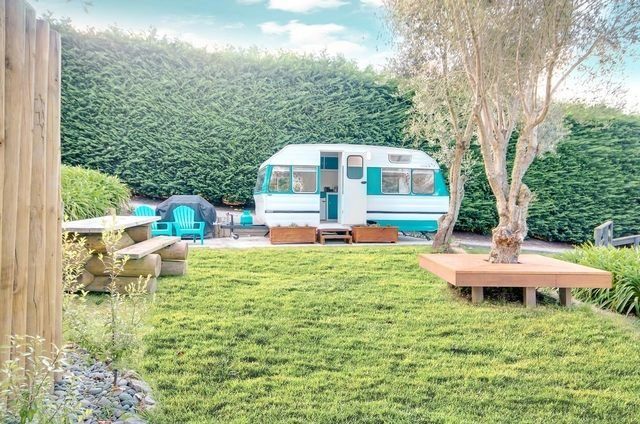 The caravan has two double beds for up to four guests. This guest said it perfectly: "Cool caravan beautifully restored and tastefully kitted out. Wonderful landscaped gardens and patio including gas BBQ. Friendly and accommodating hosts. Lovely warm outdoor shower!" Book the Caravan at booking.com
---
10. The White Swan Hotel – Greytown, Wairarapa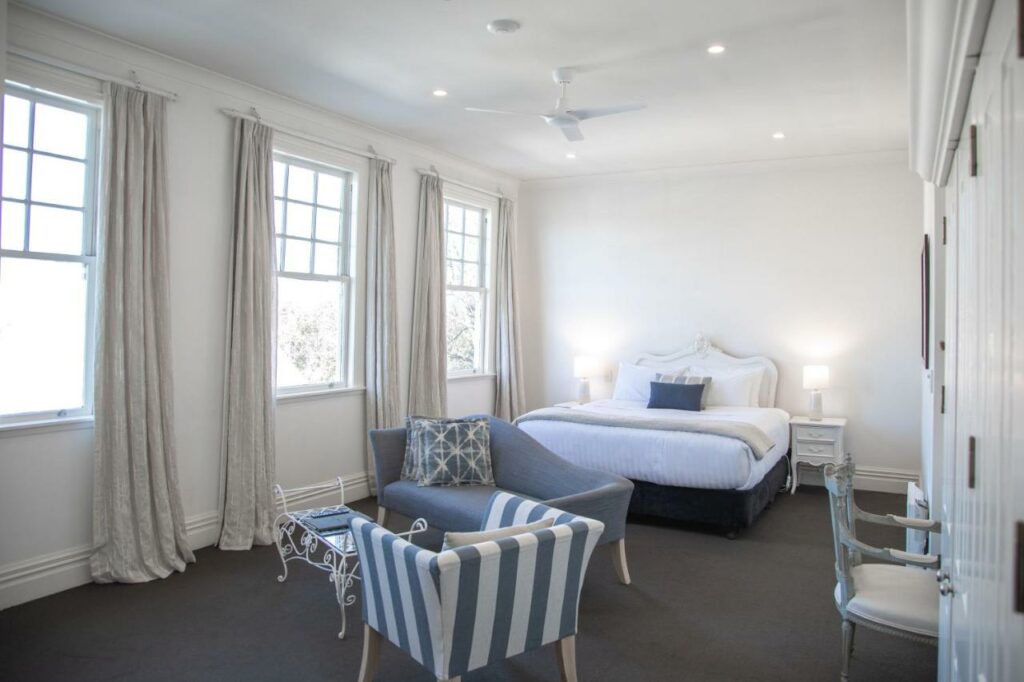 A mainstay in the heart of historic Greytown, the White Swan Hotel, is a popular spot for accommodation, eats, and drinks in this heritage shopping area of Greytown. With a range of suites, king-size beds, beauty around every corner (who doesn't love a chandelier!), and stunning decor. Book at Agoda
Review: 'I loved the extras, especially the extra blanket, extra big bath, beautiful balcony, and wine selection in the bar… So many things really!'
---
Unique Places to Stay in New Zealand – South Island
11. Split Apple Retreat – Eco Stay – Kaiteriteri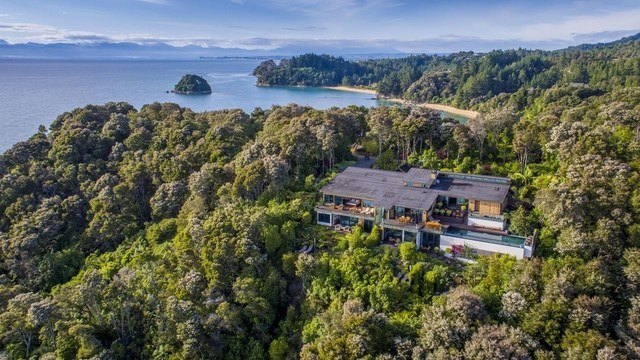 Split Apple Retreat is perched on an isolated wilderness hilltop with glorious sea and mountain views. Relax at this eco-friendly retreat near Abel Tasman Park and Track. Breakfast and dinner are included in the price.
From the retreat, a private path takes you to Split Apple Beach. Each luxury suite has a deck and a birds-eye view of the park. Dive into the infinity pool, bask in the hot tub, and embrace the spa treatments on offer to ease your body and soul. Be awed at this slice of paradise.
Read more: Split Apple Retreat New Zealand for Eco-Friendly Luxury – Abel Tasman National Park
---
12. Kimi Ora Eco Resort – Kaiteriteri Beach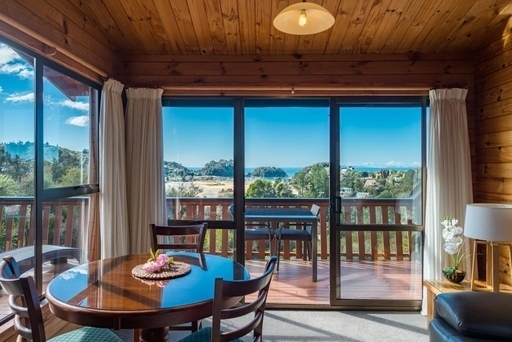 Also in Kaiteriteri is the fun Kimi Ora Eco Resort. Luxury log cabins, pools, spas, and a delicious restaurant sit atop a hill overlooking stunning Kaiteriteri Beach.
With a view from every cabin, this resort also offers bush trails, glow worms, table tennis, billiards, and spa therapies to soothe and restore. Sustainable and ecological principles guide the spirit of this resort. Check availability and prices at Kimi Ora Eco Resort.
---
13. The Woolshed Caravans – Takaka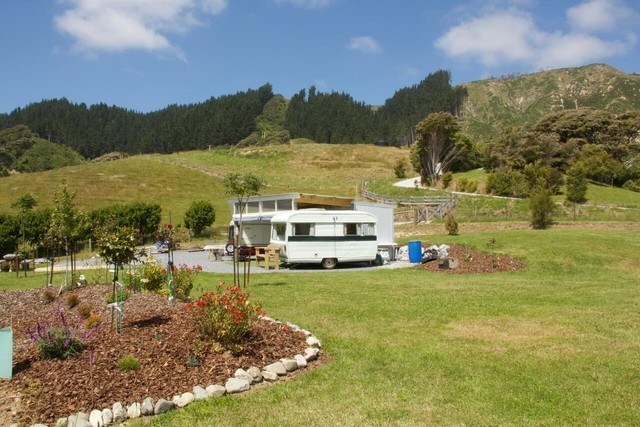 These are cool and cosy retro caravans, and depending on the size of your group, you can book one or two of the caravans. The interiors are renovated with funky designs for an easy-going holiday. You're within walking distance of lovely Tata Beach. On the property watch out for native birds – wild parrots, pukeko, and waka.
The owners have created a clever canopied central living area with a kitchen and bathroom so you don't have far to walk. Cook outdoors on the BBQ. Kick back and enjoy the tranquility of the rural surroundings. This is a fun and affordable stay in cute caravans. Check availability and prices at booking.com
---
14. Ngahere Hou Glamping – Keneperu Head, Queen Charlotte Track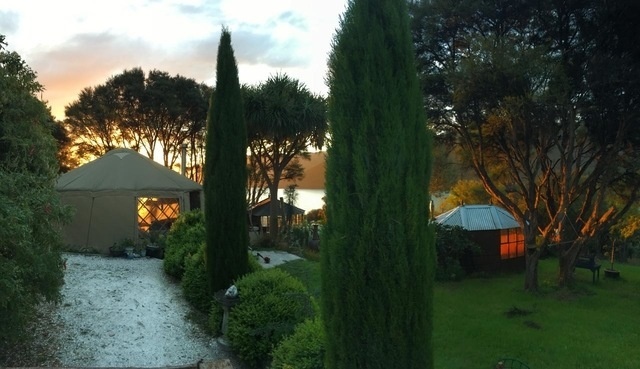 Escape to this divine bush setting with the choice of a luxury 6-metre yurt or a beautiful summer cabin. This is sustainable and off-grid accommodation with amazing views down Keneperu Sound. Sit back in the hot tub and contemplate life! Stroll through the bush at night for views of the local glow worms.
You're at the midway point of the Queen Charlotte Walk so this is a beautiful stop-off stay as you walk this amazing track. Or water taxi in and base yourself here while you hike in either direction.
For swimming and sunbathing you're only a 5-minute stroll down the hill to Ngahere Hou's private beach. You can access the site by water taxi or car.
Here's what guests say: "A little oasis! The little extra touches made our experience even more wonderful, the bottle of wine waiting, the hot tub ready, a walk to see the glow worms at night, fresh bread and croissants for breakfast the next morning".
Don't miss this slice of paradise – book Ngahere Hou at Agoda
---
15. Wacky Stays – Kaikoura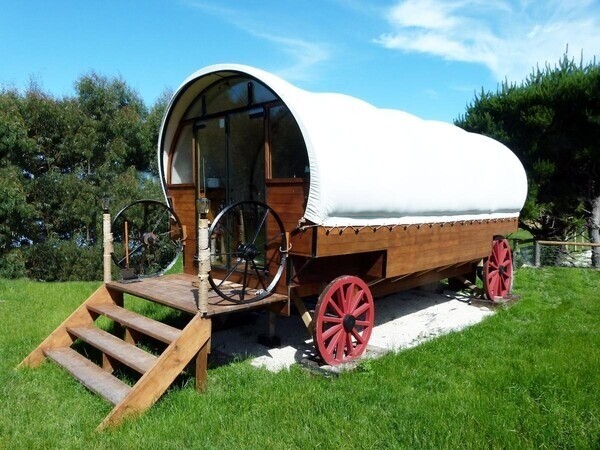 Take your pick from 6 quirky places to stay in this Kaikoura farm and landmark! Wacky Stays is an out-of-the-ordinary experience for travellers of all ages.
Choose from the cool House Truck, comfy Yurt, amazing Train Carriage, awesome Tipi Tent, incredible Colonial Wagon, and a two-bedroom Farmer's Cottage. You get 2 hours a day to spend with the farm animals (Llamas, pigs, sheep, alpaca, etc) plus Free WIFI and breakfast too!
Guest comment: "Love the house truck we stayed in, it had everything we needed and was beautifully crafted and unique inside."
Check availability and prices at Wacky Stays.
---
16. Jailhouse Accommodation – Christchurch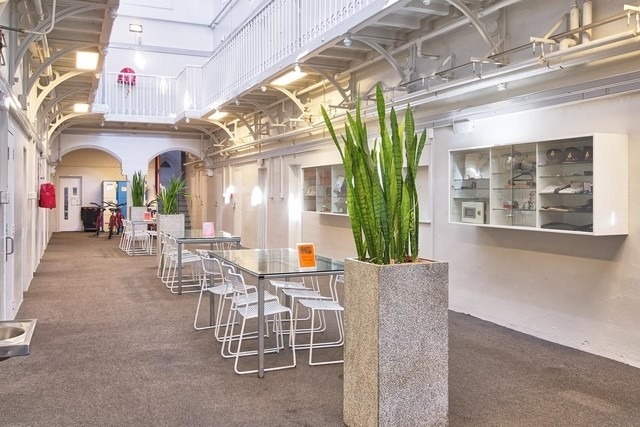 This gothic jail has been transformed into a contemporary and cool stay in the heart of Christchurch. The Jailhouse has single, shared, and dorm rooms for everyone on a budget.
A guest says: "Very funny experience to stay in an ex-jail. The room was small and narrow with a source of light coming from a high window, it really felt different than any other hostel or hotel."
Time to go to jail! Check availability and prices at booking.com
---
Planning to rent a car? See the best rates:
---
17. The Dairy Private Hotel by Naumi Hotels – Queenstown
Naumi Hotels are quirky, cool, and affordable and this dairy-turned-boutique hotel doesn't disappoint! With riotous floral wallpaper, stylish furnishings, dizzying art, an outdoor jacuzzi, free drinks in the library between 5 and 6 pm, and views of the Remarkables, what's not to love?
Read more here: 5 Best Boutique and Unique Queenstown Hotels
---
18. Lanarch Lodge, Stables and Camp Estate – Dunedin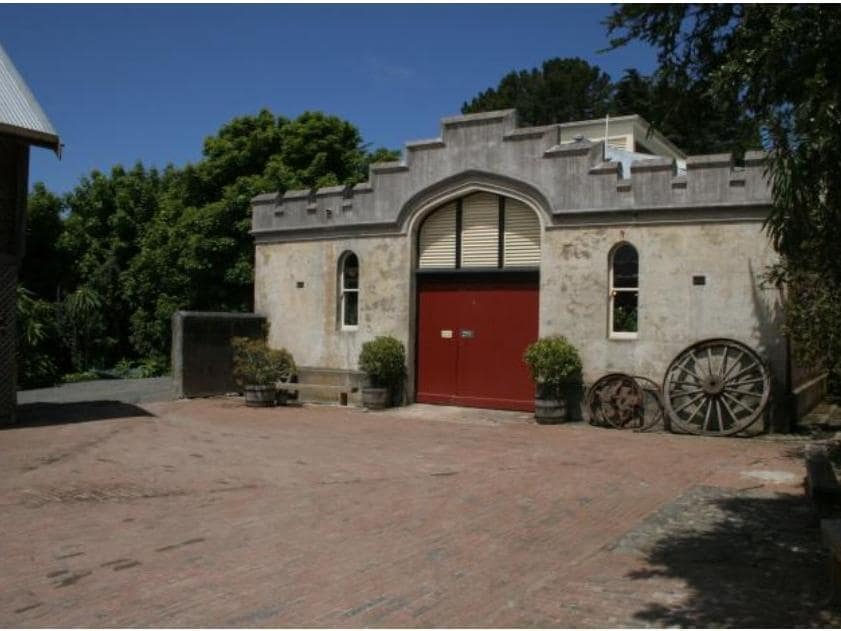 Lords and Ladies! Your rooms are ready at the Lanarch Lodge and Stables on the grounds of the iconic Lanarch Castle. Step back in time and leave the 'hoi pilloi' behind as you enjoy the glamorous life you so rightly deserve! Choose from a suite in the lodge or the converted stables (fortunately it's deliciously affordable too).
Stroll through the beautiful castle gardens before breakfast is served in the stables. At dinner dress up to the nines for the meal served with your fellow royals in the castle. Not to be missed! Book at Agoda
Review: Our stay was magic. Our room was the "Sea" room, which had wrap-around views from sunrise to sunset. The bed was super comfy.
The Camp Estate by Lanarch Castle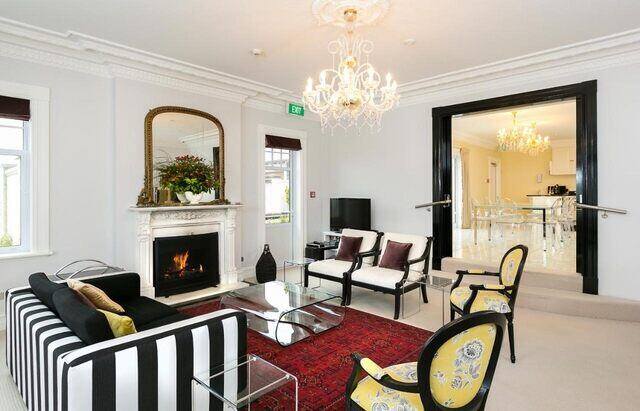 The Camp Estate by Lanarch Castle is a glamorous mansion with rooms and ensuites at the gates of the castle. They had me at "grand marble staircase and crystal chandeliers." You also join your fellow royals at the castle for dinner. But as an added bonus you're served canapes and champers before heading out. I'm in! Book this dream hotel now with Agoda
---
19. Rainforest Retreat Treehouse – Franz Josef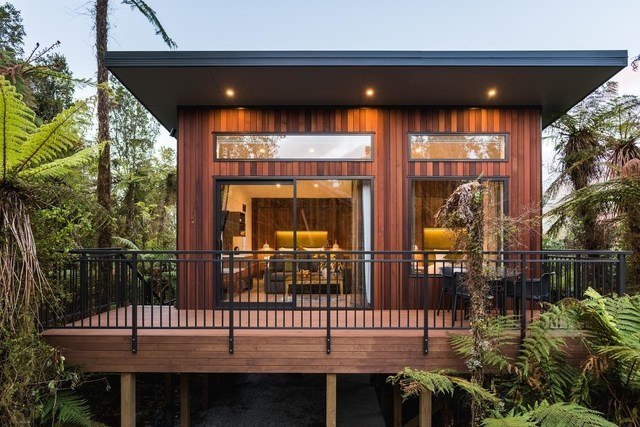 For adventurers, Rainforest Retreat has a unique range of four-star accommodation in lush rainforest. In the heart of the West Coast's adventure activities, you'll find tree houses and deluxe tree lodges for up to 3 guests. While the deluxe spa tree houses can accommodate up to 6 guests. There are also rooms, holiday homes, and backpacker accommodation. Something for everyone!
The on-site Monsoon Bar and Restaurant is popular with guests. You'll find the friendly staff can organise tours and offer local recommendations. With ravishing mountains and forests as your neighbours this location is unbeatable. Ever wanted to stay in a Treehouse? Here's your chance – check availability and prices at booking.com
---
20. Oasis Yurt Lodge – Wanaka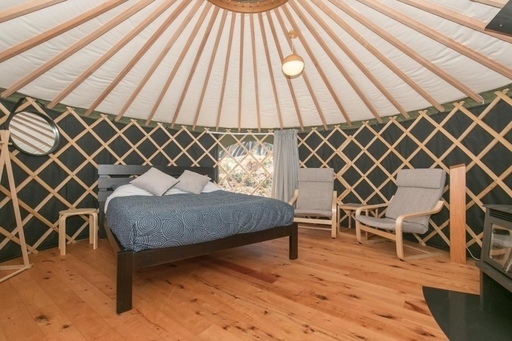 Cool luxury yurts with garden and mountain views in a peaceful spot on the outskirts of Wanaka. This is an eco-friendly place for awesome sky gazing and an opportunity to make new friends.
Here's what guests say: "The yurt itself was very unique, yet fitted with all the mod cons and luxuries that we needed to make our stay comfortable; they had thought of everything. "
Enjoy a zen experience and join in the morning yoga sessions in the teepee. Super clean communal kitchens, bathrooms, and facilities. Great for groups and families but fun for couples too. The yurts are warm in winter with fireplaces and delightful in any season. Make the most of the free bikes and see the countryside. Discover this hidden retreat for yourself – book at Agoda
---
21. Mahu Whenua – Wanaka
Mahu Whenua is a fully hosted lodge on conservation land with a chef and very upmarket offerings where your every whim is catered to. This is a bucket list destination not to be missed. Watch the video tour…
Review: Heavenly location and wonderful staff – felt warmly welcomed and looked after the moment we drove up! Love the ethos of the place and very much rested after our stay there.
---
Happy Travelling! I hope you've enjoyed this eclectic mix of unique places to stay in New Zealand. If you need any more information or want to join the conversation please share in the comments section below. Alisa
---
Travel Resources:
Take your time and discover secret spots and wilderness in New Zealand with a Jucy Campervan or Car. Book now and pay later is also available.
Be kind to yourself and the planet. Boody offers eco Bamboo Athleisure clothing – highly breathable and comfy – ideal for travelling.
Don't leave home without travel insurance. Have you checked out Cover-More Travel Insurance? They have a range of policies depending on your trip plans.
---