Spiritual Retreats in New Zealand are set in peaceful wilderness locations; pristine forests, quiet countryside, high on hills, by the ocean – each unique retreat offers healing for the body and soul and lovely self-indulgent relaxation.
These gentle and natural places are perfect for over 50's looking for personal transformation and spiritual growth.
This list includes yoga retreats, mindfulness meditation workshops, thermal mud therapy, magnesium pools, wellness adventures, chanting sessions, detox, reflexology and many more wellness experiences in the North and South Island. I hope you find your harmonious path at one of these spiritual retreats in New Zealand…
Type of Accommodation: Boutique and Spa | Eco-friendly and Organic | Spiritual Retreat
Location: North Island | South Island | New Zealand
Spiritual Retreats in the North Island…
1. Waiora Gardens – Magical Healing: Hokianga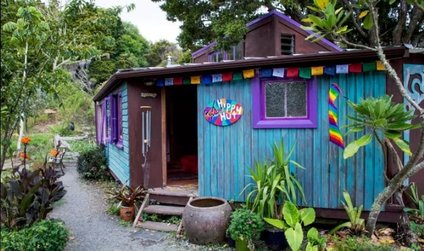 Type: Holistic and Healing Retreat with Unique Accommodation
Best For: Permaculture, Yoga, Homa Therapy, Gentle on the Wallet
Location: Kohukohu, near Hokianga, Northland
Set in remote wilderness in the far north this is a magical place of peace and tranquility. Wander through the harmonious gardens, enjoy the vegetarian food, join a yoga class.
What's Available? Yoga, Fasting, Detoxification, Remedial Massage, Homa Therapy, Chanting Sessions.
Laidback and Unique Accommodation Options: The Hippy Hut, The Nature Retreat, and The Bamboo Caravan. Waiora Gardens is a tranquil paradise designed to heal the heart, the body and the planet.
---
Now we head out to a Spiritual Retreat set in the lush Waitakare Ranges, west of Auckland…
2. Vartamana Retreat -Refresh your Soul: Auckland
Type: Spiritually Nurturing Retreat
Best For: Sattva Bodywork, Serenity, Wide Range of Retreats and Therapies
Location: Swanson, Waitakare Ranges
Book at their Website: http://www.vartamanaretreat.co.nz/
Hear about the Retreat:
You'll love this peaceful and serene hideaway in the lush Waitakare Ranges, west of Auckland. You'll be cared for in a nurturing and loving environment. Vartamana was created by the owners for those "interested in alternative healing, and a more connected, mindful life." The philosophy of the retreat is based on deep love, healing, awareness and of feeling happy and at peace.
Accommodation includes three large twin rooms with bathroom, kitchen, sauna, swimming pool and extensive decking. Bush walks and Bethell Beach are nearby.
Take a journey through Vartamana:
Healing and spiritual practices include Trager which reminds the body of peace, meditation, and mindfulness. Retreats may include: 4-day Cleansing Juice Fast, Yoga Wellness, Returning Home to Essence for Men, Soul History Workshop, Silent Retreats, Moving into Mindfulness and many more!
Therapies offered by qualified practitioners include:
Sattva Bodywork, Reiki, Chakra Balancing, Theta Healing
Therapeutic Massage and Reflexology, Body Talk, Energy and Sound Healing.
---
3. Kawai Purapura Yoga Retreat Centre – Peace and Tranquility: Auckland
Type: Yoga Retreat
Best for: Yoga, Festivals, Healing Practitioners, Massage
Location: Albany, Auckland
This special place of learning and healing includes a retreat, small village, yoga classes and teacher training, and a College of Natural Therapies. The retreat accommodation options include single, double, twin, and triple rooms. You also have a pool and spa pool for relaxation, a shared kitchen and free WIFI.
Join a daily meditation, take a yoga class, or book some time with one of the healing practitioners who offer Massage, Reflexology, Acupuncture, Shamanic Medicine, Energy Work, Traditional Māori Massage and more healing modes that help you balance and strengthen your health and wellbeing.
---
Now we journey to the idylic Coromandel coast to a luxury Eco Lodge…
4. Ohui Eco Lodge – Healthy Reflections: The Coromandel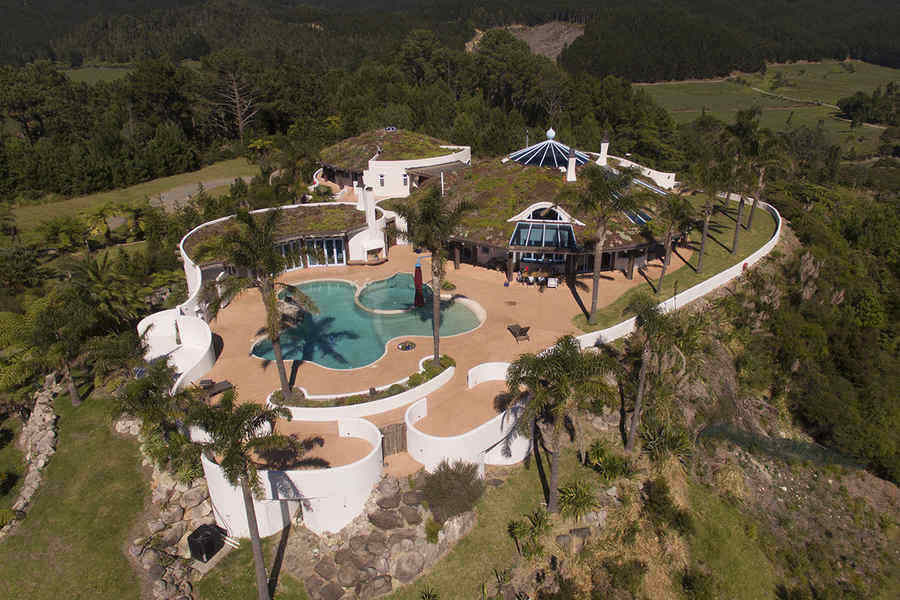 Type: Luxury Lodge. Book the whole place for your own organised retreat.
Best For: Eco Principals, Resort-Style Swimming Pool, Living Roof, Beach Access, Private
Location: 750 Ohui Rd, Opoutere. North of Whangamata.
Book at their Website: https://ohuilodge.nz/
This beautiful ecological Luxury Lodge sits on top of Ohui Hill and can accommodate up to 6 guests. Ohui Eco Lodge is built in a Spanish-Mexican Style and with ecological integrity in mind. So the home is powered by solar, the living roof is covered in plants, the doors are handcrafted macrocarpa, the paint is non-toxic and the whole design curves around the hill and the pools.
You'll love the natural setting and the incredible views of pohutukawa trees, native bush, hills, toitoi, ocean and Slipper Island.
What's on offer?
Swimming Pool
Watsu Massage Spa Pool
Music Studio
Self-catering chef's kitchen
Glow worms nearby that you can visit
Beach access near Opoutere Beach
---
Searching for a world-class yoga retreat? Read on…
5. Ashram Yoga's Ohui Retreat – Spiritually Calming: Whangamata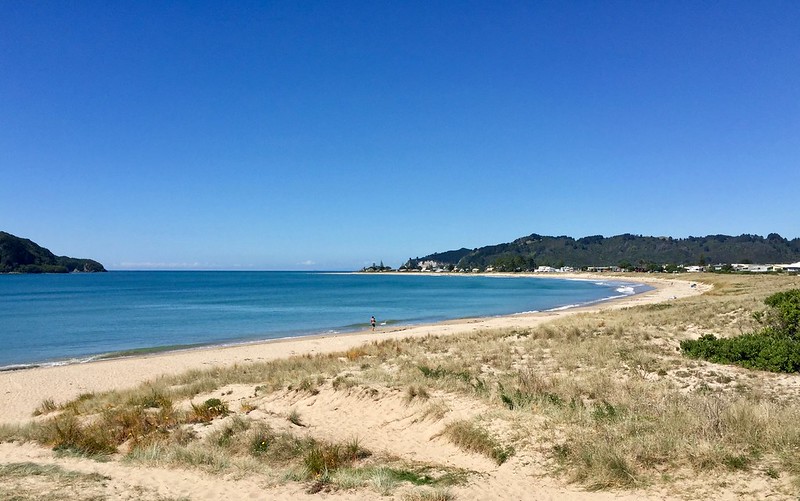 Type: Yoga Retreat
Best For: Beach, Vegetarian Food, Harmonious Place
Location: Opoutere Beach, north of Whangamata
Book on their Website: https://www.ashramyoga.com/summer
Ashram Yoga's natural yoga retreat at Opoutere Beach in the Coromandel, where you can practice and study yoga with experts in the field. Ashram Yoga runs regular yoga sessions and retreats for beginners to advanced guests, meditation retreats and intenstive Yoga Teacher Training classes.
Ohui Retreat is beach front and offers accommodation in the cottage, caravan or camping. The delicious meals are all vegetarian. Why not sign up to a Summer Yoga Break and enjoy yoga on the beach!
Balance your soul – Daily Activities include:
Karma Yoga and Ashram Yoga
Meditation and Chanting
Guided Relaxation
Yoga on the beach
Massage Treatments
Other activities: Paddle boarding out to the Opoutere Estuary, with hiking to rockpools and waterfalls.
---
6. Mahamudra Buddhist Centre – Guided Meditation: Colville
Type: Peaceful Meditation Retreat
Best for: Guided Meditation, Gi-Gong, Talks, Prayers, Special Retreats
Location: Colville, North of Coromandel Peninsula
This Tibetan Buddhist Retreat is set in tranquil countryside in the stunning Coromandel Peninsula. You're surrounded by native bush, meadows and beaches. The centre, known for its hospitality, offers a place of peace, calm and healing in this remote natural setting.
The Monks offer special retreats throughout the year, e.g. Teachings on the Heart Sutra, Silent Retreats, Women's Retreats, and Healing the Heart.
The accommodation ranges from camping, dormitories, and en-suite rooms with shared kitchen and lounge, and self-contained bungalows. With no WIFI and limited phone service this is a place to switch off, slow down and find inner peace.
---
9 Senses Spiritual Retreat near Ohope Beach:
See also this List of Spiritual and Eco Bay of Plenty Retreats for the 9 Senses Spiritual Retreat in the hills above Ohope Beach in the Bay of Plenty. This high-end retreat offers hot stone massage, aromatherapy, Tai Chi, spa and beauty treatments on an organic fruit and olive tree property…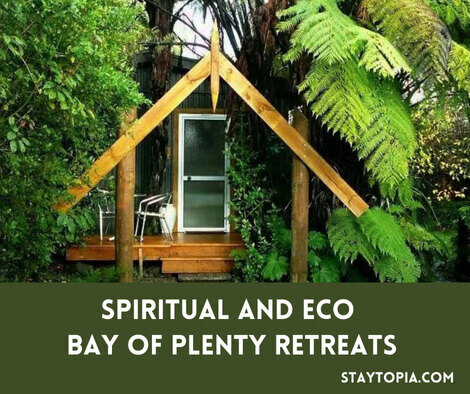 ---
Love relaxing in thermal pools? This next retreat combines geothermal wellness and mindful meditation…
7. Mindful Moments Retreat at The Polynesian Spa – Healthy Body and Mind: Rotorua
The beautiful Polynesian Spa in Rotorua offers geothermal hot springs and therapies in this popular tourist town. This is the place to go to soothe your aching muscles with the healing thermal waters. Three times a year they also include the health and wellness retreat – Mindful Moments.
Designed to bring your 'mind, body, and spirit into balance'. You'll experience yoga, mindfulness, meditation and wellness workshops with soothing thermal hot pools and thermal spa treatments. Indulge in the Polynesian Spa Aix Mud Therapy, Pure Fiji Body Glow and Antipodes Halo Facial. See the Polynesian Spa on Tripadvisor here.
---
We move onto sunny Hawkes Bay famous for vineyards, gorgeous beaches and art deco Napier…
8. Cape South Country Escape & Wellness Retreat – Reconnect with Yourself and Nature: Hawkes Bay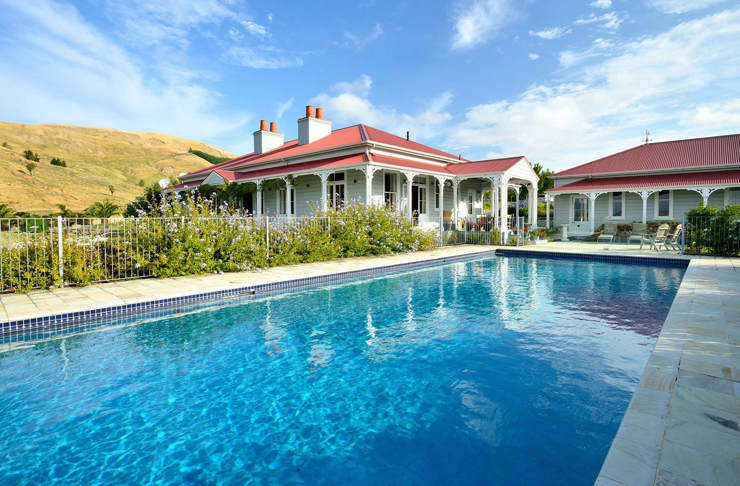 Type: Heritage Retreat Venue. Book the space for your own retreat or join an organised one – see below.
Best for: Magnesium Swimming Pool, Views, Heritage Accommodation
Location: near Havelock North
To See Upcoming Retreats: https://www.facebook.com/capesouth/
Cape South is a beautiful French-colonial homestead set in extensive gardens with idyllic views over the hills and a feeling of remoteness and healing in this natural setting. You're only 20 minutes from the lovely village of Havelock North.
Enjoy the sauna, magnesium swimming pool, gym, herbal medicinal gardens and a yoga studio. You can book time with a naturalist and herbalist. The luxury heritage en-suite rooms are in the homestead and a nearby cottage with a lounge and dining room for social times.
See a birds-eye view of Cape South:
Cape South is a venue for retreats so to see upcoming retreats go to their Facebook Page: https://www.facebook.com/capesouth/ You can also see upcoming retreats by these yoga teachers who often choose Cape South for their yoga retreats : https://www.namastayswellnessretreats.com/retreats
---
Another Local Wellness Hotel:
---
The South Island has majestic landscapes and stunning vistas – the perfect environment to restore body and mind…
Spiritual Retreats in New Zealand – South Island:
9. Split Apple Lodge – Ecological Sustainability: Kaiteriteri
Type: 4 Star Boutique Eco Lodge and Spa $$$
Best For: Spa Treatments, Sauna, Hot Tub, Pool, Nature Retreat
Location: 370 Kaiteriteri Sandy Bay Road, between Marahau and Kaiteriteri Beach
More of a lodge than a hotel Split Apple Lodge is set on an isolated wilderness hill-top with sea and mountain views. Relax at this eco-friendly retreat near the Abel Tasman Park and Track.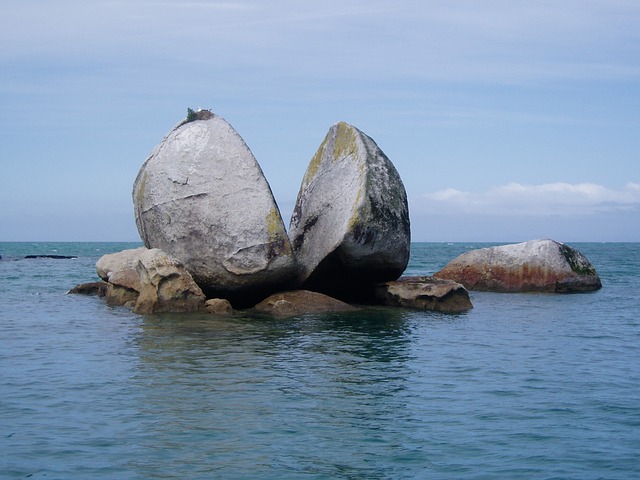 This is a spiritually uplifting place with spa therapy options. Take time to rejuvenate in the pool, spa, massage, and sauna. The Lodge includes a communal kitchen so you can self-cater and there's a lounge to mingle with your fellow travellers. Breakfast and afternoon tea are included in the price at this lovely lodge that follows sustainability principals. Read more here…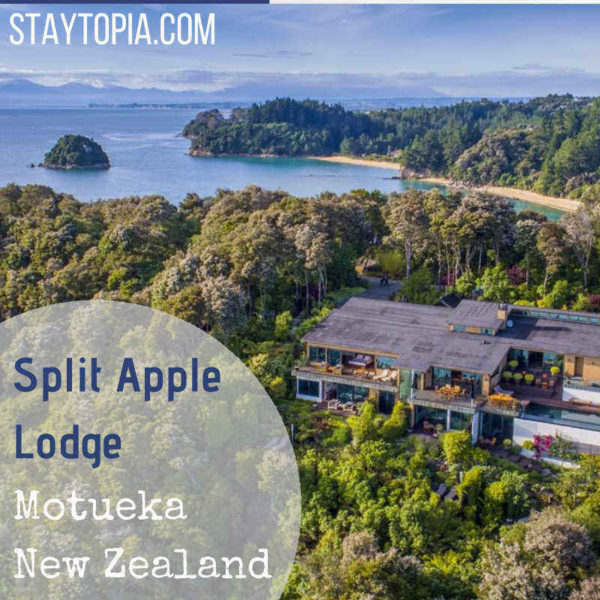 ---
Another popular eco-retreat in Kaiteriteri…
10. Kimi Ora Eco Resort – Nature and Ecological Design
Kimi Ora Eco Resort is near the Abel Tasman National Park and a good starting point for adventure-lovers journeying to this stunning coastal park.
Watch the Video:
Kimi Ora Eco Resort is designed for guests to relax and restore. Enjoy the heated indoor and outdoor pools, sauna, steam room, hot tub, yoga sessions, massage and spa treatments. To keep fit the resort also has bush tracks and a glow worm track for night walks! Book Here:
Adventurous Things to Do:
---
11. Aro Ha Retreat – Discover your Potential: Queenstown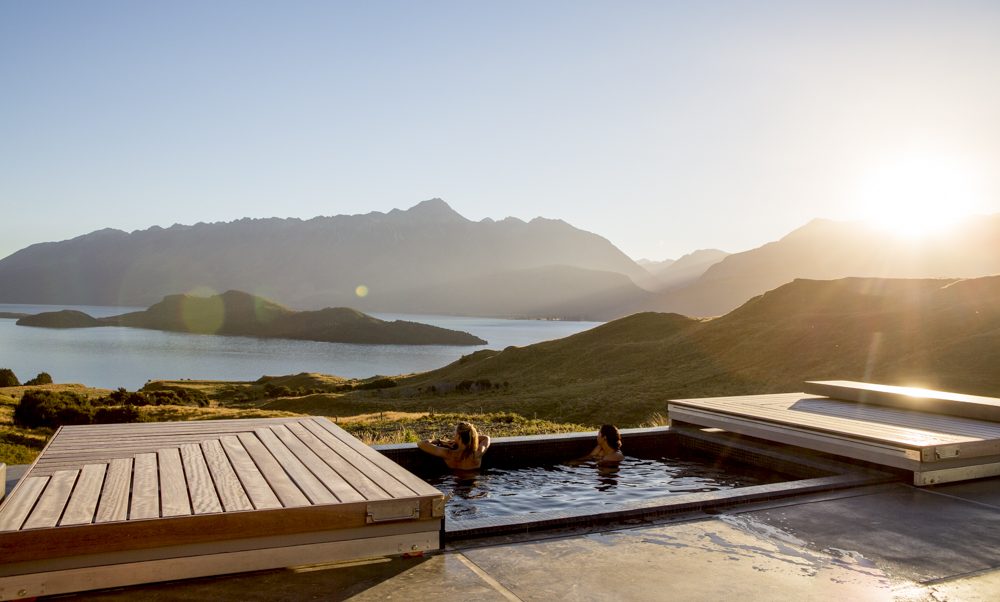 Type: Luxury Wellness Retreat $$$$$
Best For: Sustainable, International Well-being Instructors
Location: Glenorchy, Queenstown
Aro Ha is an innovative and life-changing spiritual retreat. This internationally renowned luxury wellness retreat is in the countryside near Queenstown. Powerful and intensive programmes combine nutrition, yoga, and mindfulness in a stunning natural setting to transform you from the inside out.
Aro Ha Retreat is designed with sustainability principals that are gentle on the planet. The buildings are energy efficient German Passiv Haus and overlook stunning Lake Wakatipu. All food is healthy and vegetarian. Choose from the signature 6-day Wellness Adventure to jump start your health to an 8-day Warrior One that includes Functional Movement classes.
Try out this Daily Aro Ha 10 Minute Yoga:
---
I hope this list of Spiritual Retreats in New Zealand has helped you choose a unique calming retreat where you'll find restorative therapies and the path to making positive changes in your life.
More Staytopia Unique Places to Stay in New Zealand: