With world-class restaurants, gorgeous boutiques, cafes, and bars dotted around a stunning village square Martinborough is a heavenly holiday retreat. Surrounded by vineyards, olive groves and rolling countryside why not take a well-earned break and immerse yourself in the local wine culture by booking into a Martinborough Vineyard Accommodation...
Type of Accommodation: Vineyard Accommodation
Location: Martinborough | Wairarapa | North Island | New Zealand
Price Range: $ – Cabin/Hostel | $$ – Budget | $$$ – Mid-range | $$$$ – Luxury | $$$$$ – Super Luxe
Links are to: Booking.com | VRBO/Bookabach. Prices can vary depending on the season.
---
1. Margrain Vineyard and Martinborough Review
Martinborough is a gem of a holiday destination with picturesque countryside and a gorgeous village square with chic eateries and boutiques. With a cool, dry climate, and warm long summers this boutique wine region is New Zealand's version of France's Burgundy region.
Martinborough's wines are world class with around 30 vineyards, including Escarpment, Ata Rangi, Palliser Estate, Poppies, Moy Hall, Luna Estate, and Colombo. Pinot Gris is over 50% of the grapes grown but Chardonnay, Pinot Gris and Riesling are great here too.
We stayed in Martinborough during the week so felt like we had the place to ourselves! The place is buzzing in the weekends but we experienced a nice peaceful atmosphere mid-week!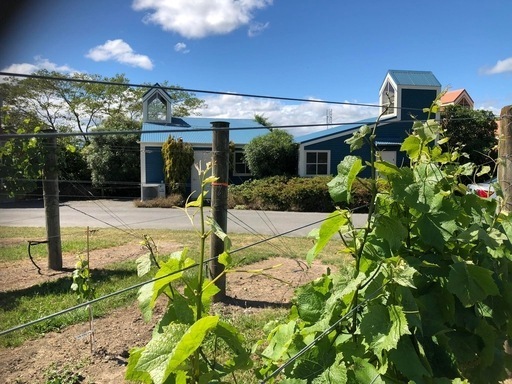 Cycling Around the Vineyards:
We hired bikes from Indi Bikes and chose some cool town bikes that were super comfy and cruisy. Martinborough is totally flat, with not many cars, so riding a bike around the vineyards is a breeze. The vineyards are reasonably close together so no mammoth bike treks involved.
The vineyard cellar doors are open to visitors in the weekends but some are closed during the week. On the plus side you get to see the working vineyards in action with workers tending to the vines on the weekdays.
Some of the vineyards also have restaurants, e.g. Poppies (for tasting and platters), Luna, Vynfields, Tiwaiwaka Wines, Moy Hall, Tirohana, but make sure you book a table in advance.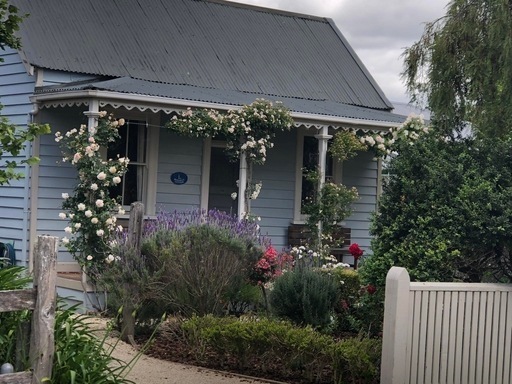 The weather was sunny and warm so we sat outdoors by the vines at Schubert Wines with a half wine barrel as a table and a glass of Sauvignon Blanc. Marlborough's signature wine is Pinot Noir which we tried at Margrain's Tasting Room the following morning.
We parked our bikes at an outdoor table at The Village Bar and Café and had coffee and lunch. They quickly whipped up a tasty vegan lunch of Filo Curry Pie with Salad and the coffee was excellent.
Margrain Accommodation:
It took us two goes to find Margrain's Accommodation. The café, tasting room and historic Gatehouse Cottage are on Ponatahi Road while around the corner on Nelsons Road you'll find reception and the quirky Villas.
There's a clear line of sight between these two areas with vines and the road between. We stayed in a room in the historic Gatehouse Cottage and had the place to ourselves so it was very quiet. The garden is lovely but around 5pm the traffic noise is quite loud.
The Space at this Martinborough Vineyard Accommodation: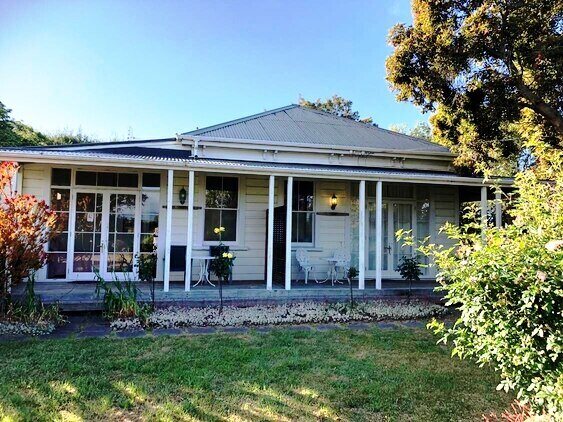 The room was simple but with nice heritage architectural features, an en-suite, French doors, and a covered deck with an outdoor dining setting.
Breakfast was included – bread for toast, jam, butter, marmite, fruit juice, fruit pottles, and plunger coffee. In the skinny cupboard we found the toaster, plates, glasses, cutlery, and Margrain's own bottles of wine to purchase.
We'd brought picnic food so in the balmy evening we had our 'picnic' on the deck looking across the garden and vines.
Wine Tasting and Lake Ferry:
A free tasting at the Margrain Cellar Door is also included in your stay so the next morning we hopped next door and tried a range of wines from Bubbles, Pinot Gris, Pinot Noir, Sauvignon Blanc, Chenin Blanc and a lovely dessert wine.
You're offered up to five different wines to try and the woman who served the wine was very knowledgeable about the vineyard. She said that the original owner thought pinot noir would never grow in Martinborough so he grew other grapes. But when the new owners took over they planted the pinot noir to great success.
The next day we drove out to Lake Ferry and another beautiful sunny day. A walk on this wild ocean beach was followed by a delicious fish and chip lunch at the Lake Ferry Hotel garden.
Next time we stay in Martinborough we'll book a stay at one of the colourful modernist villas at Margrain.
---
2. Todds Cottage and Vineyard in the 'Fun Part' of Town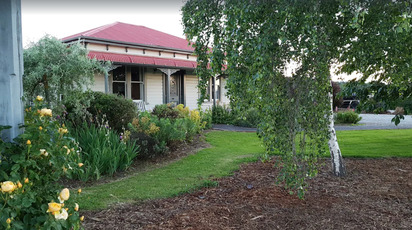 Best for: Historic Holiday Home, Kitchen, Garden, Fireplace, Summer House, Pet-friendly, up to 10 Guests, $$
This is a heritage cottage right in the heart of the wine area surrounded on all four sides by vineyards. You're a pleasant stroll or bike ride away from some of the best wineries: Moy Hall, Poppies, Stonecutter, Luna and Colombo. The Reid + Reid Gin and Tonic Bar ( at 145 Todds Road) will hopefully open early in 2022.
The Space:
The cottage has original features and is spacious with a comfy lounge, fireplace, large TV, and a piano for light entertainment! There are four bedrooms with four king-size beds and two single beds, and three bathrooms.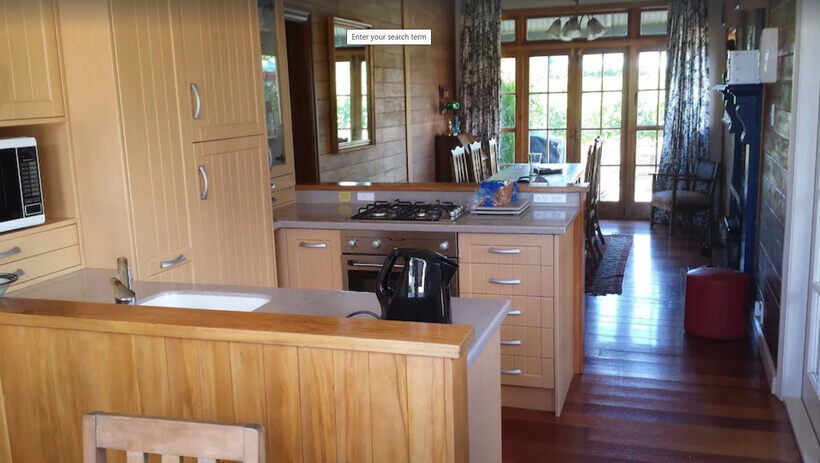 Good to Know:
---
3. Dara Cottage – Stay among the Vines in Martinborough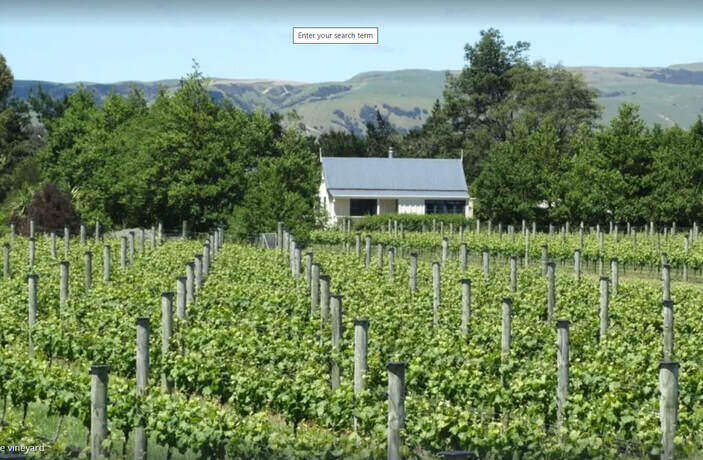 Best for: Colonial Holiday Home, Golf Nearby, Gardens, Woodstove, Breakfast, Up to Six Guests, $$
This cute cottage has been beautifully restored and is a contemporary stay with heritage features. A generous breakfast is supplied on your first morning with bacon, eggs, toast, spreads, coffee and tea.
The home is set on a working Pinot Noir Vineyard, and you're also within walking distance to other vineyards:
Te Kairanga wines (1km), Ata Rangi Vineyard (1.3kms), Martinborough Vineyard (2kms), Muirlea Rise (2kms), and Palliser Estate (2.7kms). Martinborough Village is a short 5 minute drive away (or bike ride).
The Space:
The house is 100 square metres with open plan living, three-bedrooms and two bathrooms. The kitchen is fully equipped with dishwasher, oven, stove, microwave, pantry items, toaster, dishes and utensils. Outdoors on the deck you have a BBQ and dining setting.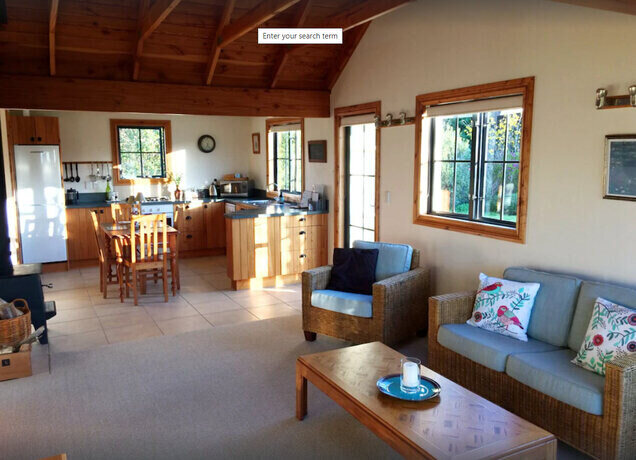 Good to Know at this Martinborough Vineyard Accommodation:
---
4. Luxury Accommodation set on 26Rows Vineyard
Best for: Elegant Holiday Home, Breakfast, Gas Fire, Complimentary Bottle of Wine, Up to 4 Guests, $$
The Gatehouse on 26Rows Vineyard is a stylish and luxury cottage on the south-side of Martinborough.
The closest vineyards are: Palliser Estate (2km), Muirlea Rise (2km), Martinborough Vineyard (2.2km), Te Kairanga Wines (3.3km), and Coney Wines (5.2km).
An easy 1km stroll away is Martinborough Village with boutiques, bars, cafes, shops and bike hire. Book your bikes early because the bike hire companies can run out of bikes in the weekends.
The 26Rows cottage is very modern with two bedrooms, two queen-size beds, luxury linen and one bathroom.
The self-catering kitchen is well-equipped with your continental breakfast, local produce and of course the 26Rows wine. The lounge looks out of bi-fold doors to the deck with a dining setting and gorgeous vineyard views.
Good to Know:
---
5. The Wine Shed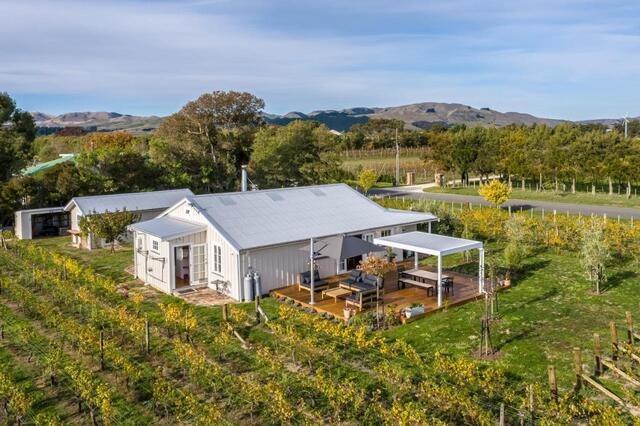 Best for: Modern Holiday Home, Near Cambridge Vineyard, Retro Bikes, Fireplace, BBQ, Six guests, $$$
This hip holiday home is spacious and stylish with plenty of room for six guests and surrounded by a working vineyard. With open plan living, a large kitchen and dining setting for cooking and feeling right at home.
The expansive covered deck is perfect for relaxing outdoors with a glass of wine on a beautiful Wairarapa evening, BBQing up a storm on the Weber and in the mornings enjoying your breakfast al-fresco.
The Space:
The house has two bedrooms with queen-size beds, Ecosa mattresses, and luxury linen. One of the bedrooms also has an en-suite.
Upstairs in the mezzanine you'll find a kids zone with a queen-size sofa bed and a TV for chilling out.
The kitchen is well-equipped with a large stove and oven, microwave, washing machine, espresso machine and all the cutlery and dishware you'll need.
On your arrival the owners will supply you with fresh bread, eggs and a bottle of wine from their vineyard. The lounge has comfy sofas, TV, DVD player, books, games, an iPod dock and a great fireplace for cool winter evenings.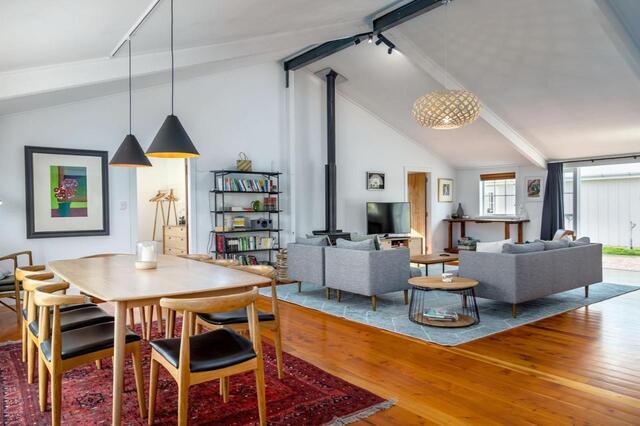 Good to Know at this Martinborough Vineyard Accommodation:
---
More Unique Places to Stay in the North Island: